Here's Why Taylor Swift Is Only Asking For $1 In Court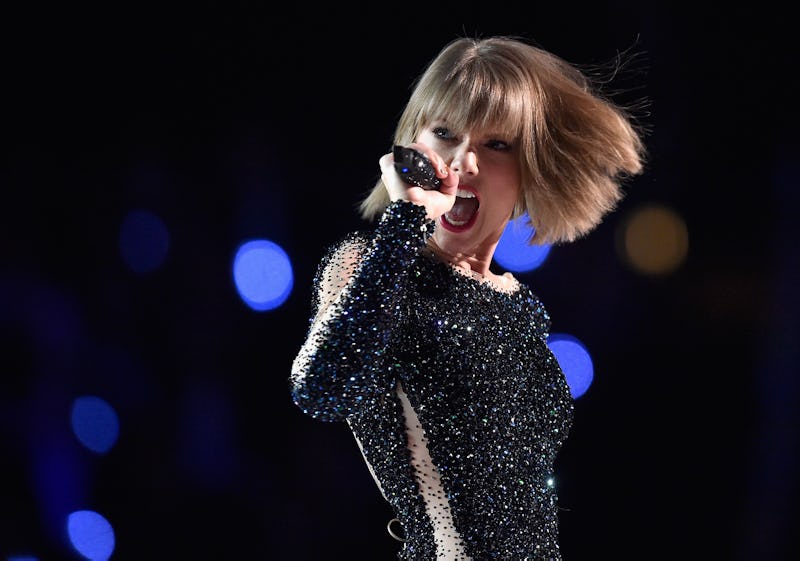 Kevork Djansezian/Getty Images Entertainment/Getty Images
Typically, in court cases where someone is alleging abuse or their reputation is on the line, large sums of money are requested as compensation. However, in Taylor Swift's alleged groping case, she's only asking for $1 in the countersuit she filed against former radio disc jockey David Mueller. Now, that may sound like a bizarre amount for the pop star to request after her claims of being touched inappropriately on the behind by the DJ were vehemently denied and a lawsuit was filed against her by Mueller. However, there's a clear reason for the "Bad Blood" singer's choice.
The Washington Post reports, Swift's lawsuit states that she wants her case to "[serve] as an example to other women who may resist publicly reliving similar outrageous and humiliating acts." Mueller is suing Swift for $3 million in damages for losing his job at KYGO radio station after her team allegedly reported the alleged incident.
On June 2, 2013, Swift was set to perform a sold out concert at the Pepsi Center in Denver, Colorado. Prior to the show, the then 23-year-old singer took a photo with Mueller and his then girlfriend, Shannon Melcher. The "I Knew You Were Trouble" singer alleges that when the group posed for the photo, the then 51-year-old lifted up her dress and groped her. CNN reports Swift's team allegedly told KYGO about the encounter. BuzzFeed reports that court documents state Mueller was fired with his bosses citing "the morality clause in his contract" because they believed he changed his story regarding the alleged incident.
According to the Washington Post, Swift's deposition reads:
"Right as the moment came for us to pose for the photo, he took his hand and put it up my dress and grabbed onto my ass cheek and no matter how much I scooted over it was still there. It was completely intentional, I've never been so sure of anything in my life."
Swift testified in court on Thursday, where she made the same allegations.
Mueller sued Swift in September 2015 for slander, according to the Washington Post. Although the claim was thrown out by a judge, the former DJ was allowed to proceed with his suit based on the allegation of "tortious interference" under the basis that Swift allegedly "intentionally tried to get him fired by accusing him of behavior that violated his employment contract." Swift countersued one month later, claiming that Mueller groped her.
According to CNN, Mueller denied the allegation and claimed that his "palm was facing down." He claimed he "touched what seemed to be her ribs," during his testimony on Wednesday. People magazine reports that Mueller's attorney, Gabe McFarland, said in court on Wednesday that Mueller claims Swift cost him his "dream job."
While Swift is only requesting $1, if she is awarded more money than she is requesting, the singer will donate all proceeds to charities, "dedicated to protecting women from similar acts of sexual assault and personal disregard," according to the lawsuit.