This Primetime Soap Is Subverting Every Sexist Expectation Of The Genre & You're Missing It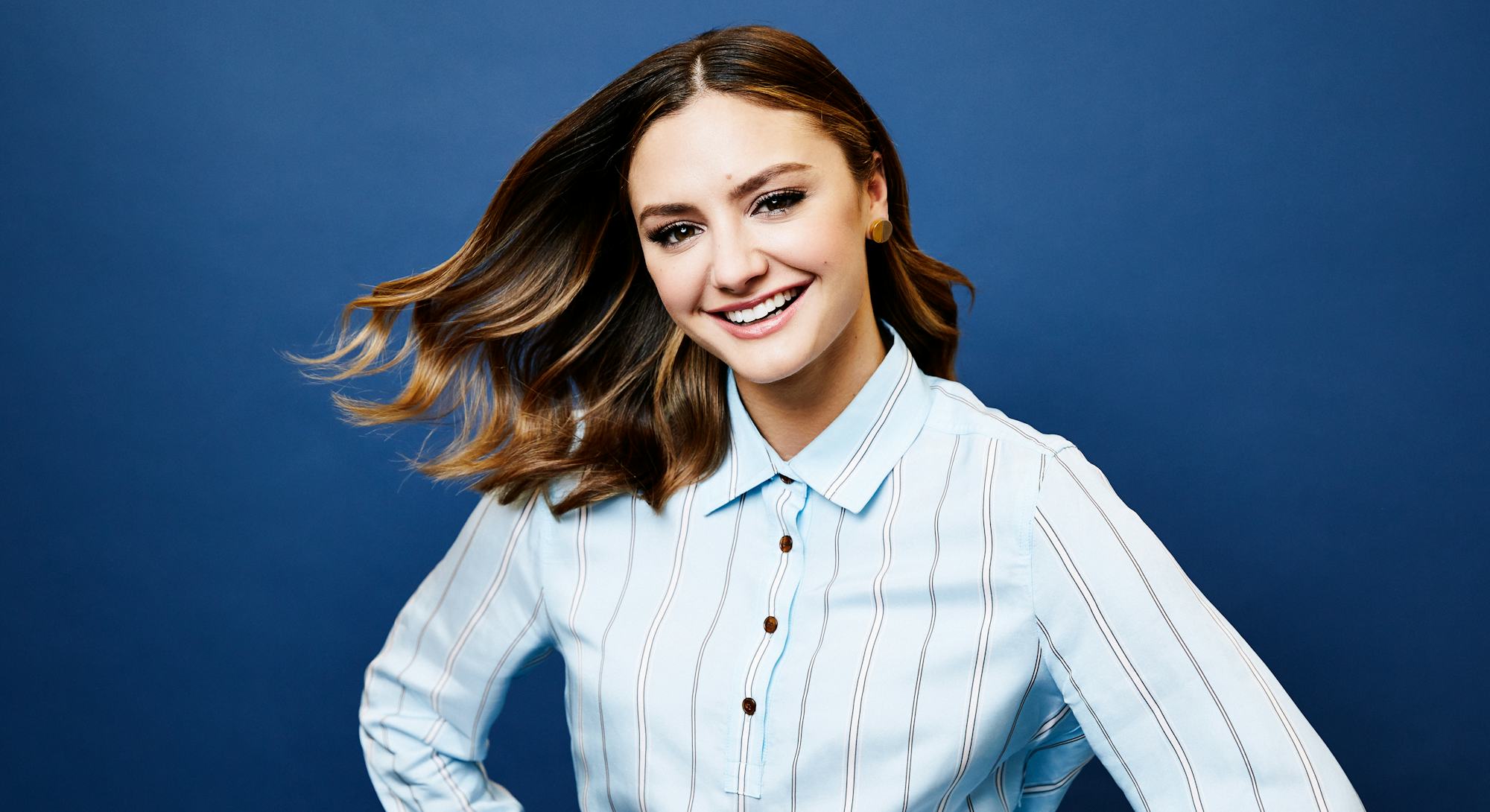 Lauren Perlstein/Bustle
In the era of Peak TV, judging a series by its cover is as easy as changing the channel. That may be why you've let The Arrangement, E!'s scripted drama about the $10 million marriage contract between an A-list movie star and a young ingenue, fly under your radar. Now in its second season, the series has the glossy sheen of a fashion shoot, a dramatic soundtrack, and scores of beautiful people behaving badly. The first season teaser poster — which features stars Josh Henderson and Christine Evangelista posing on a blood-red carpet — warns you to "never trust a Hollywood ending." It leads with drama and style, as any primetime soap opera must. But to write The Arrangement off as simply that is to miss out on a dark meditation on celebrity, manipulation, and female rage that's also super satisfying to watch.
First of all, despite the inherent power imbalance between the two stars, Kyle West (Henderson) and Megan Morrison (Evangelista), an "arrangement" isn't an order — it's an agreement, and Evangelista is fierce and capable as Megan, who is nobody's fool. While it's her willingness to enter into a relationship designed to court publicity that sets the events of the show in motion, it's important to the actor that her character is "so much more than the role of the girlfriend." And in the even more cunning second season, she's trying to destroy the oppressive "self-help" organization that's controlling her fiancé from the inside.
"I always knew this was going to be a very resourceful character," Evangelista says, "and I don't mean resourceful in as opportunistic. But she was never going to take something lying down."
Before scoring mostly positive reviews, The Arrangement was perhaps best known for its striking similarities to one of the tabloids' favorite rumors: that Tom Cruise and Katie Holmes' romance was a legally binding agreement arranged by the Church of Scientology long before they wed (that has never been proven, however). The events of Season 1 begin when the A-lister Kyle, who has strong personal ties to The Institute Of The Higher Mind, a powerful self-help organization with a dark underbelly, contracts Megan, a struggling actor, to become his girlfriend and eventual wife. It didn't take a lot of mental gymnastics to pick up on the similarities, and the brains behind the show found themselves debunking theories that The Arrangement was about Cruise, Holmes, and Scientology ahead of the premiere. Creator Jonathan Abrahams hedged when asked if this was true, telling The Hollywood Reporter that he was actually inspired by several alleged PR relationships and many "systems that people need or glom onto to keep their lives in order."
Megan is introduced in Season 1 as a Hollywood outsider — someone trying to make it in an often ruthless business. But one of the best parts of the show is that it has avoided painting her as helpless or naïve. Instead, it's Megan's savviness that causes conflict. "Just because she's playing the girlfriend to this Hollywood star doesn't mean she's arm candy or needy or unambitious," Evangelista says. "I decided very early on that this is a girl that would go on to make it on her own, despite the Kyle West storyline."
Lauren Perlstein/Bustle
Lauren Perlstein/Bustle
The primetime soaps that established the genre are known for putting women characters into easily cataloged boxes — the cougar, the innocent, the frustrated housewife, the "crazy" girl. And some of their most memorable scenes infantilized and sexualized those characters. (Who could forget the famous Melrose Place bride pool catfight?) But Megan and her friends, enemies, and colleagues are sketched in a much more modern and less reductive way; what unites them is that they all have agency. It's notable especially because The Arrangement has one foot in each of two usually male-dominated worlds: Hollywood and organized religion. While not everyone in Megan's life wishes her well, Evangelista identifies Megan's true enemy as "the patriarchy."
"All the women on the show have their own agenda, they're not just running along, following someone else's," Evangelista says. Indeed, it's compelling that Megan walks into this contract with her eyes fully open — it shows a professional drive that's usually reserved for male characters. But that onscreen balance reflects the makeup of the creative team and crew — per IMDb, half of the show's credited writers and one-third of its credited directors are women. "I think it's our responsibility to have that happen," the actor adds.
"There's a disproportionate amount of roles out there for women where you're exploited in some way."
The show's inherent feminism is something Evangelista is clearly proud of, but it hasn't been easy for her to find other roles that don't fall into those aforementioned character types. She gives credit to her "strong foundation" of a support system for helping her to make decisions based on her own integrity — something her character struggles with as well.
"[Some parts] are hard, often, to turn down when you are unemployed and there's a very big director attached ... Especially if you're a girl," she says. "There's a disproportionate amount of roles out there for women where you're exploited in some way — sexually, or many other things. But I feel very confident in every 'no' I've ever said."
And The Arrangement has a lot to say about the sacrifices people make in order to "make it" in Hollywood. Megan's talent helped her "win" the role of Kyle's girlfriend, but it's his status — and her choice to take the opportunity — that lifted hers. She's constantly negotiating her public and private lives, especially now that she's a commodity to those who invested in her.
Playing someone who's meant to be on the A-list of celebrity has proven to be a surreal experience for Evangelista, a New Yorker who's resisted the move to the West Coast because she likes that you "have to earn it" to survive in her city. She says stepping into Megan's Manolos has been an exciting yet also nerve-wracking experience that's given her a taste of what another echelon of fame would actually be like. One of her favorite pastimes — people watching on the New York City subway — would be virtually impossible for her character.
"I wouldn't necessarily want to be in the position that Megan is in where she can't even leave the house without being hounded by people," Evangelista explains. "But I also get to experience this; it's very meta, in a way." She recalls filming on location in Venice in Season 1, clad in a couture Alexander McQueen gown, surrounded by curious tourists and a camera crew. She was so overwhelmed with emotion that she cried. "It was just like this really beautiful, private moment for myself," she says.
The show thrives on the darkness associated not just with the perils of fame, but also with holding onto your own identity in a social media-driven world that demands your perfection and constant attention. And Evangelista seems to have taken that lesson to heart. The actor's public Twitter and Instagram are both filled with mostly work-related and philanthropic posts. (She's an animal advocate with an adorable rescue dog.) Playing Megan has given her a glimpse of what happens when someone's life is completely upended by renown, and it's functioned as a cautionary tale for the actor.
"You have this girl [who is thrust into] overnight superstardom and that affects her emotionally and mentally," she says. "I emphasize with people — when you lose your sense of privacy, you often lose a sense of self in that." Evangelista notes that actors are "pulled in a million different directions" when they're working, so retaining what small amount of privacy you can becomes necessary.
"If you're constantly manipulating things around you, how do you hold onto what's actually real?" she asks. "So I applaud actors that are very famous and don't use social media. Because you have to hold onto your identity — you can't just constantly put yourself out there and remain healthy."
Starring in an industry cautionary tale seems to have been something of a crash course in the downside of celebrity for Evangelista. And for audiences willing to put aside their TV elitism and jump straight into the melodramatic fun, The Arrangement has more than just surface pleasures to offer.
The Arrangement airs Sundays at 9 p.m. ET/PT.
Hair: Anthony Campbell for The Wall Group
Makeup: Andrea Tiller