Why The Bill Cosby Mistrial Was Not At All Surprising To Women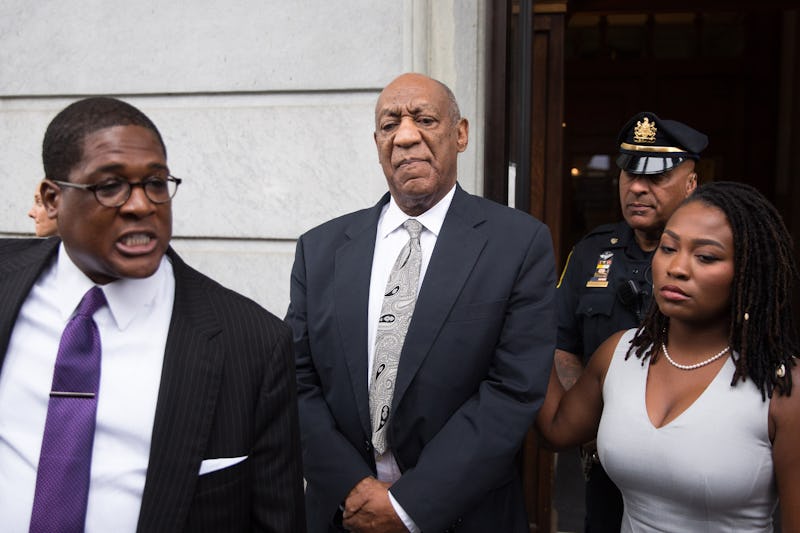 Kevin Hagen/Getty Images News/Getty Images
For many, news a Pennsylvania judge had declared the Bill Cosby sexual assault case a mistrial came as no surprise Saturday. Shortly after the judge announced his decision a number of people took to social media claiming Cosby's mistrial was not only expected but evidence of how the judicial system all too often fails sexual assault survivors.
"That Bill Cosby's trial ended in a mistrial isn't a surprise since only 3 percent of rapists are convicted," Twitter user Yukio Strachan tweeted. "Our system favors setting rapists free."
According to statistics provided by RAINN, the vast majority of rapists do not go to prison for their crime. Out of every 1,000 rapes committed, RAINN says only 310 will ever be reported to police. Of those reported rapes, only 57 will lead to an arrest with just 11 cases being referred to prosecutors and only 7 cases ending in a felony conviction.
"The Cosby mistrial does not surprise me," Twitter user Dolly wrote. "It probably does not surprise anyone who has reported a sexual assault."
In criminal cases such as Cosby's the burden of proof falls on the prosecution, thus the phrase "innocent until proven guilty." That means Saturday's mistrial verdict is a result of Montgomery County District Attorney Kevin Steele failing to prove beyond a reasonable doubt that Andrea Constand's allegations that Cosby gave her drugs and then sexually assaulted her at his home in 2004 were true to all members of the 12-person person jury.
However, establishing guilt beyond a reasonable doubt is no easy task. And sexual assault cases are, unfortunately, known to be especially hard to prove for a variety of reasons that include but are in no way limited to society's tendency toward victim blaming.
In their attempt to establish reasonable doubt, Cosby's defense team exploited more than a few common myths regarding rape, consent, and women that are all too often perpetuated by rape culture. For example, they argued the women raising allegations were simply seeking attention, fame, or money. They presented Constand's delay in reporting the incident to police as proof of initial consent. They framed the interactions Constand had with Cosby after the incident as evidence their sexual relations were not only consensual but also romantic.
Although nearly 60 women have publicly accused Cosby of sexual assault – charges his legal team has vehemently denied – only Constand's allegations have led to criminal charges. Constand alleges Cosby gave her drugs that left her "frozen" and unable to challenge him as he sexually assaulted her in his home in 2004. Cosby, however, has maintained he only gave Constand Benadryl, that their sexual relations were consensual, and that Constand never said "no."
Prosecutors announced Saturday they would prepare to retry the case.