'The Cheetah Girls' Was A Primer For Intersectional Feminism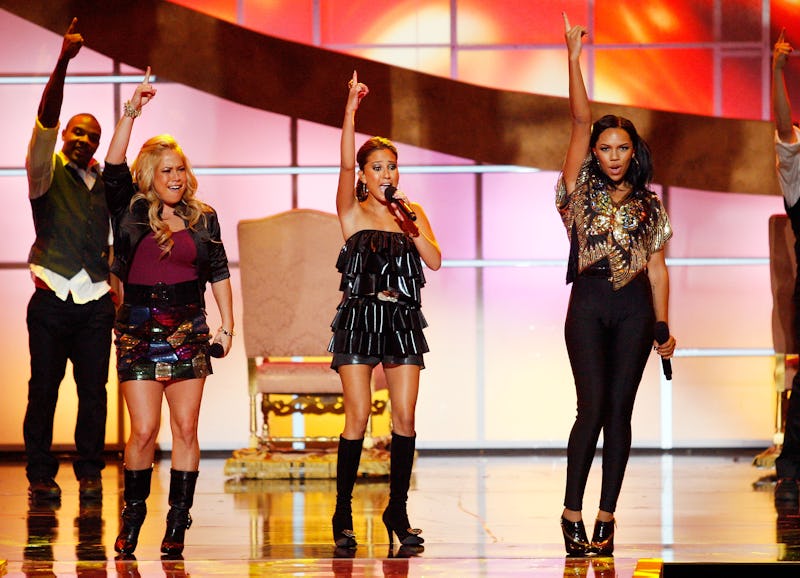 Vince Bucci/Getty Images Entertainment/Getty Images
The Cheetah Girls series was obviously a hit for all of the right reasons: catchy girl power anthems, solid vocals, and of course those matching cheetah print outfits. Based on the popular novels by author Deborah Gregory, it had all of the makings of a Disney Channel classic. Some of us serious fans would even wager that it brought back girl power music, especially if you missed out on the Spice Girls or weren't old enough to really grasp the magic of Destiny's Child. The gal gang of four were PG enough so that your parents would support your new obsession, but there was also a hidden blessing: your first lesson in intersectional feminism.
This wasn't a buzz-worthy term for feminists in 2003, when the first film aired on Disney Channel. Looking back, it was a solid primer for teaching young girls the value in validating and accepting differences. The movie also tackled other topics like normalizing interracial dating, communicating across cultures, toxic leadership habits, how to have a successful girl group 101, how poverty impacts women, and how to come together even if your spots are different colors.
Per usual, it isn't until we grow up that we understand what an impression it left behind even after you gave your leopard printed sweatsuit and movie posters. Here are some other gems that movie taught you about feminism done the right way.
1. It Featured Raven-Symoné, A Woman Of Color, As The Lead.
Raven-Symoné plays Galleria, a half-Italian, half-Black woman who was also curvier than your average pop star. While we loved her courageous attitude and boss mentality, her casting was also a testament to representation. For young girls of color, it said that we can lead, we can be fabulous, and we can even famous. She was missed after not being a strong fourth to the girl group Cheetah Girls launched shortly after, but she made an impression while she was there.
2. The Cast Was Amazingly Diverse.
Speaking of representation, the cast was majority people of color. If we just focus on the four lead women in the movie, all of them are women of color. But they create a sisterhood anyway. And for once, these racial and ethnic differences feel normal and accepted as they work together to make their dreams come true.
3. It Acknowledged Identity Instead Of Leaning On Erasure.
Even under the umbrella term of "woman of color," characters like Chanel or Aqua show us how different those women can be. A general critique of feminism is that even when women of color are acknowledged, the diversity within POCs is often ignored for any representation. We see Chanel break into Spanish just as easily as English, and proudly refer back to her Puerto Rican roots. Other subtle differences such as Aqua's southern roots and demeanor — of which she arguably coined "hot sauce in my bag (swag)" before Beyoncé — we see how women from different socioeconomic backgrounds and cultures interact.
4. The Challenges Of The Main Characters Aren't Ignored – In Fact, They're Integral To The Plot.
What we didn't get to see in the movie that was highlighted in the novels was just how intricate each character's story is. We read about Chanel's struggle with an eating disorder — an illness that studies have shown Latinas are more susceptible to, and worse, are under-diagnosed. In the movie, we learn that Dorinda was raised by a low-income foster family and watch her struggles through the lens of that perspective. While these moments on and off the screen made us gasp, we weren't forced to weigh one storyline over the other; these women of color have the space to be center of attention, especially in the books.
At the end of the first movie, the girls are challenged with selling out or staying true to who they are. This was delivered a great message about not having to put on a mask or just ignore your differences in order to call yourself a pop group or a feminist.
Of course, re-watching the series — which are the cheesy kind of feel-good movies you watch on a rainy day — doesn't mean you should stop doing your homework. Intersectional feminism doesn't just stop at race or ethnicity. The series was a good start, but other identities of non-gender conforming and LGBTQ+ communities are also part of the conversation.
Feel free to dive back into Gregory's books for a better look at just why the movies were awesome, but untangling oppression isn't as easy as watching a movie; it's about checking your privilege like a grown ass woman, contributing to spaces where women often considered "other" are heard, and being a vocal ally.