Why The Internet Is Praising This Muslim Miss Universe Contestant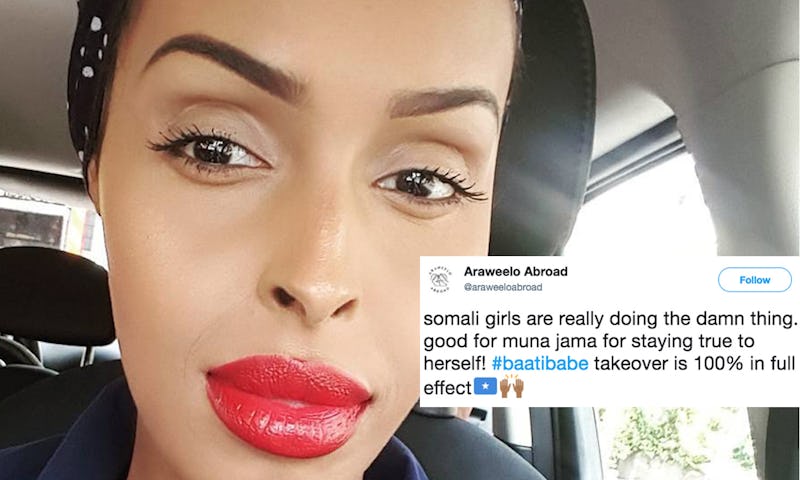 Muna Jama/Instagram; araweeloabroad/Twitter
While many would dismiss pageants as places where feminism dies or nothing more than a beauty competition, inspiring moments can and do happen. Recently, Miss Universe Great Britian contestant Muna Jama wore a kaftan instead of a bikini during the competition, and it was not just a testament to the strength of Jama but also a hopeful sign of more inclusivity to come in the pageant world.
According to Teen Vogue, Jama fought for the right to wear the kaftan in the traditional swimsuit competition of the pageant. As a result of Jama's religious beliefs, she would not compete unless allowed to wear the kaftan instead of the traditional bikini commonly worn by contestants in the pageant. No matter what the outcome, Jama held firm to her beliefs, and that alone is praiseworthy. Thankfully, however, Jama was allowed to compete in the swimsuit competition while wearing a kaftan, and she not only looked stunning, but she also made a bit of history while she was at it.
The move was actually the first of its kind in the history of the competition, and it hopefully signals a change. With Jama paving the way for women of Muslim faith, the Miss Universe pageant could begin to see increased religious and cultural diversity in every country's competition.
In an Instagram post, Jama said, "This moment has proved that I am capable of almost anything I set my mind to and limitations is a status waiting to be changed. I thank everyone who stood beside me and believed in my vision."
Twitter quickly began to praise Jama for her strength, and honestly, for slaying the runway as well.
The praise for Jama continues to roll in.
Most loved the way Jama asserted herself, stayed true to who she is, and made her dream come true.
Muna Jama's kaftan moment at Miss Universe Great Britain is a larger sign of inclusivity and diverse representations of women in a competition not typically cited for such. Here's hoping the world is graced with Jama's presence and more strong women like her more often, both in pageants and beyond.