It's Time To Start Paying Attention To The Tonys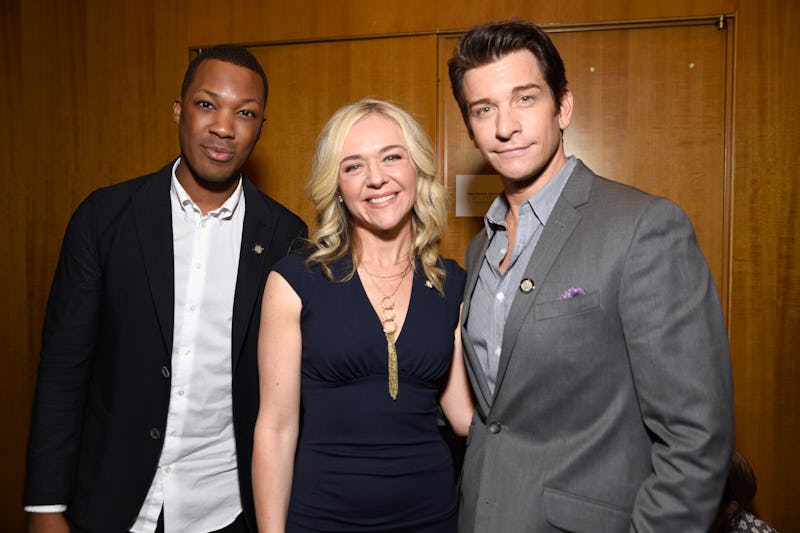 Jenny Anderson/Getty Images Entertainment/Getty Images
While Hollywood marvels that a female superhero film with a female director is killing it at the box office, the 2017 Tony Awards are coming up and are trouncing other award shows when it comes to diversity. As a big ol' theatre nerd myself, I'm not surprised. For whatever reason, Broadway and the Tony nominations represent diversity better than other ceremonies. While the industry is still partially dominated by white men, change is certainly more visible.
Even when it comes to subject matter, diversity is shining on Broadway — the nominated Dear Evan Hansen talks about mental health in a way that you wouldn't expect from a Broadway musical... unless you happen to be a big Next To Normal fan. "It speaks to the appetite that audiences have to talk about these things," says Evan Hansen book writer Steven Levenson in a press conference with reporters. Another acclaimed show, Falsettos, was written in the early '90s and follows four people living in New York at the beginning of the AIDS crisis who come together and form a family.
Compared to 2016 there is a downtick in the racial diversity of the musical acting categories, which I was think was to be expected in the year following both Hamilton and the spectacular revival of The Color Purple. However, Broadway is still far from a #TonysSoWhite situation. Among the 2017 Tony nominees are actors Corey Hawkins, Denée Benton, Eva Noblezada, John Douglas Thompson, Condola Rashad, and Michelle Wilson.
Even just walking through the theatre district, you'll notice more representation and roles going to people of color, from Barrett Doss in Groundhog Day and soon Jelani Alladin in Frozen (both as characters played by white actors in their respective movies), to shows like A Bronx Tale and the upcoming revival of Once On This Island.
"Part of my individuality is being half Mexican, half Philippina," says Miss Saigon star Noblezada, "it should totally be normalized." Just having the show back on Broadway for a modern audience is important, according to the actor. Miss Saigon is an epic musical romance set during the Vietnam War. "It's the perfect swing of diversity on Broadway," she says.
At 21, and in a role she first performed in London at only 18, Noblezada also takes on ageism in the entertainment industry. "Age does not define you," she says when asked about tips for success. "I've heard it all before." It doesn't hurt that three of the women she is nominated against are Broadway legends Christine Ebersole, Bette Midler, and Patti LuPone. Maturity comes to us all at different rates, and the quickest way to fail, in her own observation, is to compare yourself to others — though I'm not mad that theatre represents older women too.
Ever since Julie Taymor became the first female director to win a Tony in 1998 for The Lion King, I have also been interested in diversity behind the curtain as well. This year's nominees include Rachel Chavkin, who directed Natasha, Pierre & The Great Comet of 1812, an immersive punk rock musical, starring Josh Groban, that is set in the middle of War & Peace.
Many women worked on that show and are nominated this year including, Mimi Lien, the set designer, and costume designer Paloma Young. Costume design is a women-led category; six out of the eight nominees across the play and musical categories are female, with two women of color nominated.
There are also three women, again across two categories, nominated for lighting design. Come From Away, a new musical about a small Canadian town that comes together to embrace passengers stranded in the wake of 9/11, has music, lyrics, and book written by the husband and wife team Irene Sankoff and David Hein. The list goes on!
Another impressive behind the scenes team is Indecent director Rebecca Taichman and Pulitzer prize winning playwright Paula Vogel, who is (unbelievably) up for her first Tony this year. In fact, two of the four Best Play nominees were written by female playwrights, the other being Lynn Nottage for Sweat, about a mining town in Pennsylvania.
"It's ever so slowly changing," says Taichman about women in theatre, "and what's important is to make ourselves really visible and present." Theatre is not without its faults, but it is incredibly inclusive — there's a reason that the kids who don't feel they belong in high school often wind up in drama club. For that reason, I think it's kind of fitting that so many shows nominated this year are about small towns and formed families.
It's also significant that Broadway seems to employ and nominate more openly LGBT actors and creators than Hollywood. So while accurately representing the world on stage shouldn't be considered a creative risk, things are changing faster on Broadway than in Hollywood, and the 2017 Tony nominations prove it.