Twitter Is Gleefully Comparing Boston Rally Crowd Sizes To That Of Trump's Inauguration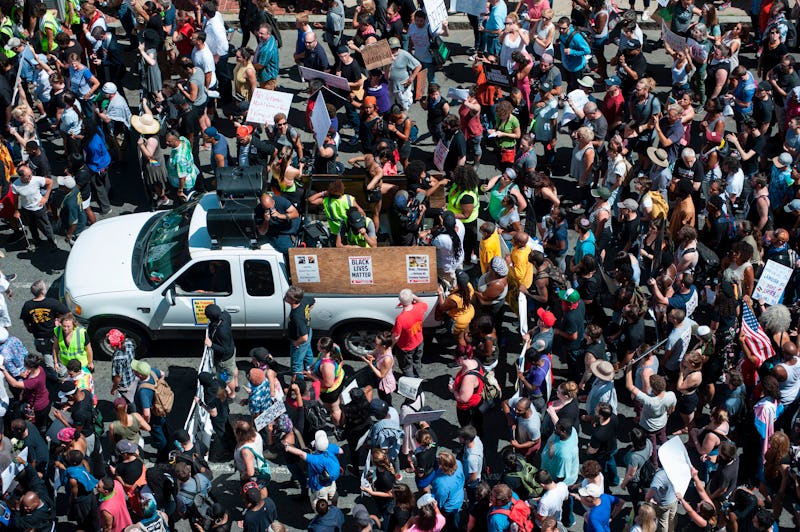 RYAN MCBRIDE/AFP/Getty Images
Critics of President Donald Trump are using counter-protests organized against a controversial "free speech" rally in Boston to hit the president where it's likely to hurt him most: crowd size. As counter-protesters showed up in the thousands to protest a small, but controversial, "free speech" rally attended by several Trump supporters in Boston on Saturday, many found the events' discrepancy in size to be reminiscent of the debate over crowd size Trump led earlier this year. In fact, on Twitter, people quickly began comparing Saturday's rallies in Boston to Trump's inauguration in terms of embarrassing crowd sizes.
America learned just how thin-skinned and size-obsessed Trump was back in January, when he and his administration continued to falsely claim his inauguration had been attended by "the largest audience ever to witness an inauguration" despite overwhelming evidence former President Barack Obama's 2009 inauguration was more heavily attended.
On Saturday, it quickly became apparent that counter-protesters in Boston would significantly outnumber those attending the Boston Free Speech Rally in Boston Common's Parkman Bandstand. Although media outlets' estimations varied, the number of Boston Free Speech Rally participants was reported to be anywhere from 20 to 100 while Counter-protesters were estimated to number well into the thousands.
While some may have felt the number of counter-protesters in Boston directly outnumbered Trump's inauguration crowd, that's not likely to be true. Crowd scientists at Manchester Metropolitan University in Britain have estimated that roughly 160,000 people were on or around the National Mall in Washington, D.C. during Trump's inauguration, according to the New York Times. While the Associated Press estimated counter-protesters in Boston on Saturday numbered around 15,000.
That being said, the stark contrast in the sizes of counter-protests and the Boston Free Speech Rally could certainly be – and was – used as a metaphor for previous comparisons of the inauguration crowds present at President Trump and former President Obama's inaugurations. Although President Trump has falsely claimed 1.5 million people attended his inauguration to make it the largest inauguration crowd ever, a comparison of aerial photos taken at his and Obama's inaugurations suggests otherwise. In photos, Obama's 2009 inauguration appears to have drawn a noticeably larger crowd than Trump's.
This isn't the first time a protest has appeared to dwarf the size of Trump's inauguration crowd. The day after Trump was sworn into office, hundreds of thousands of protesters filled the streets in Washington, D.C. as they marched in the Women's March. Crowd scientists at Manchester Metropolitan University in Britain told the New York Times they believed roughly three times as many people showed up for the Women's March than Trump's inauguration.
When faced with such turnout discrepancies, President Trump has previously implied that those who attend protests against him or his administration are "paid protesters" and not voters. While Saturday's Boston Free Speech Rally was not organized or billed as a pro-Trump event, it was attended by some Trump supporters.