Why These Refugees Are Converting To Christianity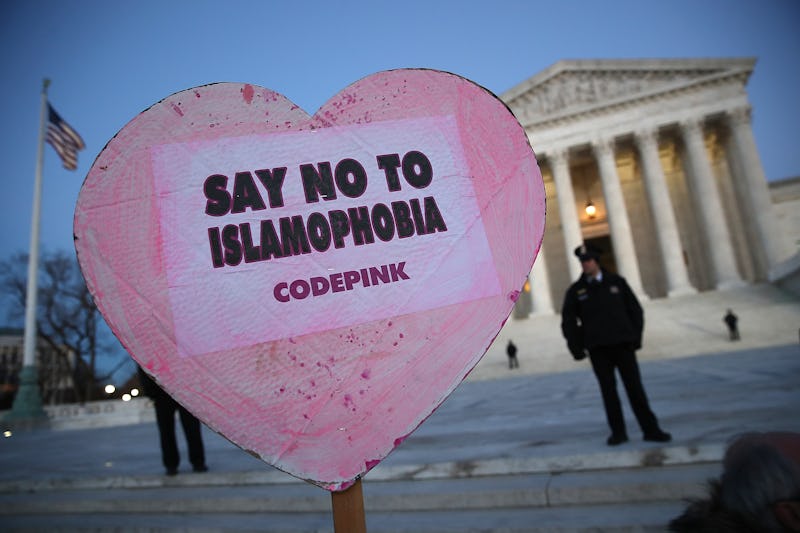 Win McNamee/Getty Images News/Getty Images
A new report by The Telegraph covered the recent surge in the number of Muslim refugees converting to Christianity to finally reach safety. The reason? While some may genuinely feel drawn to a different religion and others seek the aid of churches and Christian organizations, many refugees believe that adopting a new belief system increases their chances of being granted asylum in countries away from the Syrian crisis. This willingness to renounce — even if only on paper — a lifelong devotion to Islam in favor of Christianity to finally have a safe life is a perfect example of how deeply anti-Muslim sentiments affect those who are targeted.
"Changing religion in the Middle East is a very big thing," Mr. Ali, a Syrian refugee living in Lebanon, told The Telegraph. Ali converted to Christianity finding himself homeless and later being provided a bed, daily meals, and a monthly stipend by the Anglican Church of God. "In Syria you very occasionally hear of Christians converting to Islam but never the other way round. A lot of people are doing it to get to Europe, the US and Canada. While I plan to stay in Lebanon, I know hundreds who been baptized just to help their applications. They would do anything to have security for their family."
Christians face religious persecution at a higher rate than Muslims in the Middle East, which helps the belief that other countries will be more sympathetic to a refugee who declares to be a follower of Jesus on an asylum application. Donald Trump has denounced violence against Christians in the Middle East and Asia multiple times. "Another radical Islamic attack, this time in Pakistan, targeting Christian women & children. At least 67 dead, 400 injured," he tweeted on one occasion. "Christians in the Middle-East have been executed in large numbers," he wrote another time. "We cannot allow this horror to continue!"
With the new POTUS signing a controversial executive order barring refugees and travelers from seven predominantly Muslim countries from entering the United States, it probably only feeds fuel to the belief that Muslim lives are valued less than Christian ones. His executive order does not make reference to any religion, but the order is part of his quest to end "radical Islamic terrorism," which inevitably entangles the Muslim religion into the mandate.
If refugees believed claiming a different religious doctrine would raise their chances of escaping violence before, they're likely to believe it even more strongly now.