Jemele Hill Has Been Suspended From ESPN For Tweeting About "Take A Knee"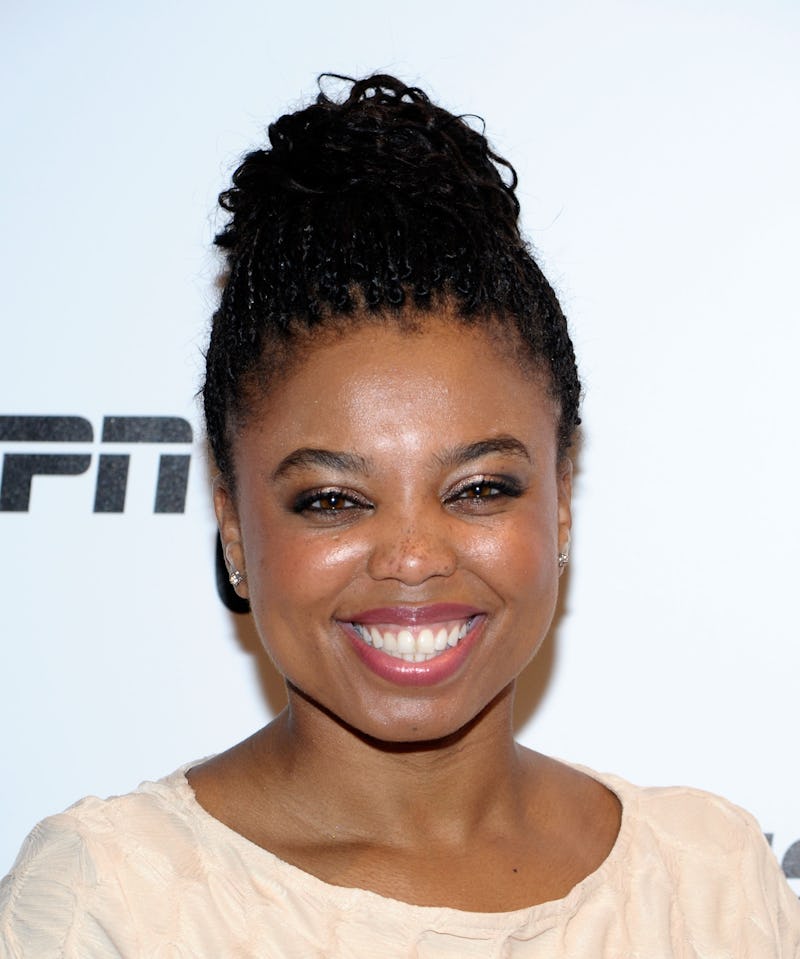 Ilya S. Savenok/Getty Images Entertainment/Getty Images
On Monday, a series of tweets by Jemele Hill got her suspended from ESPN again, with the network saying in a statement that she'd committed "a second violation of our social media guidelines." ESPN didn't say what exactly Hill had done to warrant the two-week suspension; however, Hill sent a series of tweets the day before denouncing Dallas Cowboys owner Jerry Jones, who had recently threatened to bench players who didn't stand for the national anthem. Hill further suggested that those who oppose Jones' position should boycott companies that advertise at Cowboys games, rather than pressure players to defy Jones' edict.
"Change happens when advertisers are impacted," Hill wrote on Sunday. "If you feel strongly about JJ's statement, boycott his advertisers." According to Forbes, the Cowboys are the most profitable team in the NFL. In an earlier tweet, Hill wrote that Jones, by ordering all Cowboys players to stand for the national anthem, "has created a problem for his players, specifically the black ones."
"If they don't kneel, some will see them as sellouts," Hill wrote.
ESPN announced the next day that it had suspended Hill. This was her second suspension; the first came in September, after she tweeted that President Trump is "a white supremacist who has largely surrounded himself w/ other white supremacists." Hill has since said that she stands by her comments.
"Jemele Hill has been suspended for two weeks for a second violation of our social media guidelines," ESPN said in a statement Monday. "She previously acknowledged letting her colleagues and company down with an impulsive tweet. In the aftermath, all employees were reminded of how individual tweets may reflect negatively on ESPN and that such actions would have consequences. Hence this decision."
Shortly after the announcement, The Wrap reported that Michael Smith, Hill's co-anchor, had reached a "mutual" agreement with ESPN to sit out Monday's episode of SportsCenter. It was implied that Smith is doing this as an act of solidarity with Hill, although neither Smith nor the report in The Wrap actually stated that this is the case.
It's worth being clear about this: Hill did not actually call for a boycott of the Cowboys, and her comments have to be viewed in context.
When Jones pledged that Cowboys players who #TakeTheKnee during the national anthem won't see any game time, some outraged fans said that the team's star players should kneel anyway, the argument being that this would essentially call Jones' bluff and force him to let those players on the field.
Hill argued, however, that this unfairly places the responsibility on the team's players; after all, it's the fans and advertisers who ultimately put money in Jones' pocket. She said that boycotting the team's advertisers would be a much more effective method of protest, and that anyone who "strongly" opposes Jones' comments should do so.
It was over a year ago that then-San Francisco 49ers quarterback Colin Kaepernick refused to stand during the national anthem to protest police killings of unarmed black people.
"I'm not going to stand up to show pride in a flag for a country that oppresses black people and people of color," Kaepernick told NFL.com. "There are bodies in the street and people getting paid leave and getting away with murder."
The protests gained new life on September 25th, when dozens of NFL players — and some entire teams — took a knee during the national anthem to protest police violence against people of color. This earned a rebuke from President Trump, and weeks later, Vice President Mike Pence walked out of an Indiana Colts game when several players kneeled during the national anthem.
As for Kaepernick, he is now a free agent, because despite his undeniable athletic talent, every team in the NFL has refused to sign him since his protests.