Roger Goodell Was Booed By Patriots Fans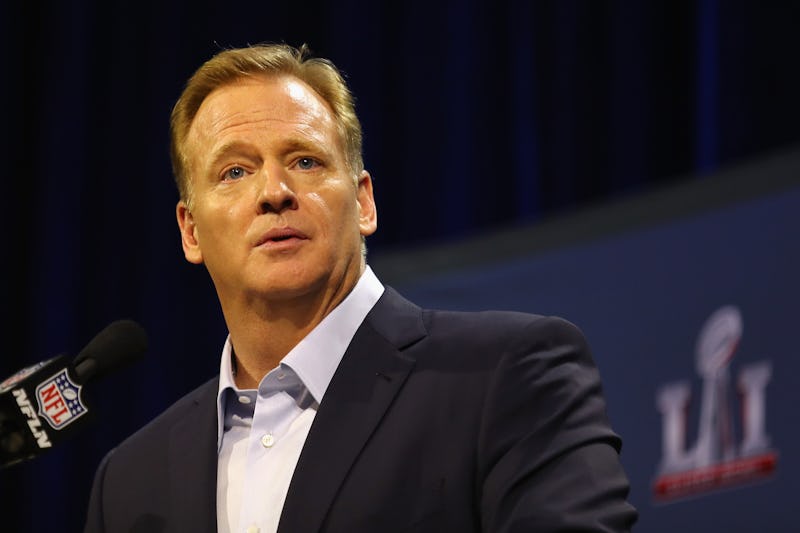 Tim Bradbury/Getty Images Sport/Getty Images
NFL Commissioner Roger Goodell may have his fans, but the New England Patriots' fans aren't among them. On Sunday, Goodell was booed after the Super Bowl ended in a historic overtime win by the Patriots. For anyone who's familiar with the relationship between Goodell and the Patriots, the boos were not a surprise.
Goodell struck a nerve with the Patriots and their fans before the start of the 2016 season. In the controversial case best known as "Deflategate," Patriots quarterback Tom Brady was suspended for the first four games of the 2016-2017 season. As a result of the suspension, the Patriots would start their season without the one player who had led their offense for 16 previous seasons.
If you're not familiar with Deflategate, here's a quick (very simplified) recap: In January 2015, Brady and the Patriots took on the Indianapolis Colts in the NFL's American Football Conference (AFC) championship game. The Patriots' victory over the Colts put them into the Super Bowl that year, which they later won. Shortly after the AFC championship game, news spread that the Patriots may have brought under-inflated footballs to the game — a violation of NFL rules. After an investigation, the NFL decided in May 2015 to suspend Brady for his alleged involvement. Goodell later upheld the suspension and defended it in court.
Eventually, Brady gave up on the legal proceedings and allowed his four-game suspension to play out. During his absence, the Patriots still managed to win most of their games. On Sunday, the team — with Brady on the field — managed to pull off the biggest comeback in Super Bowl history to defeat the Atlanta Falcons, but the Falcons may not have been Patriots fans' real enemy.
As league commissioner, Goodell has been controversial beyond Deflategate. For instance, in 2014, Goodell handed down a two-game suspension to the Baltimore Ravens' Ray Rice, who turned out to have actually assaulted his fiancé in a hotel elevator. (When video evidence of the assault became public, Goodell tried to extend Rice's suspension indefinitely.) If a two-game suspension for alleged domestic violence and a four-game suspension for alleged under-inflation of game balls seems backwards and laughably inconsistent to you, then you're starting to understand the controversy that surrounds Goodell's leadership of the league.
Fast forward to Sunday night, when Goodell presented Patriots owner Robert Kraft with the coveted Lombardi trophy. Patriots fans — or, rather, supposed Patriots fans — attempted to drown out Goodell's short speech with loud boos. It was likely their way of sending a message to the controversial commissioner — a message of faith in their team, but not in the system.