Shia LaBeouf Arrested After Alleged Altercation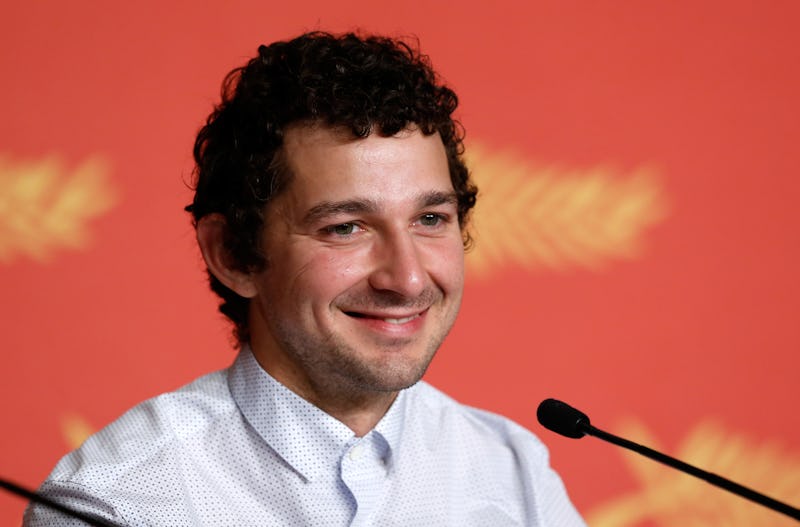 Pool/Getty Images Entertainment/Getty Images
Over the last couple of years, Shia LaBeouf has dedicated himself to live performance art pieces to make a statement. And now, his latest is making headlines. According to The Hollywood Reporter, early Thursday morning, LaBeouf was arrested after allegedly getting into an altercation outside of the museum where his latest piece, a livestream is set up. The reason for the alleged fight is not yet known, although the actor is reportedly facing a misdemeanor assault charge. So far, LaBeouf has yet to speak out on his arrest. Bustle has reached out to a rep and an attorney for LaBeouf, but did not receive a response at the time of publication. Update: The NYPD tells Bustle in a statement, that includes the details previously reported as given by police to publications below, that "This dispute was NOT pro Trump versus anti Trump. All congregants there were anti Trump."
Earlier: According to what police told THR, LaBeouf allegedly scratched an unidentified 25-year-old man in the face while pulling his scarf before also allegedly pushing him. Police added that the man refused medical attention. The NYPD told CNN that LaBeouf has since been released and given a desk-appearance ticket to appear in court for an arraignment.
On Jan. 20, the date of last week's presidential inauguration, LaBeouf started a four year livestream called HE WILL NOT DIVIDE US along with two collaborators. During Trump's presidency, the public is welcome to go to New York's Museum of the Moving Image and repeat the phrase "he will not divide us" in front of the camera LaBeouf and his partners set up outside the museum.
Below is the video an unofficial Twitter account about the art installation claims is the reason LaBeouf got arrested. The man in the video is unidentified and this has not been confirmed by police as the reason for the arrest:
Another video, posted by the same account, this one taken from the actual live stream, shows LaBeouf looking into the camera, saying, "How does this make this sh*t OK to be a Nazi out here?"