Here's Why Right-Wing Organizers Canceled Their Rally In San Francisco All Of A Sudden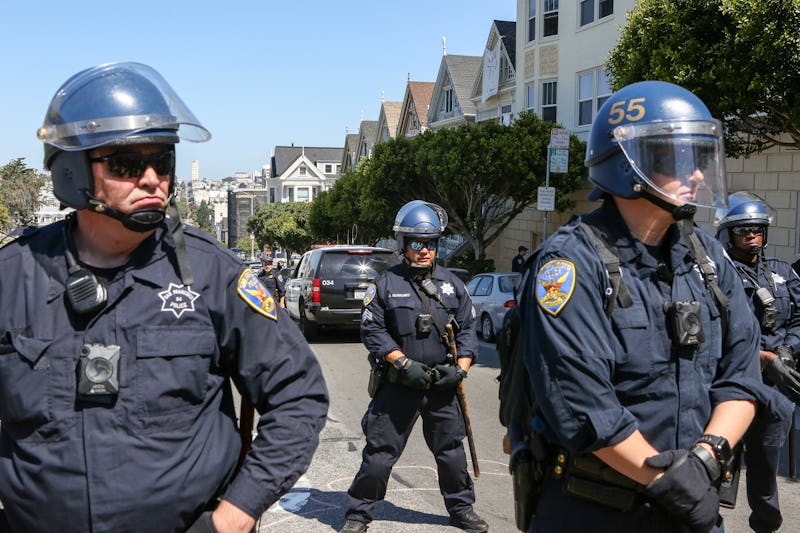 AMY OSBORNE/AFP/Getty Images
The last-minute cancelation of a "Freedom Rally" scheduled to take place Saturday at San Francisco's Crissy Field has caused some confusion in the city as rally-goers seek an alternative location and counter-protesters begin gathering in the streets. But why was San Francisco's Patriot Prayer rally canceled and what's happening in the city now?
Leaders of Patriot Prayer, the right-wing pro-Trump advocacy group behind Saturday's rally, announced they'd decided to cancel the event Friday in a Facebook Live video. The group cited safety concerns and blamed city officials for falsely painting them as white-supremacists, something they argued was drawing "violent protesters" to their event.
"It doesn't seem safe. A lot of people's lives are going to be in danger tomorrow." Joey Gibson, the founder of Patriot Prayer, said in the video. "The rhetoric from Nancy Pelosi, Mayor Lee, the media, all these people are saying that we're white supremacists and is bringing tons of extremists … We have a lot of respect for the citizens of San Francisco, and at the end of the day we want people to be safe."
In a separate Facebook post Gibson claimed "Crissy Field was 100 percent a setup." He then said the group would instead gather at Alamo Square Park for a "press conference" featuring the same list of speakers and bands slated to appear at the rally at Crissy Field.
However, city and state officials weren't pleased with Gibson's last-minute change of plans. California State Sen. Scott Wiener told the San Francisco Chronicle he believed Gibson's group "showed its true colors by canceling, at the last minute." Wiener claimed the group was "not interested in simply exercising free speech" but rather "wants to create a volatile, chaotic, violent tinderbox."
To prevent Gibson and his Patriot Prayer members from accessing Alamo Square Park the city closed the space early Saturday and erected a temporary fence around it. In response, Gibson announced via Facebook that he would be holding a news conference at 2 p.m. local time at an undisclosed indoor location after which he "will pop up at random spots in the city to talk with any citizens of SF." Gibson also apologized to "everyone that spent money and plane tickets to come down here."
But despite Patriot Prayer's repeat cancelations, hundreds of counter-protesters converged on areas near Alamo Square Park and Crissy Field on Saturday with a simple message: white supremacists, Nazis, and any other similarly hate-driven far-right group aren't welcome in San Francisco.