Why YouTube Went Down Could Have To Do With An Error Message You'll Recognize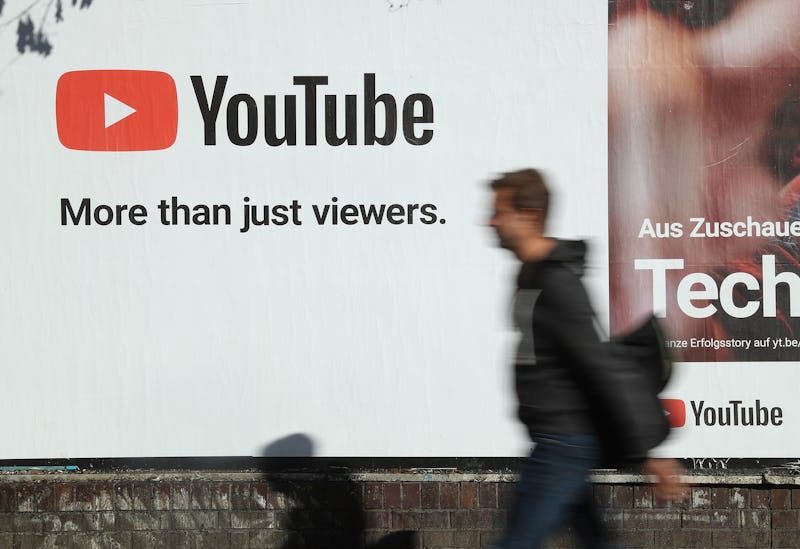 Sean Gallup/Getty Images News/Getty Images
On Tuesday evening, internet users around the world experienced a surprising phenomenon — YouTube, the popular video streaming website, was down for over an hour. If you're wondering why YouTube was down, the "Error 503" message you saw on your screen may offer some insight into the issue. While YouTube has not officially commented on the cause of the outage, this error message typically points to a server overload problem.
As The Verge reported on Tuesday evening, YouTube users worldwide started reporting issues with the website and its related mobile applications at around 9:20 p.m. EST. As CBS noted, many users received an "Error 503" message when they tried to access YouTube around this time. The outlet explained that a 503 error message means "service unavailable" and is usually a temporary message. Error 503 often occurs when there is significant website traffic trying to access a site and the site's servers become too overloaded to process this traffic. Considering that many people received this error message during the YouTube outage, it could offer some hints into the root of the problem.
Additionally, CBS reported that other users received an "Error 500" message when trying to access individual YouTube accounts. A 500 error message points to internal server issues.
After the site initially went down, YouTube acknowledged the issue in a tweet. "Thanks for your reports about YouTube, YouTube TV and YouTube Music access issues. We're working on resolving this and will let you know once fixed."
At around 11 p.m. EST, the company reported that its services were fully restored, tweeting, "We're back! Thanks for all of your patience. If you continue to experience issues, please let us know." YouTube did not offer specific insight into what had caused the global outage.
CNBC noted that it is uncommon for YouTube, which is owned by Google, to experience service interruptions, though it has happened before. Indeed, as the outlet indicated, during a 2018 FIFA World Cup game between Croatia and England in July, YouTube TV went down for around 40 minutes. YouTube TV is a paid live-streaming service and, as Tech Crunch reported, fans were certainly not pleased to lose access to the broadcast for a significant chunk of time.
YouTube also experienced another worldwide outage back in 2008, though this time it was caused by a pretty unique set of external circumstances. ABC reported that the outage happened when the Pakistan Telecommunication Authority sought to block access to YouTube because of the reported availability of anti-Islamic films on the website. However, instead of blocking access for Pakistani users, the government inadvertently blocked access for nearly two-thirds of internet users worldwide. Normal service was restored within several hours.
Overall, while YouTube outages are certainly rare, they do occur, as Tuesday evening's events revealed. It remains to be seen whether YouTube will offer further insight into the cause of the service disruption. Either way, though, it appears the issue has been resolved and users around the world are once again able to stream videos to their hearts' content.