We Need To Address The Anti-LGBTQ Violence In Chechnya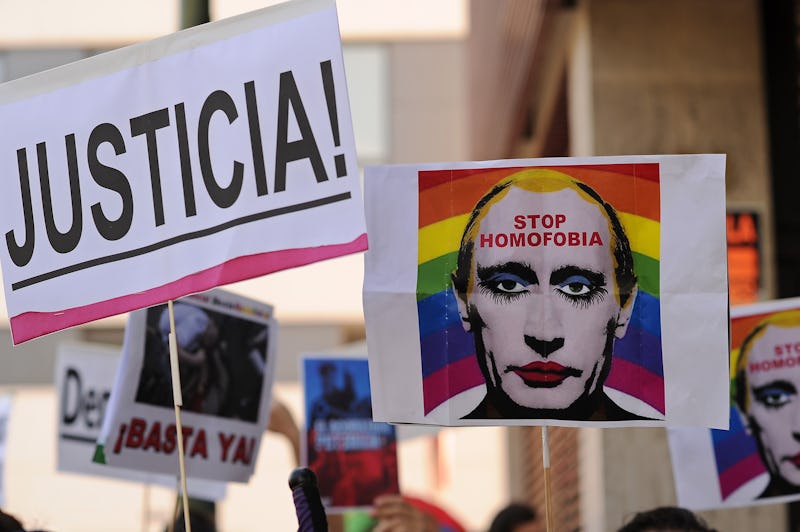 Denis Doyle/Getty Images News/Getty Images
LGBTQ rights organizations are speaking out after reports surfaced that the Chechen government in Chechnya, Russia is allegedly capturing, torturing, and even murdering gay men. Local media outlets have confirmed that at least 100 gay men in Chechnya have disappeared, and are reportedly being targeted specifically because of their sexual orientation. And this should alarm the entire international community. The suspected anti-LGBTQ violence in Chechnya is a human rights issue, and the rest of the world needs to condemn it and ensure that the lives of gay men are protected.
In early April, the Novaya Gazeta, a local Chechen newspaper, reported that Russian leader Ramzan Kadyrov is supposedly ordering federal law enforcement officials to round up gay men from the streets in Chechnya and detain them in concentration camp-style prisons, where they are allegedly routinely tortured though electric shocks and beatings. At least three men have reportedly been killed.
Homosexuality has long been considered controversial in the conservative, quasi-independent Russian territory, but according to Tatyana Lokshina, program director of Human Rights Watch in Moscow, this is the first time gay people in Chechnya have reportedly been targeted on such a large scale.
A spokesman for Kadyrov not only denied the allegations of violence, he also denied that gay people even exist within his state's borders, according to the New York Times.
A number of LGBTQ advocacy groups have begun calling on international leaders to address the alleged violence. On Tuesday, the Gay and Lesbian Alliance Against Defamation (GLAAD), urged Nikki Haley, the U.S. Ambassador to the United Nations, to condemn the supposed attacks and investigate the Chechen government's alleged humanitarian crisis.
The U.S. Department of State urged Russia to investigate the reports in a statement last week, stating that the Russian government has a responsibility "to protect all people from discrimination and violence." But human rights organizations are urging Secretary of State Rex Tillerson to do more, and to address the issue in his meeting with Russian officials in Moscow on Wednesday.
The reported violence in Chechnya is something that international leaders should strongly condemn, and efforts must be made to ensure that gay men in the region no longer face persecution simply because of their sexual orientation. Gay men in Chechnya are allegedly being tracked down through gay dating websites, thrown in small jail cells that hold at least 30 people at a time, and tortured through violent measures. Most significantly, their very existence is being denied, and the Chechen government is attempting to erase them from history and memory.
The U.N.'s "Universal Declaration of Human Rights" states that "the inherent dignity and ... the equal and inalienable rights of all members of the human family is the foundation of freedom," and this of course applies to LGBTQ individuals as well.
Amnesty International has launched a petition urging the Chechen government to stop the alleged abductions, and U.S. Senators like Democratic Minority Leader Chuck Schumer have called on the U.N. to address the supposed attacks. But Tillerson has not yet stated whether he will mention the reported abuses in his meeting with Russia this week, and Haley has not issued a statement on the topic.
Until action is taken, the lives of hundreds of gay men are at risk.