2017's Kentucky Derby Was Missing The Stylish Johnny Weir & Tara Lipinski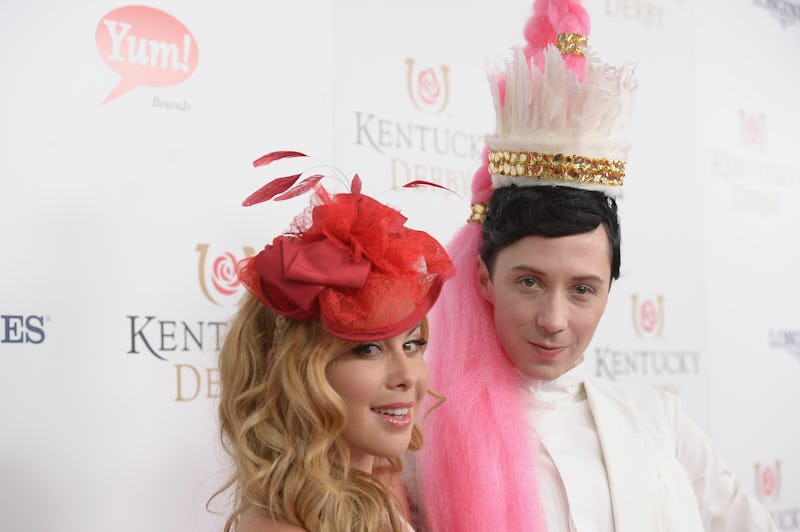 Gustavo Caballero/Getty Images Entertainment/Getty Images
Sure, sure. The Kentucky Derby's main focus is horse racing, but what plenty of viewers are actually tuning in for is the fashion. And nobody brings the Derby Day style quite like this pair. Why weren't Johnny Weir and Tara Lipinski at the 2017 Kentucky Derby? That, my friends, is a very good question.
The two have co-hosted the event for NBC in the past, but for 2017's race, that was not the case. Instead hosts such as Bob Costas, Rutledge Wood, Bob Neumeier, among others, manned the coverage for the station. Lipinski and fellow figure skater and co-hosting partner always dress to impress, and I wouldn't say these two don't necessarily coordinate their ensembles each year, but their outfits are definitely better together than apart. And that's precisely what makes their appearance at the event so special!
So, where's the duo you've been waiting to see at the 2017 Kentucky Derby? According to Lipinski's Instagram, she's currently at a tropical destination gearing up for her upcoming wedding. It's completely understandable to miss the Kentucky Derby to have fun with your bridal party, so at least she's got a great excuse for not being there! Weir, on the other hand, seems to be a little less busy. He tweeted about watching TV and doing laundry on Derby Day. But, honestly, it's just not the same if these two aren't together. So, it's understandable to assume if there's no Lipinski, there will be no Weir, either.
Weir tweeted wishing the NBC team good luck.
He then seemed to have a pretty normal Saturday morning.
Lipinski appears to be living it up with her love.
Fans are missing the extremely stylish Lipinski and Weir combo.
Because seeing these two at the event have become a tradition for many.
It's no wonder folks are missing these two. They always deliver some very memorable fashion moments.
Year after year, they've stolen the show.
Derby Day wasn't the same with this pair, but there's always next year.
Who's already looking forward to hopefully seeing them in 2018? I know I am!