Don't Attack Melania Trump's First Lady Portrait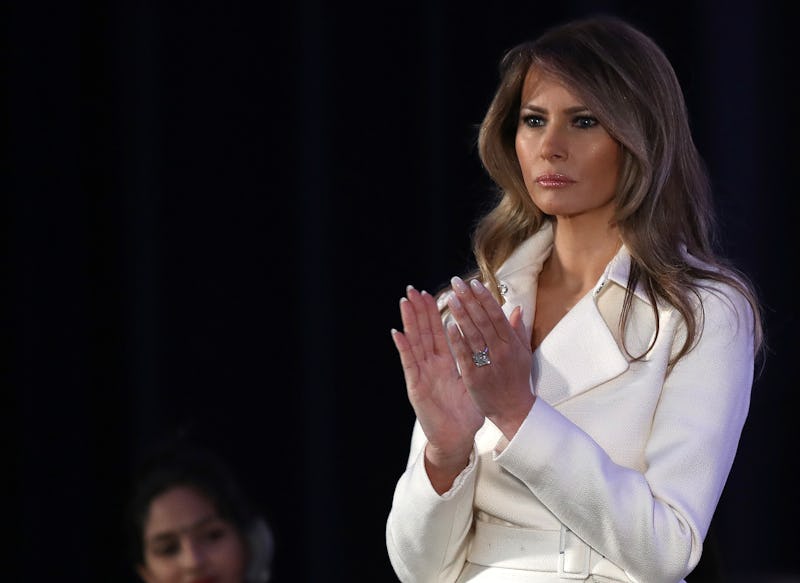 Win McNamee/Getty Images News/Getty Images
On Monday, the White House released the first lady's official photo. While reactions to the photo on social media have been mixed, critiques of Melania Trump's official portrait particularly stand out. In short, criticizing Melania's appearance in the portrait, as if it defines her entirely, is incredibly unfair.
The portrait was first released on Twitter by Melania's communications director, Stephanie Grisham. The photo features the first lady in the West Sitting Hall of the White House private residence and was taken by photographer Regine Mahaux. For the event, Melania was styled in a black tuxedo jacket. The photo is now featured on her biography page on the official White House website.
Reactions to the photo on social media come from both ends of the spectrum. Some said Melania looked beautiful in the photo or commented on the size of her engagement ring, which is prominently displayed in the portrait. At the same time, critiques of the photo have been incredibly harsh. Several social media users mocked what they perceived as the "glamour" style of the portrait, implying it looked tacky. Others made comparisons to Melania's appearance in other photographs and unkindly suggested she appeared more attractive in the photo than in reality. Still some used the opportunity to make many references back to Trump's past as a model and made inappropriate suggestions about outlets in which they think her portrait should be displayed.
While you don't have to love Melania's photo or be a fan of hers, subjecting any woman's appearance to extensive scrutiny and mockery is unacceptable. Unfortunately, extensive critique seems to constitute a trend with first lady portraits. In 2009, for example, Michelle Obama faced much criticism for wearing a sleeveless black dress in her official White House portrait. At the time, critics lambasted Michelle for dressing too "informally," for wearing an "out of season" look, and for appearing "disrespectful" to the office.
As the first lady, Melania can be critiqued for her role in certain policies or programs, because those decisions could directly affect Americans. However, no first lady deserves to be attacked for her appearance, especially when that criticism is used as a vehicle to comment on her entire essence — her personality, her character, etc. It is one thing to dislike a public figure; it is another altogether to attack a woman's physical features or to suggest that her image reveals the content of her character. For the sake of Melania as well as former and future first ladies, people should strive to be more cognizant of their reactions and realize the ramifications of their words.