Trump Tweeted About The Clinton Campaign's Hacked Emails After Wikileaks Asked Don Jr. To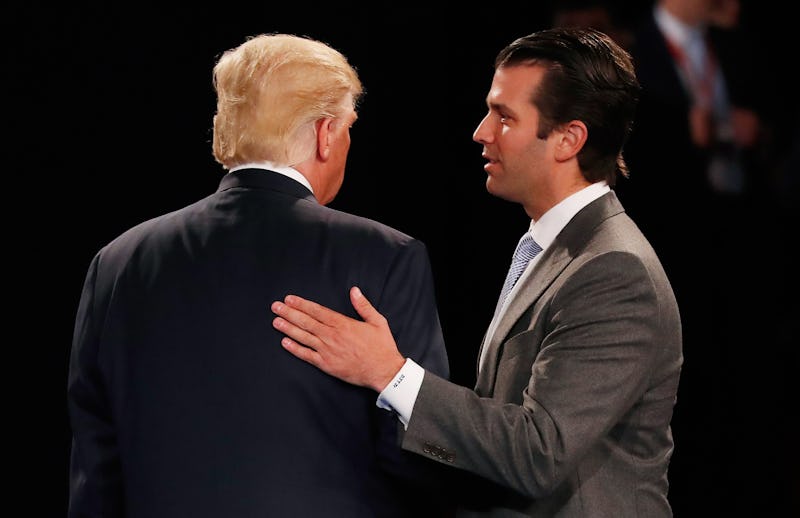 Pool/Getty Images News/Getty Images
A report from The Atlantic on Monday revealed Donald Trump Jr. and WikiLeaks were in communication throughout the 2016 election. WikiLeaks slid into Donald Jr.'s Twitter DMs beginning around September 2016, and in October, sent a link to hacked emails from the Hillary Clinton campaign. The timing of President Trump's response to WikiLeaks' hack of his opponent raises more questions.
President Trump tweeted about the leaked Clinton campaign emails just 15 minutes after Donald Jr. received a message from WikiLeaks, which The Wall Street Journal's Byron Tau first pointed out on Twitter. That post from Oct. 12, 2016 is still up, in fact. The then-presidential candidate wrote:
Very little pick-up by the dishonest media of incredible information provided by WikiLeaks. So dishonest! Rigged system!
The messages from WikiLeaks to Trump's oldest son minutes earlier had requested that the presidential candidate tweet out the link to the Clinton campaign emails.
"Hey Donald, great to see you and your dad talking about our publications. Strongly suggest your dad tweets this link if he mentions us," the Oct. 12 message read. WikiLeaks added, "Btw we just released Podesta Emails Part 4," referencing emails from Clinton's campaign chairman, John Podesta.
Trump didn't tweet the link to the hacked emails, but Donald Jr. did two days later:
For those who have the time to read about all the corruption and hypocrisy all the @wikileaks emails are right here.
Following The Atlantic's report, he shared all of his correspondence with WikiLeaks via Twitter, explaining that he only responded three times over the course of the year, and congressional investigators were already in possession of the messages.
His lawyer told The Atlantic he and his client "have no concerns about these documents, and any questions raised about them have been easily answered in the appropriate forum." Vice President Mike Pence reiterated the Trump campaign's claims that it wasn't working with WikiLeaks during the election, telling Fox News on Monday that "nothing could be further from the truth."
WikiLeaks' 2016 hacks worked in the Trump campaign's favor, and the CIA determined Russia was behind the documents stolen from the Clinton campaign and given to WikiLeaks. U.S. intelligence also believes Russia's interference in the 2016 campaign — including the leaked emails — was intended to help put Trump in office.
One of the huge email leaks came hours after the Access Hollywood tape, in which Trump talked about sexually assaulting women, was made public, diverting attention from a Trump scandal to a Clinton scandal. Some of WikiLeaks' DMs to Donald Jr. came just four days before the post-Access Hollywood document dump.
"Hiya, it'd be great if you guys could comment on/push this story," WikiLeaks said; Donald Jr. replied, "Already did that earlier today," adding that it was "amazing" what Clinton "can get away with." Donald Jr. then asked: "What's behind this Wednesday leak I keep reading about?" WikiLeaks didn't respond to his question.
The messages continued later, though, with WikiLeaks asking Donald Jr. to leak his father's tax returns (Trump has yet to release them). Among other reasons, WikiLeaks argued that releasing Trump's financial documents would make the group look more impartial when it leaked more damaging information about Clinton.
WikiLeaks wrote the following, though received no response:
That means that the vast amount of stuff that we are publishing on Clinton will have much higher impact, because it won't be perceived as coming from a "pro-Trump" "pro-Russia" source.
After Trump won the election, Donald Jr. received yet another message, suggesting his father make Julian Assange (the founder of WikiLeaks) the Australian ambassador to the U.S. Assange was — and still is — hiding out in the Ecuadorian embassy in London to avoid extradition to Sweden on sexual assault charges.