This Plus Size Suit Line Was Created Especially For Women & It's So Badass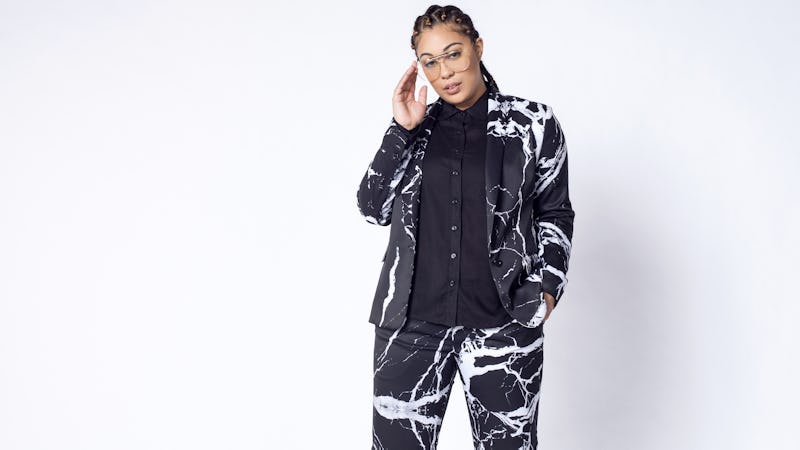 Wildfang
If you're looking for a way to intertwine person style with your business casual dress code, this is it. Wildfang created its first plus-size suit line, but this is not your classic black and white staples. The collection that gives the classic outfit a major twist. With tons of prints and fit ranges, there's something for all girl-bosses out there. Consider this the invitation to find your ideal power suit, my friend.
According to Wildfang, an average 67 percent of women are plus-size, which is categorized as sizes 14 and up. The brand also found that the average women is a size 14, but the group deemed plus size are only accounted for one to two percent of mainstream media. While Wildfang might not be able to change the people cast in movies or magazines, they are making sure women have as many power suit options as possible.
The Wildfang Empowerment Suit Collection is filled with 15 different items, ranging from blazers and button-ups to trousers. This might sound like classic dress-up clothing, but it's anything but. The brand is already known for their gender-bending styles — and they're adding prints to the mix with their suit collection.
"There is nothing that screams boss babe like rocking a suit. And since Wildfang is the home for boss babes.....we are thrilled to announce our first ever Wildfang suit," the creative director at Wildfang Taralyn Thuot tells Bustle. "We've obsessed the fit, introduced exclusive prints (can we say marble anyone), and offer sizes 2-20. We want millions of women to know what it feels like to throw on a suit and experience the confidence it brings. 'Cause who runs the world? Girls!"
The Empower Marble Tux Blazer, $178, Wildfang
Marbles, plaid, and polka-dotted daisy prints are not exactly the definition of a classic suit, but now they will be. The power suit has truly never been so, well, powerful. On top of that, this collection is also the brand's first steps into plus-size clothing.
As of Feb. 8, the brand currently offers sizes extra-small to XXL, which translates to size two to 20. While that's not the most size-inclusive line out there, it is a step int he right sartorial direction for the brand. Wildfang tells Bustle that they have plans to expand the size range even further soon.
Wildfang is known for pushing the boundaries with its clothing designs. Many of the clothing on the website are gender neutral or have a menswear feel to them. It only makes sense that the brand would expand into the classic suit with its' own twist.
The Empower Plaid Casual Blazer, $168, Wildfang
The prints on the clothing will only be available in this collection. While you won't be able to get tops and shoes to match, you will have a pretty darn fierce suit that you can't get anywhere else.
This collection of power suits will be available permanently on the Wildfang website and is available to shop right now. The shirts, pants, and blazers range from $68 to $178, depending on the print and item. While this isn't exactly the most affordable collection, it's a small price to pay to shake up your classic suit.
On top of it being the brand's first plus-size collection, this will also be the first time that Wildfang makes its own suits. That will give the brand the freedom to create even more standout prints in sizes for every body. Wildfang will be working with Portland-based drag queen Poison Waters to help women that have style insecurities find their own look in the Empower Suit Collection.
The Empower Floral Tux Blazer, $178, Wildfang
This is far from the last time that the brand will use their sartorial efforts to change the fashion world, but it's definitely something to be excited about. Because the world is filled with too many black blazers, and it's about time that other options arrive.