If You Love 'The Holiday,' You Have To Check Out This New Taiwanese Netflix Show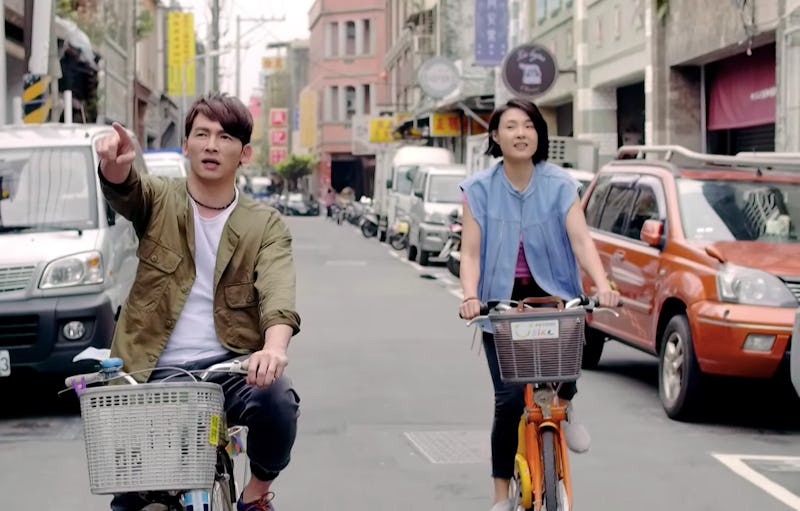 Screengrab via Facebook
On Monday, Sept. 3, Netflix releases A Taiwanese Tale of Two Cities (or 雙城故事). And although the title would suggest otherwise, the 20-episode series doesn't appear to be a twist on the classic Charles Dickens novel. Rather, it's the story of two women — one in Taipei and one in San Francisco — who switch places. Its earnest storytelling and kindhearted characters sounds like a recipe for success, but it's too soon to tell whether A Taiwanese Tale of Two Cities Season 2 is in the books.
But before getting into the odds of that happening, a bit of background about the show. According to a Sept. 2017 press release from Netflix, "The series features cross-cultural differences and similarities between Taipei and the close-knit Taiwanese-American community in San Francisco." The memo also explained that Two Cities "features two women — a traditional Chinese medicine practitioner in Taipei and a Taiwanese-American programmer in San Francisco — who swap homes and then follow their respective cultural odysseys in each city."
Per the same Netflix press release, the series is a collaboration between KBro — which, per Bloomberg, is a Taiwanese television company — and Good Image. The series was directed by Nelson (or Tien-Lun) Yeh — a Taiwanese director who's known for films like Night Market Hero and the TV show Far and Away, among others. "A Taiwanese Tale of Two Cities, with its universal appeal, is more than just a collaboration with Netflix — it's an opportunity for Taiwan content creators on the world stage," Yeh told Netflix.
John Derderian, Director of International Originals at Netflix, echoed Yeh's sentiments in the same press release, saying: "We are excited about A Taiwanese Tale of Two Cities bringing the multi-cultural worlds of Taiwan and America to our 104 million members across 190 countries. This is a testament to how great stories travel."
The various trailers show the two women out of their element — one as a loud American making cultural faux pas in conservative Taipei — the other learning how to let loose in the States. Although the two women are soon fish out of water in these unfamiliar cities, they each appear to find love interests, who help show them the cultural ropes.
Episode 1 even appears to be available on the show's Facebook page, where audiences learn a bit of background about each woman. Nien-Nien lives in Taipei and grew up with her father and step-mom. "There's nothing more important to [Nien-Nien's father] than the Chinese medicine clinic he inherited," the voiceover explains. "Since Nien-Nien was little, he had been teaching her everything he knew about Chinese herbology and the human body meridians." However, after her birth mother left, Nien-Nien inherited her wanderlust, which focused specifically on San Francisco.
Speaking of San Francisco, Josephine Huang — the other main character in A Taiwanese Tale of Two Cities — grew up there. Her parents emigrated to the coastal city after graduating from university in Taipei. "Born and raised in America, Jo considers herself an American," the voiceover explains. "But her Taiwanese parents each had different expectations." She, too, decides she needs a change, and returns to her parents' birth country. The problem is, she's never been to Taipei before, and it shows.
So who are these two women? While there's no casting information as of yet on IMDb, the Malaysian paper New Straits Times gave readers the casting scoop back in December 2017: Tammy Chen and Peggy Tseng play Nien-Nien and Jo, respectively. "Yeh's works always integrate[s] multiple cultural aspects," Chen told the NST. "It's a rare gem in Taiwan, so this is a meaningful experience for me to present a Taiwan story." The show also features James Wen, Denny Huang, Irene Luo, and Lee Poh Shiang, per the same report.
So while Netflix hasn't made any announcement about a second season of A Taiwanese Tale of Two Cities, fans can rest assured that there's 20 episodes to burn through. And if the teasers are any indication, the series promises to be a cheesy, heartfelt, globe-trotting saga that rom-com aficionados can get behind.