Is Dr Alex George Quitting 'Love Island'? He's Apparently "Had Enough" Already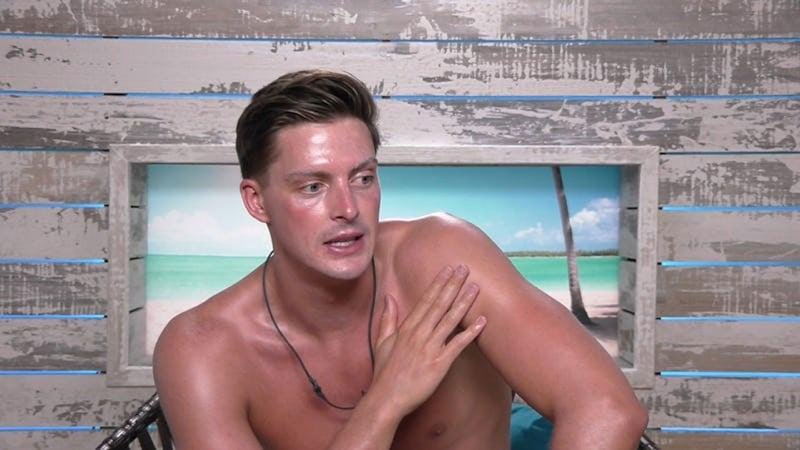 Love Island/ITV
Finally, finally, FINALLY, it's here. Love Island has returned. But while the show is only one episode into the new series, the drama has already started. In the second instalment which airs tonight, it look like Dr. Alex George may quit Love Island. Gutted.
How did it all go wrong for him so early? Well, he didn't exactly get off to the best start after entering the villa. The A&E doctor, who's been single for three years, suffered a few humiliations on his first day. To begin with, no girls stepped forward for him during the initial coupling up overseen by presenter Caroline Flack, leaving him standing alone beside her. Then, after choosing to couple up with cabin crew member Laura Anderson (she didn't get a say in the matter), she ditched him the second she could and switched allegiance to Wes Nelson.
It seems like it was a purely physical thing, as she said to Alex, "I feel so bad — I usually prefer darker — can you grow a beard?". Whether he can or can't, it forced Alex to take a seat on the subs bench. Alex then paired up with Samira Mighty, but she later said she didn't fancy him. She does, however, fancy latecomer Adam Collard, and she tells everyone about her new crush in tonight's episode.
However, the 6'5 trainer made it clear from pretty early on that he fancies Dani Dyer, whose dad is EastEnders star Danny Dyer. "I got that instant first look attraction to Dani," he said.
Tonight at 9 p.m., Adam gets to steal one of the girls from their partner. He might want to take Dani off stationary sales manager Jack, but with Samira not fancying Alex, she's sure to be hoping it's her. Laura also fancies a shot at Adam, but I think it may be Dr. Alex who has to walk, judging by what we know so far. Here's the first look at tonight's episode:
During a conversation with some of the other lads in the bedroom, it's clear Dr. Alex is down in the dumps. He tells them: "I've kind of had enough. I feel like a leper or something, that's what I feel like. Genuinely, I just feel like, 'what is wrong with me?' It's like I've got a black mark on my head. I hate being like this as well. I've pretty much had enough now, I think. I'm at that point. I've had enough."
Does this mean Dr. Alex is going to quit the show? Or has he just had enough of making an effort with Samira, who's smitten for Adam? I for one am hoping it's the latter.
Of course, if Samira wants Adam, she's got some competition on her hands as she's not the only girl in the villa with her eye on him. It turns out, Laura Anderson also think he's a sort. But the ladies clearly don't want to fall out over Adam, with Samira telling Laura, "I'm not the kind of person that would snap on people's toes."
Given that 3.37 million people tuned into watch the first episode, according to the Standard, it's no surprise that the teaser for tonight's episode has sparked debate on Twitter. While some are supporting Dr. Alex, others appear to be siding with Adam:
Personally, I think three things. 1. Caroline Flack has the best job ever, 2. Alex is a sweetheart, and 3. Who doesn't love a doctor? The point is, it couldn't be earlier days, but I'm already hooked. Bring on 9 p.m. for episode two. I'm ready, ITV2.