A Rap Icon's Real Life Provides The Comedy In This New Netflix Family Sitcom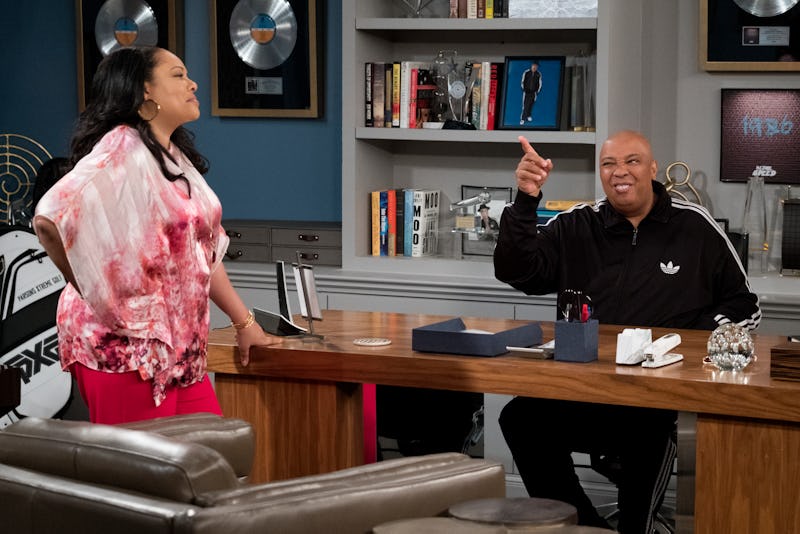 Adam Rose / Netflix
Rap legend and pop culture icon Rev Run (aka Joseph Simmons) is heading back to the small screen. His first reality series Run's House went off the air in 2009, but the artist has dabbled in several other reality ventures, including Rev Run's Renovation and Rev Run's Sunday Suppers. Now he's trying his hand at scripted comedy, alongside his real life wife Justine Simmons. The couple star in the Netflix family sitcom All About The Washingtons, which premieres on Aug. 10. But will All About the Washingtons get a Season 2?
The trailer shows that Rev Run plays MC Joe Speed, a hip hop star who finds himself too sick of the game to keep on performing and touring. Instead, he decides to hang up the mic and go home to help raise his four children, while his wife, Justine, pursues her own dreams.
As of right now, Netflix hasn't officially confirmed a sophomore season nor cancelled the series. And since, unlike regular networks, they move according to their own timeline, the news could come at literally any time, including months after the premiere.
Unfortunately for Rev Run fans, the first reviews for the series haven't exactly been triple platinum. Rachna Raj Kaur of Now Toronto called the series "flat" and claimed "the characters lack depth." Kaur also lamented that long-time fans who remember Run's House would be sorely disappointed by the "caricatures" in the new show. "Rev Run's wisdom and hilarious commentary are missing in this fictionalized version, as is Justine's grounding presence and her commitment to the business of her family," the review continued.
Rev Run himself couldn't help but draw comparisons between this new show and Run's House, too, but he seemed much more optimistic about the whole venture. In an interview with the Independent, he explained why making a comedy like this seemed like the next logical step:
"In the past we've done reality shows, but this is scripted. I play a rapper who's trying to retire while his wife, played by my wife Justine, is trying to take over the world with her inventions, so that creates the comedy. Anthony Anderson's son Nathan is playing my on-screen son, and some other great actors are involved. I'm looking forward to sharing it with the world. If you remember Run's House, it's something like that, but it's scripted comedy."
So while the show might not be particularly innovative, it doesn't mean it won't be able to bring a few heartfelt laughs to viewers of all ages. Sitting down with Mark S. Allen of ABC10, Rev Run joked that he and his wife, Justine Simmons, are like the Lucille Ball and Ricky Ricardo of hip hop, which should serve as an indicator of the kind of comedy they're going for.
In the same interview, Rev Run explained how Justine came up with the idea for All About the Washingtons in the first place and decided to get out there and make it happen — despite the fact that he actually was trying to hang up the mic for good. He said:
"My wife is pitching an idea to a friend at a charity event, and that's the basis of my life. I'm out there trying to retire and just do charity... travel the world on a boat. And just retire! And she's busy pitching ideas for how she's going to be a billionaire."
It may be a scripted, fictionalized version, but All About the Washingtons is loosely based on Rev Run and Justine's real lives. So even if Netflix does give it the greenlight for a Season 2, it probably won't run for ever. Its leading man really is trying to retire!