Hulu's New Teen Comedy Will Take You Right Back To The Night Of Your High School Graduation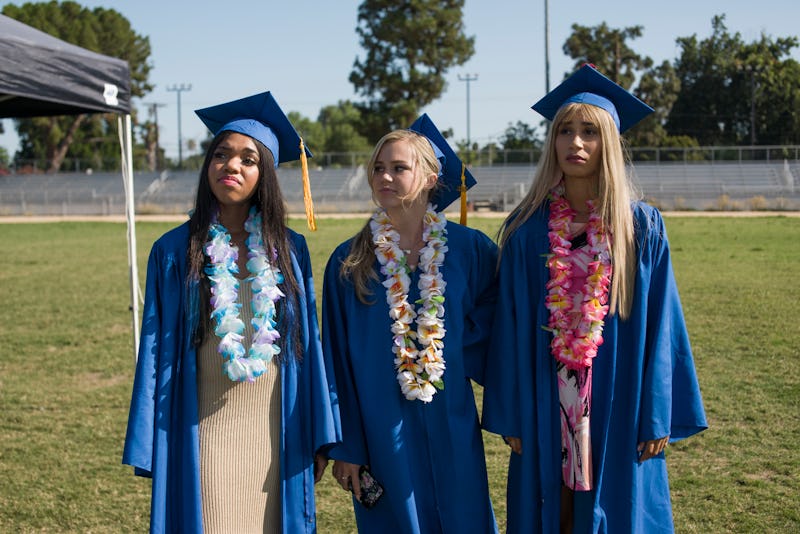 Jake Thomas
'Tis the season for high school graduation parties. Hulu's new teen comedy All Night premieres May 11 and concerns an epic end-of-the-school-year bash. It's the Class of 2018's last night together before everyone goes on their separate paths toward college, jobs, and other life changes, and they're celebrating with a lock-in. But will All Night have a Season 2 following whatever happens next? It's too early to tell, and Hulu hasn't made any announcements about the future of the series. But the audience may well show up in force, if only because this show seems like it'll be a refreshing departure from darker teen fare.
According to the official synopsis, all 10 episodes of All Night will take place within just one night, as main characters who fit squarely into classic teen tropes in terms of social groups and their desires share one celebration. Cody (Chester Rushing) is a nerd who wants to do something awesome before he leaves; the popular girl Roni (Brec Bassinger) wants to lose her virginity; regular girl Deanna (Jenn McAllister) is in love with her guy BFF who loves Roni; and the class valedictorian wants to take a walk on the wild side by selling alcohol to her peers. They each look at this graduation party as a do-or-die moment.
All Night's official trailer recently dropped and shows school administrators preparing to confiscate cell phones and search their charges for illegal drinks. Valedictorian Melinda (Allie Grant) casually strolls by with stacks of yearbooks, which are later revealed to be filled with her contraband booze. A voiceover from Cody describes what this special evening means to the students and why "Grad Night" is their chance to fulfill dreams and create some last-minute memories before they leave high school behind forever. He says:
"Grad Party is gonna be everything. For every person out there, tonight's their last chance to do something. Their last night to run this place. Their last night to find love. Last night to get revenge, cement their friendships, to connect… also there's jello wrestling."
The series is dropping nearly 20 years after the debut of a movie with a similar premise. Can't Hardly Wait is a 1998 comedy about a senior class partying hard after graduation and looking to make big moves. The nerds want to get vengeance on their tormentors, unrequited love abounds, friendships are questioned, V-cards are lost; all in all, the night leads to a lot of revelations.
All Night seems to be following in this movie's footsteps with a fresh-faced cast including Chris Avila, Chanel Celaya, Grant, and Ty Doran. Disney Channel fans will recognize a lot of the class though, as alums Jake Short (A.N.T. Farm) and Austin North (Lab Rats: Elite Force) are present, as well as Nickelodeon star Bassinger (Bella and the Bulldogs). The actor posted a promotional clip of All Night on her Instagram page, saying that she's "pumped" about her latest show.
Veteran comic actor Kate Flannery, who became famous playing Meredith on The Office, is the school's principal, who has to keep all of these eager teens in check. (So, definitely a departure from her Dunder Mifflin alter-ego.) When asked about a potential Season 2 in an interview with Bustle, she says, "I feel like I don't know if it'd have to be a different high school with a different principal, or if it could be the same high school but just the next year… I'm not sure. There's a few ways it could go, I think."
If the show is renewed for another season, the story could continue with a senior class vacation, a time jump to the future for a five-year class reunion, or even the rise of a new class. The possibilities are endless, which is exactly how it should feel when you say your farewells to high school.