How Netflix's 'Anne With An E' Is Adding More Depth To The Beloved Book Series In Season 2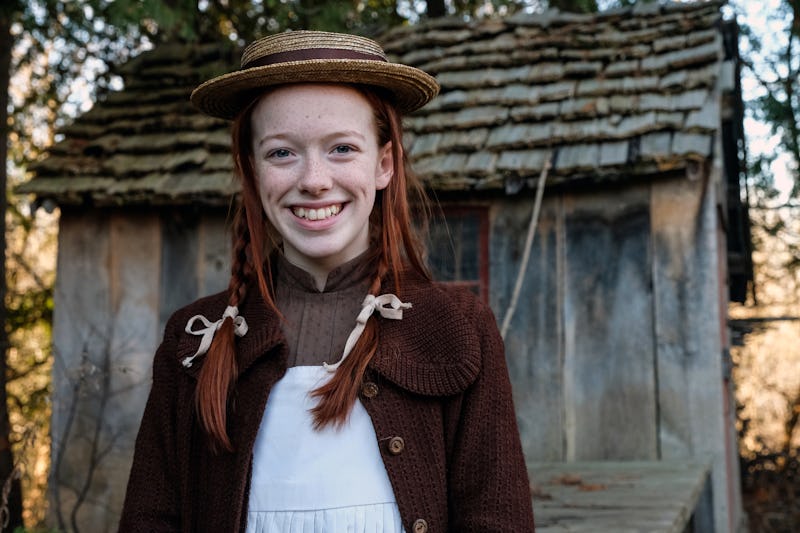 Netflix
Anne With An E, the dark, deeply feminist Netflix adaptation of Anne of Green Gables returns on July 6 for Season 2. The new storylines will push to the limits of Lucy Maud Montgomery's source material in some exciting ways. Will Anne With An E return for Season 3? The Canadian saga could go on for ages — and it needs to, honestly.
UPDATE: According to a Netflix and CBC press release, Anne With An E has been renewed. No Season 3 premiere date has been announced.
EARLIER: For one thing, there are so many books in the Anne of Green Gables series. Montgomery wrote nine novels about Anne Shirley, her family, and her friends in and out of Avonlea. The stories follow Anne to college and beyond, so theoretically Anne With An E could go on for years and years if Netflix is up to it.
Anne With An E Season 2 was announced in August 2017, a few months after the first season dropped on Netflix. So it may be a while before Netflix makes a decision about Season 3. Since Season 1 premiered in April and Season 2 is landing in July, it's also difficult to predict when Anne With An E would be back for Season 3 — but sometime in spring or summer 2019 would be the best bet.
Also, there are new characters this time around on the series that are not from the books — and are, rather, conceived by creator Moira Walley-Beckett and her all-female writer's room. For example, Sebastian Lacroix, the first black character in this fictional universe, will be introduced in Season 2 of Anne With An E. Lacroix will be played by Dalmar Abuzeid, who you may recognize as Danny Van Zandt, Liberty's younger brother, on Degrassi: The Next Generation.
"It puts a huge smile on my face and I'm absolutely honored to see a role like this, where there is more and more inclusion and possibility for actors of different ethnicities," says Abuzeid in an interview with The Toronto Star, describing the character as "jovial, smart and someone who has worked with his hands his whole life." The actor adds that "this story is such a part of Canadian culture and to be a part of that is something I can't even begin to understand."
While doing research for the second season, the producers discovered a Black community called "The Bog" in the area that Avonlea was based on in the source material and incorporated that history into the show.
"It had always bothered me that the world of Avonlea wasn't reflective of the multiracial world we live in and the world that is Canada," said Walley-Beckett in the same Star interview. "The Bog was a marsh where they marginalized people of color and it's really buried in [Prince Edward Island] history. When we found out about it, we were appalled but thrilled … it became this awful, wonderful gift to us."
On one hand, this show is exactly the kind of cozy, optimistic television that we need in 2018. Take in the Canadian landscape and indulge in Anne's refreshing worldview. There is enough cynicism and hatred on the internet, and shows like Anne With An E provide the perfect break.
On the other hand, this adaptation is not without depth. While it's not exactly a "dark and gritty" stereotype, the kind made popular by Christopher Nolan's Batman films and (to a degree) Riverdale compared to the Archie comics of yesterday, Anne With An E is grounded in reality. Season 1 took a sometimes harrowing look at Anne's abusive past as a orphan and the post-traumatic stress and anxiety that she has as a result.
Clearly, the inclusion of racial tensions with Lacroix and historical areas like The Bog in Season 2 means that Anne With An E will push the boundaries yet again. Hopefully, the show will return for at least another year — if not for all of the classic Anne stories it can tell, than for the ways this series is taking Avonlea to the next level.