Audrey Pence Could Move To D.C. If She Wanted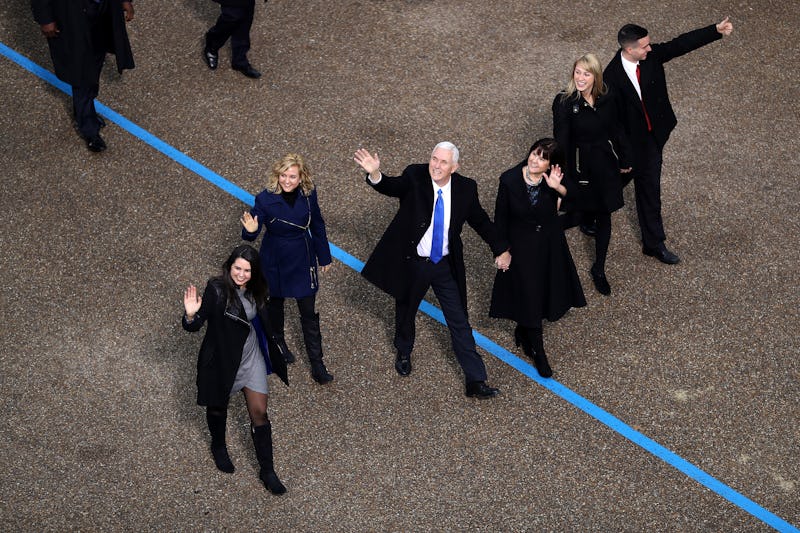 Joe Raedle/Getty Images News/Getty Images
Vice President Mike Pence made his move to the U.S. capital city late last year, but you might be wondering about his family. Pence's youngest daughter is still in college, but after she graduates will Audrey Pence move to Washington, D.C.?
The youngest of three Pence children, Audrey is currently a 21-year-old senior at Northeastern University in Boston. She majors in social studies and humanities, but she has also spent time abroad studying journalism and Arabic, the International Business Times reported. While traveling, Audrey reported through the Fuller Project for International Reporting, which chronicles the "underrepresented role of women" in Turkey. She also contributed to stories published in the New York Times, Elle, and she even has a CNN byline, Heavy reported. With an interest in international relations and journalism, Audrey could very well end up moving to Washington, D.C., since the city serves as a hub for both of those areas.
At the same time, Audrey has in the past declared herself as "politically independent, socially liberal" — she doesn't always have the same political views as her father, Heavy reported. Still, regardless of the possibility of voting differently from her father, Audrey is still close to Mike. "Probably the person I get the most respect from is my dad on that ... he tells me so many times, 'I am proud of you for having your own opinions and looking into things,'" Audrey told WTHR in 2013. And yes, she did vote for Mike in the election for Indiana's governor. "Yes, I voted for him," she told WTHR. "I did vote for him. He proved himself to me."
Audrey has also spent time before interning in Washington, D.C., Heavy reported. During the summer of 2015, Audrey interned at the Center for Solutions in International Studies, and she studied "international conflict and negotiation in the Balkans," Heavy reported. According to Audrey's profile on Solutions, an academic journal, "She hopes to pursue a career that will keep her engaged in foreign affairs through a form of journalism."
At the same time, since Audrey has spent time in many international locales, including Serbia, Bosnia, Herzegovina, Turkey, and Amman, Jordan, she may very well decide she wants to continue her international travels after she graduates from Northeastern. After all, she is very interested in "learning about the world," according to the International Business Times.
It's clear that Audrey has lived a pretty eventful life so far. We'll have to wait until she graduates see whether she chooses to join her parents in D.C.