Here's How Netflix Will Decide To Bring 'Battlefish' Back For A Second Season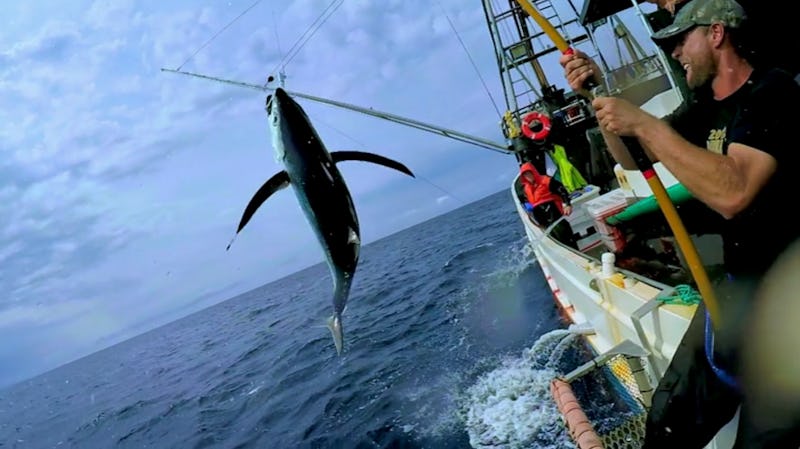 Screengrab via Netflix
The next arena for Netflix to conquer? The open ocean. It's time for Battlefish, the Deadliest Catch-style reality fishing series about a professional fishing crew that hunts albacore tuna off the northwest coast of the United States. Battlefish Season 1 premieres on Sep. 21. If you've already fallen hook, line, and sinker for the show, then you're probably wondering, will Battlefish get a Season 2?
The simple answer? Maybe. Unlike network and cable shows which have Nielson ratings available to the public, Netflix doesn't disclose the information about how many people are watching or have watched their shows and movies. Therefore, it can be hard to guess which series are doing swimmingly and which ones are plain flops.
Furthermore, according to QZ, the streaming giant doesn't actually decide which shows to bring back based on viewership numbers or even critical reviews. Netflix is more concerned with completion rate, or the number of people that started a series that watched it all the way to the end.
Netflix's VP of original content, Cindy Holland, explained to Deadline that the low completion rate proved to be the final straw for scripted series Everything Sucks. "[B]ecause we were seeing a much low completion rate of the whole season," Holland said, "we realized that it is very unlikely that we would be able to grow the audience, move a whole new audience through the show and have a large enough audience to justify [the cost of] a Season 2."
In an article on Bloomberg, journo Lucas Shaw explains that shows like Nailed It!, with its modest prize money, small cast, and on-set filming, are the perfect economical choices to bring back for multiple seasons. So how much would the cost of another season of Battlefish be? Well, since the Tre-Fin boys are out fishing anyway, it seems like all Netflix would really need to do is pay the stars and the camera crew to follow them around in their daily lives. But if Netflix were to start, say, footing the bill for expensive fishing boats, well then that might price Battlefish out of a follow-up season.
With the successes of shows like Queer Eye, Nailed It, and Chef's Table, Netflix has been slowly but surely ensuring its place as a powerhouse not just in films and scripted series, but in reality TV as well. According to Vulture, Netflix is planning on putting out 50 reality series in 2018 and continue the push into 2019.
Bela Bajaria, a former NBC and CBS exec who's now a major decision maker in Netflix's expansion into reality and non-fiction TV, explained to Vulture that Netflix knows what they're doing when it comes to getting stuff made. "I've made shows for a long time in different places and ways, volumes of shows," she says. "There's such a speed here — of efficiency, of decision-making — and there's a lack of process and layers," she said. "There's just a quickness and a nimble, 'Let's try something, let's make something.'"
So if you really want to see Battlfish return for a Season 2, you'd better hurry up and finish Season 1 all the way to the end. And if Battlefish winds up getting thrown back into the ocean, it's only a matter of time before Netflix reels in the next big thing.