This Stylish Netflix Series Is Perfect For Marathoning — And More Episodes Are On The Way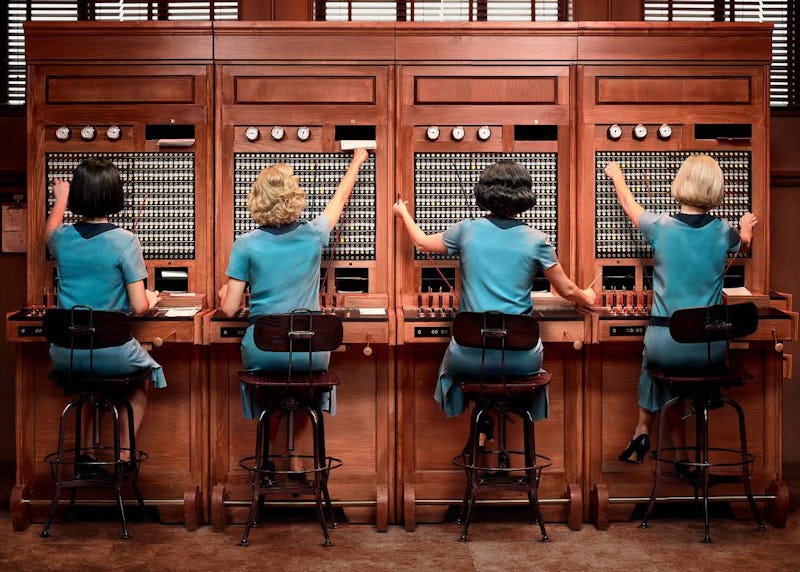 Netflix
Netflix is the gift that keeps on giving. While most networks are wrapping up their 2017 programming, the streaming giant is ensuring TV buffs will have something to watch in between gift-opening, spiked eggnog, and holiday dinners: The Season 2 premiere of Cable Girls hits airwaves on Dec. 25. The Spanish Netflix original (originally titled Las Chicas Del Cable) takes viewers back to 1920s Madrid when a national telephone company opened its headquarters in the city center. And while Season 2 has not yet premiered, Cable Girls has been renewed for Season 3, according to The Hollywood Reporter.
Unfortunately, an official premiere date for Season 3 of Netflix's Cable Girls has not yet been released. But if the series follows the same pattern set by Season 1 — which premiered in April — audiences could expect a possible release in early to mid 2018.
In the dramatic opening of Cable Girls Season 2 shown in the trailer, it's New Year's Eve 1929, and while most of Spain — and the rest of the world — is optimistically looking forward to a bright new year, Alba/Lidia, Marga, Carlota, and Ángeles have other plans. The group, dressed to the nines in cocktail dresses, carry a dead body wrapped in a white sheet over to the edge of a loading dock before tossing it into the water. As the body sinks below the surface, blank expressions cover each of their faces. And just as the ladies think the coast is clear, something begins rattling in the shadows. Are they caught?
The second season of Cable Girls continues to follow the four "cable girls" as they navigate their way through romance, envy, and sexism in the workplace in an effort to make a better future for themselves. But in addition to fighting for fair wages and respect, this season the ladies must deal with secrets that threaten to tear the four of them apart if uncovered.
Like every good drama series, each of the main characters has her own unique story: There's Alba (Blanca Suárez), the lady with a shady past who goes by the assumed name of Lidia; Marga (Nadia de Santiago), the modest, small-town girl who's all alone in the big city; Carlota (Ana Fernández), a spoiled, upper-class socialite who wants to break free from her controlling family; and Ángeles (Maggie Civantos), the working mother and supervisor of the girls, whose husband disapproves of her job. Through the show's scandalous storylines and its powerful portrayal of female friendships between its four leading ladies, Cable Girls manages to combine modern-day themes of feminism and fads with an authentic 1920s vibe.
When the first season of Cable Girls dropped on Netflix last year, it gained enough traction with audiences to that it was promptly renewed. And it's easy to see why the show has appeal beyond just in Spanish-speaking countries. Cable Girls creator and showrunner Teresa Fernández-Valdés says that the popularity of the show hinges on its ability to resonate with everyone.
"The big sentiments, emotions — love, pain, betrayal — will always connect with everyone," Fernández-Valdés told Variety. "But [since] young audiences won't watch classic telenovelas, they need another kind of content." Hence the empowering female moments and strong showings of sisterhood that are woven in to Cable Girls, in addition to the uplifting love storylines.
Neither Netflix nor Fernández-Valdés have announced any possible plot points for Season 3 of Cable Girls. But if we know anything about such a dramatic and intriguing show, it's that the fight to contain to secrets held by Lidia, Carlota, Marga, and Ángeles is far from over.