Camila Cabello Just Announced A 2020 UK Tour With Six Dates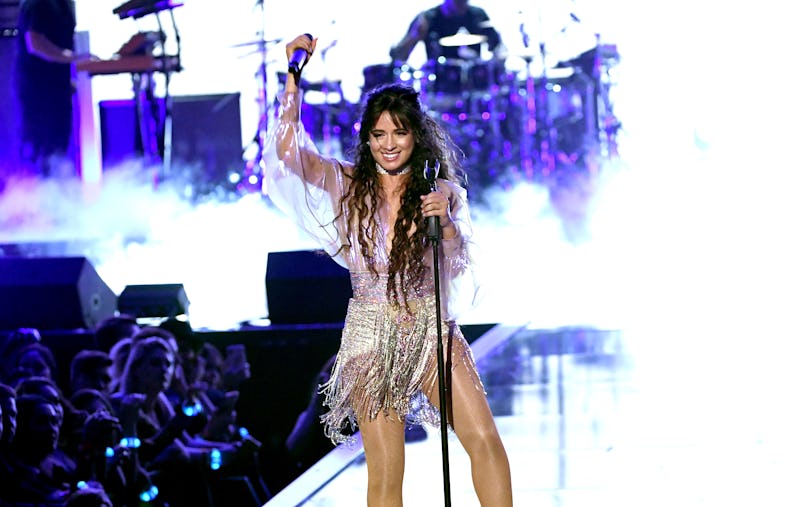 Kevin Winter/Getty Images Entertainment/Getty Images
After stealing the world's hearts with her debut album last year, Camila Cabello announced earlier this month that she's releasing a second album, Romance. The record is set to drop on Dec. 29, and Cabello has already dropped three singles that have been met with huge praise. So will Camila Cabello tour the UK in 2020? Because this is one singer that you need to see live. Trust me.
Make sure you keep the beginning of next June free, because Cabello will be performing six dates across the UK. As listed in a press statement sent to Bustle, the Romance tour starts at Birmingham's Resorts World Arena on June 1, and ends at London's O2 Arena on June 11. Here's the full list of UK dates:
June 1 — Birmingham, Resorts World Arena
June 2 — Leeds, First Direct Arena
June 4 — Manchester, Manchester Arena
June 8 — Dublin, 3Arena
June 9 — Glasgow, The SSE Hydro
June 11 — London, The O2
General sale for tickets begins at 9 a.m. on Nov. 29, but there are also two pre-sale dates. If you pre-order the album or buy merch you'll be given access to a Nov. 26 pre-sale, and Live Nation will also be providing a pre-sale on Nov. 28 at 9 a.m.
The Romance tour officially begins in Norway and will be followed by dates in Denmark and Germany. Once the UK leg is finished, Cabello will also continue the tour in countries like France, Italy, Belgium, and Spain. So if you can't make it to any of the UK dates, these locations are a little more accessible than travelling all the way to the States once that part of the tour begins in July.
Romance is a very personal record for Cabello. Attached to a press statement for the singles "Liar" and "Shameless," Cabello explained how these songs are a snapshot of recent events in her life. "These songs are basically the story of my life the past couple of years and the stories I've accumulated," she explained. "I knew for a long time I wanted my album to be called Romance because these stories are about falling in love."
Speaking of which, the singer seemed to address the ongoing rumours that she and Mendes are in a relationship during a recent interview with Elle magazine. When asked if the "secrecy" of their relationship "created more buzz," Cabello responded: "I don't know; people can say whatever they want to say. They can speculate, but at the same time, we are going to live our own lives, enjoy it, and fall for each other like nobody is watching. That is how I want to live."
She continued: "I never want to open the door for people to feel like they are involved. Like I said, I want it to be mine and [his]. That's why I'm so tight-lipped about it: because I want to protect it."
Cabello then spoke about how she loves working with Mendes, but never says specifically whether they are actually dating or not. And to be honest, she shouldn't have to. It's between Cabello and her partner, and no one else — and all these rumours and misconceptions are something she rightfully doesn't care about.
"I think I have a better, wiser perspective on things because I am older and I understand myself a lot more," the singer said. "I feel far more grown-up. Growing up! It's an adventure."
This article was originally published on