Here's Why Carmella Decided To Leave 'Total Divas'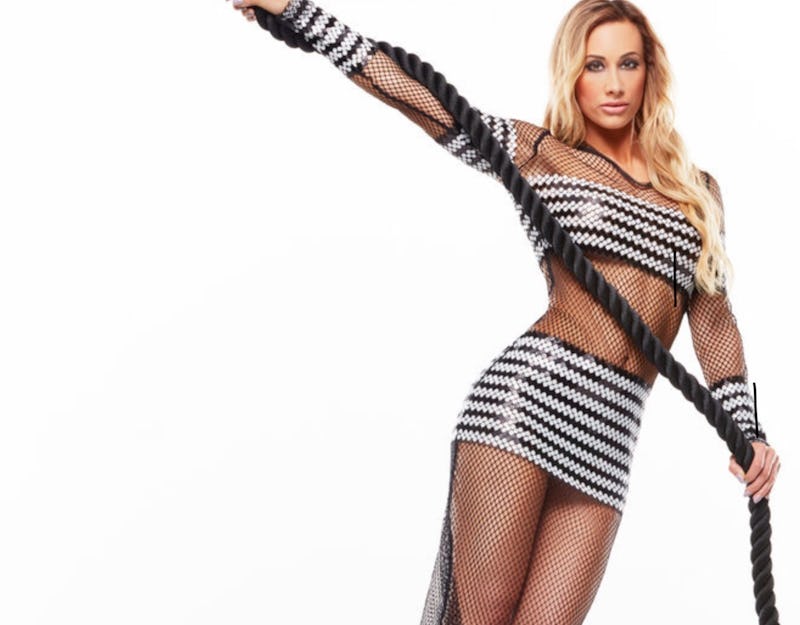 Josh LaCunha/E! Entertainment
E!'s Total Divas brings together some of the WWE's most iconic women and delivers them to audiences in a way viewers don't often get to see. Now that Season 8 is about to debut on Sept. 19, it's time to refresh your memory on what exactly the deal is with the cast. So who is Carmella on Total Divas, and will she return for the newest season?
According to The Wrap, Carmella is a WWE star who joined the cast last year for Season 7, and formerly worked as a dancer for the Los Angeles Lakers and New England Patriots before dipping her toes into the wrestling waters. She seemed excited to share her real-life WWE journey and relationship with people who tuned into the show, even if the reality of having cameras follow her every move was a little weird.
"It was different at first, that's for sure. How am I supposed to act, what am I supposed to do? When you sign up for a reality show, you have to put your personal life out there," she told The Wrap in the same piece. Carmella added that even though Total Divas gives an inside look at her life, it doesn't showcase the less "TV-worthy" moments as much, and those moments definitely still happen.
Sounds like she was in it for the long haul, right? Well, it looks like that might not be the case. Carmella's Instagram lists her Total Diva cast status as specifically confined to Season 7, and she hasn't been promoting the new season of the reality show at all. As if that weren't telling enough, Carmella herself told Bang Showbiz during a red carpet interview that she would not be a part of the cast in the newest season. "I am not on this next season," Carmella said, according to a video posted on the outlet's Twitter, found below. "Right now, I'm focusing on being the best champion I can be and I don't know what the future holds."
Her comments to UpRoxx shortly after joining the cast hinted that staying on Total Divas as a regular gig would be a little life-consuming, so it's not a surprise she'll want to take some time off and focus on other things.
"This job that we already have is so time consuming. We're always on the road. And then when we're shooting Total Divas, we're filming on our off days, which we only get about two days, or two and a half to three days off," she said. "So, gosh, it was an adjustment. But having the girls to film with and just kind of rely on, and knowing that okay, they've done this before … And it's doable, don't get me wrong. But it was just a lot at first."
Despite Carmella's absence, the teaser for Total Divas Season 8 promises lots of entertainment with the other cast members. Carmella's just doing what's right for her, and she never ruled out the possibility of making a cameo here and there.