Here's How 'Legacies' Plans On Bringing Caroline Into The New Spinoff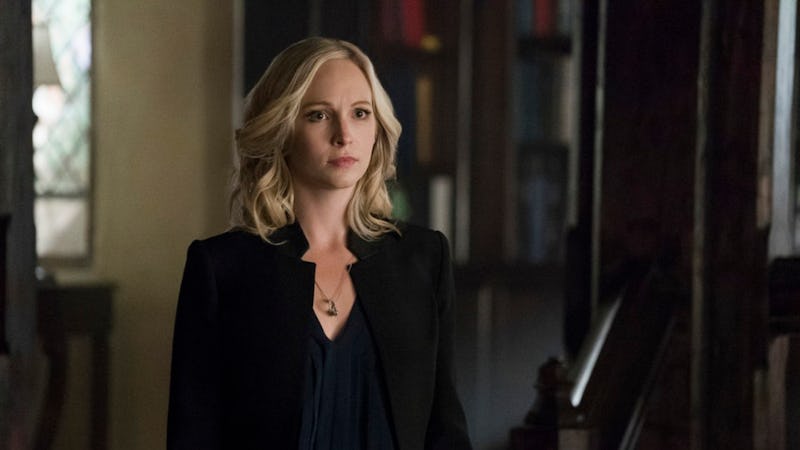 Annette Brown/The CW
Beloved shows like The Vampire Diaries and The Originals may have come to a close, but much like the creatures the series centered around, the world of Mystic Falls will live on once again in Legacies, which centers around Klaus Mikaelson's daughter, Hope, during her time at the Salvatore School for the Young and Gifted. Considering that Caroline Forbes is the current headmistress of the school, many fans find themselves wondering: will Caroline be on Legacies at all or will the new series write her off in some way? The answer to this question comes with both good news and bad news.
The bad news is that, at this time, there are no plans for Caroline to make an appearance. The good news is, though, that showrunner Julie Plec is very interested in integrating the character into the story whenever possible. "We're going to hear her and feel free a lot," Plec told Entertainment Weekly back in August. "I don't know when we'll see her. I, of course, would like to see her anytime. The door is open. But the girls are dealing with the fact that their mother, who has raised them, is a little absentee lately." So while she won't be on Legacies any time soon, that doesn't necessarily mean it'll never happen.
As for how Caroline's absence will be explained — particularly because she's in charge of the school and both of her daughters are students there — Plec assures fans that there's a clear plan in place to explain why Ms. Forbes in completely MIA. "They believe she's off on recruiting missions," Plec explained to EW in regards to Caroline's twin daughters, adding:
"Alaric knows she's actually off doing other things that have to do with the long-term survival of their daughters. So the mystery of, where is Caroline, why isn't she coming home for their birthday, that kind of thing is gonna be part of our story in the hopes that one day we'll be able to walk to have her walk through the doors as well."
By the sound of things, it certainly seems like the intention is for Caroline to show up eventually — it's just a question of when that time will be. It could simply be up to Candice King's schedule and whether or not she has the time or desire to reprise her iconic TVD role. But given what we know right now, viewers should remain hopeful.
In the meantime though, there are still plenty of returning characters to look forward to seeing. Plec confirmed at San Diego Comic-Con, as reported by TVGuide.com, that Matt Donovan (played by Zach Roerig) will appear in Legacies alongside Steven R. McQueen's Jeremy Gilbert — both of whom played prominent roles on The Vampire Diaries. And, of course, Matt Davis will reprise his role of Alaric Saltzman, serving in a series regular capacity as the school's headmaster while Caroline is away.
It may not be the complete TVD reunion you were hoping for, but if we're being totally honest, it's pretty darn close.