Democrats Have A LOT To Say About Whether Cecile Richards Should Run For Office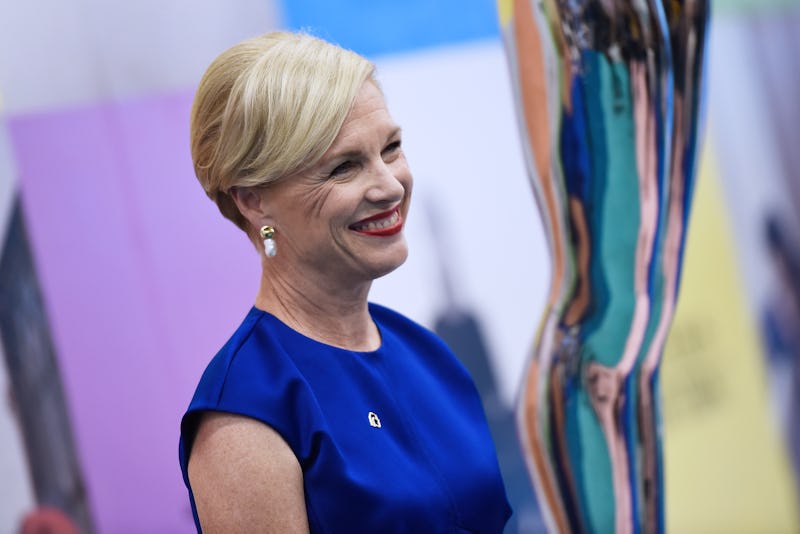 Roy Rochlin/Getty Images Entertainment/Getty Images
Last week, longtime Planned Parenthood president Cecile Richards announced her impending departure, ending an 12-year run at the top of the organization. Now, BuzzFeed News reported that Democrats are saying Richards should run for office, with at least one member of Congress saying she'd be a "great" candidate.
Update: A Planned Parenthood spokesperson tells Bustle Richards will continue her advocacy for women and girls around the world, and that she has no plans to run for office.
Richards, 60, has risen to national prominence as the leader of the largest women's health care provider in the country. It has also emerged as a particularly vital resource for low-income women. Richards herself has been close to the ongoing political battles regarding reproductive rights in America, with Planned Parenthood's federal funding under regular threat from conservatives and the Republican Party.
In short, it's not hard to see why some progressives would view her as a natural choice to jump into the world of elected politics. On Wednesday, BuzzFeed News reported that Rep. Pramila Jayapal of Washington state raised the possibility of Richards running shortly after her appearance at Tuesday night's State Of OUR Union event, saying that she'd "be an amazing candidate if she wanted to run."
Rep. Barbara Lee of California reportedly also praised Richards' potential as a political candidate, saying she was "sure that she would win and that she would be great."
Richards, to be clear, has not many any statements to suggest she's interested in running for office, and in a recent profile in The New York Times, she suggested quite to the contrary.
"I'm not thinking of running for anything," Richards told the paper.
Although she doesn't sound interested ― or at the very least, has publicly expressed the opposite ― it is true that Richards hails from a family with a decidedly political history. Her mother was Ann Richards, who won an upset bid to become governor of Texas; the elder Richards' tenure from 1991 to 1995 was the last time a Democrat held Texas' top job, and she was just the second woman to serve as the state's governor.
Richards' involvement in political campaigns, in fact, dates back to her years as a teenager growing up in Texas in the 1970s. At the time, her mother was still nearly two decades away from becoming governor, and was working as a campaign staffer for an attorney named Sarah Weddington who was running for the Texas House of Representatives.
If Weddington's name sounds familiar, that's likely because she was the attorney who represented "Jane Roe" in the landmark Roe v. Wade Supreme Court abortion rights case. She remains the youngest attorney to successfully argue and win a case in the Supreme Court. And, joining in her mother's efforts to get Weddington elected, a teenage Cecile also volunteered on the campaign, according to The Dallas Morning News.
It remains to be seen whether Richards will publicly address these suggestions any further, although obviously, she already told The New York Times fairly recently that she was not considering a run for political office. That doesn't stop some people in the Democratic Party and the progressive movement from hoping she might jump into the political fray, however, especially at a time when reproductive rights appear to be just as hotly contested and under-fire as ever.
The Trump administration has also publicly backed a federal 20-week abortion ban, just one of myriad anti-abortion positions and policies they've embraced ― like the re-institution of the Mexico City policy, or some of its extreme efforts to prevent teenage immigrants from getting abortions. Vice President Mike Pence, widely considered the most socially conservative presence in the executive branch, recently described President Donald Trump as "the most pro-life president" in American history.
In short, as one of the highest-profile voices in the country for women's health care and reproductive rights, if Richards ever decides to run for office there will be plenty of controversies and political fights that'll fall right in her wheelhouse.
Correction: This piece has been updated to accurately reflect how long Richards has been president of Planned Parenthood.