Chelsea Clinton Just Dropped A Major Hint About Whether She'll Run For Office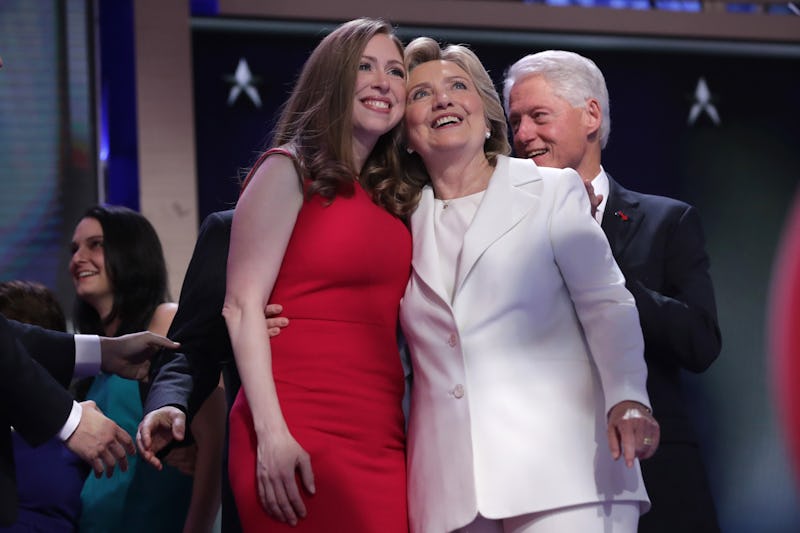 Chip Somodevilla/Getty Images News/Getty Images
The former first daughter may just run for public office someday. On Thursday, in an interview with The Journal News, Chelsea Clinton hinted that she might run for office — but on several conditions. "I think if someone were to step down," Clinton said, "or retire, and I thought I could do a good job and it matched my talents, I'd have to think if it's the right choice for me."
Clinton gave her comments during a promotional tour of her children's book, Start Now! You Can Make A Difference. The Penguin Random House book distills seemingly daunting subjects for younger readers, like climate change, hunger, mental health, animal safety, and more. According to The Journal News, Clinton's book is suitable for children between ages 7 and 10 years old.
At the event, Clinton was also asked about her mother and former Democratic presidential nominee Hillary Clinton's future plans. "I support my mom in whatever she wants to do," Clinton said, "but she's never once mentioned that [another presidential bid] to me." Speculation about the former secretary of state potentially giving another shot at the presidency is abundant, but as CNN reported last year, another Hillary Clinton run is highly unlikely.
The former first daughter went into detail about her book and said that it was too soon for her own two children to grasp the topics at the moment. She said she planned on introducing them to Start Now! You Can Make A Difference once they were older. "They are too young for much of the material in this book," she told The Journal News. "My children are two and four. I've read [her daughter] Charlotte some of the health stuff and lot of the animal stuff, and she's really interested in that."
Soon they will read about climate change, endangered animals, bullying, and more. Clinton said, "I'm excited for when they are little bit older and they can read it."
With a record number of women vying for Congress this year, The Journal News asked why people had yet to see Clinton's name in the list. "I don't have any plans to run for office, but it is something I think about as I hope every young person thinks about it," she said. "If you care about what's happening in the world, you have to care about running for and holding elected office. I hope it's a question that we ask ourselves."
One reason why Clinton isn't running for office is because she said she lived in a neighborhood where her political ideals for the world were "well-represented." But when it came to the level of government politics, Clinton said, "I disagree deeply with President [Donald] Trump on, I think, everything practically."
For now, the former first daughter said that she mainly focused on doing what she could for the world through her writing.
Disclosure: Chelsea Clinton's husband, Marc Mezvinsky, joined Social Capital, an investor in Bustle Digital Group, in mid-2017 and joined the Board of Bustle Digital Group in early 2018.