'Code Black' Could Come Back With Big Changes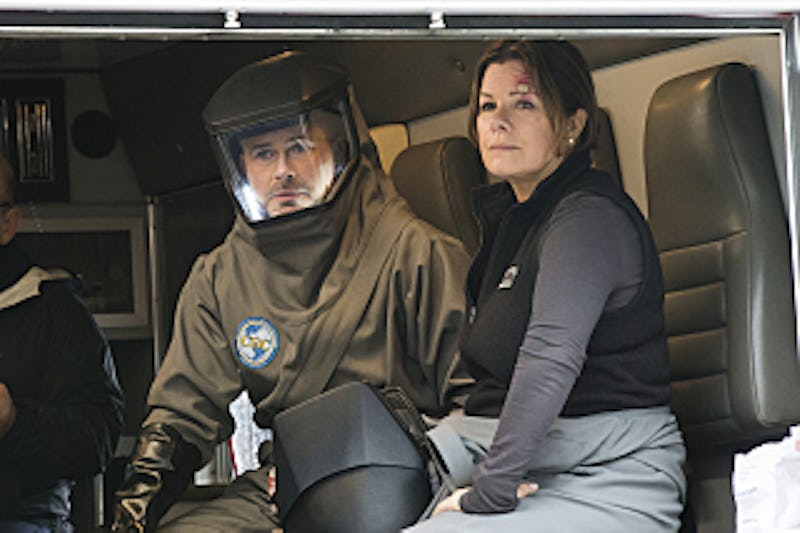 Ron P. Jaffe/CBS
The high-stress emergency room drama Code Black is reaching the end of its second season, and that means there's one very important question in the air: will Code Black return for Season 3? CBS has yet to announce whether or not the show will be back next season, and since Code Black's Season 2 ratings have remained modest, hovering around six million per episode, according to TVSeriesFinale, a renewal is no guarantee, unfortunately.
However, there have been some — unconfirmed by either CBS or Code Black — rumors about how the season finale could potentially hint at whether or not the show will be returning for an additional season. It's possible that the Season 2 finale will feature the death of Dr. Leanne, according to a TVLine interview with Marcia Gay Harden, in which the actor says the finale will "compromise" her character.
That would be a pretty dramatic way to end the season, and could be a de facto series finale if word comes back negative from CBS about a renewal. But it could also mean that if Code Black returns, it is planning to rebrand the upcoming season around the new interns who will be introduced in the finale.
While you're waiting to find out about the fate of Code Black, pass the time with a few upcoming dramas that will give you a similar burst of adrenaline.
Beloved by critics, this FX drama continues to ride the wave of critical support into new seasons. And while it may start a little quietly, by the time you get a few episodes in, the show is as heart-pounding as a skydiving trip. While barely maintaining their suburban facade, Russian spies Philip and Elizabeth leave a trail of destruction behind them — and I'm not just talking about dead bodies. Their family, friends, neighbors, and other relationships are the shocking casualties.
The new drama from Fargo creator Noah Hawley doesn't look anything like the typical superhero origin story. Instead of having a formulaic format, Legion looks to be a truly mind-bending take on the X-Men's themes of how fear and prejudice stand in the way of human progress.
You can't really write a situation with higher stakes than escaping slavery, and that premise made the first season of Underground so compelling. The upcoming second season will add the Underground Railroad's most famous figure, Harriet Tubman, guiding the slave characters as they attempt to find freedom.
If just the idea of heading into outer space is enough to raise your heart rate, than The Expanse should thrill you, The series just started its second season, so now's a great time to catch up and jump in.
The Blacklist can be utterly ridiculous, but it's also mastered the art of the week-to-week cliffhanger — there's a reason its ratings are so good. Therefore, the series' new spinoff, which follows three other Blacklist members trying to go straight, is worth a look.
Doubt
And let's end this list with a brand new procedural — Doubt, a legal show starring Katherine Heigl. Cases will be solved, lines will be blurred between lawyers and clients, romances will get in the way, and it will be Wednesdays on CBS, right where Code Black used to be.
Last year, CBS didn't renew Code Black for Season 2 until May, so you may be waiting for a while before hearing about the show's fate. But Peak TV never takes a break, so why should you? Hopefully these suggestions help pass the time.