'Damnation' Needs Its Fans To Help Propel It To Season 2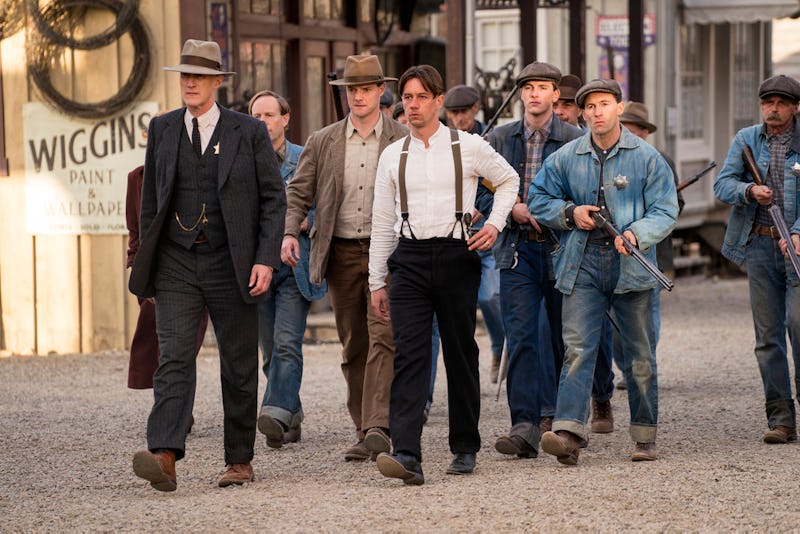 Chris Large/USA Network
In 2018, sometimes it's fun to watch a show that's free from the stresses of technology. While Damnation (series writing: Julia Cohen, two episodes) is a dark, gritty story, it offers some fascinating escapism that still parallels with the times we live in. But now, it's unclear whether its story will continue in a Season 2 of Damnation. The series has yet to be cancelled or renewed for a second season. But, there is reason to be hopeful if you're a fan of the series.
Set in 1930s Iowa, Damnation focuses its theme on separation of the classes between the wealthy and the poor. It follows a man "masquerading as a small-town Iowa preacher in the hopes of starting a full-blown insurrection against the status quo," pitted against an industry tycoon who's looking to stop him by any means necessary. The series was originally picked up for a pilot back in 2016 and officially started airing in November 2017. Now its 10 episodes have concluded and fans may be wondering about its fate.
But, just because there's no confirmation of a new season, doesn't mean there's no speculation about the future of one. TV Series Finale, a website dedicated to reporting/speculating on the cancellation or renewal of TV shows, has a positive outlook on the future of the show in large part because Damnation is on a cable network: USA.
As TV Series Finale put it:
"The ratings haven't been great but, because the cable network tends to be patient with its original TV series, I expect USA will renew Damnation for a second season. Still, since the road to Hell is paved with good intentions, I'll keep an eye on the Nielsens and will update this page as new data becomes available."
While the ratings haven't been high, those who do watch the show enjoy it. On Rotten Tomatoes, Damnation boasts an 84 percent audience rating, very close to another western TV series that made its debut this season: Godless (whose Rotten Tomatoes score is at 88 percent). The main difference between these two shows, though, isn't the difference in audience appreciation, but critic attention. Godless earned an 88 percent rating from critics, while Damnation only has a 58 percent. So, while Godless was enjoyed by both critics and audiences alike, there seems to be a gap in the love for Damnation between the two groups.
However, it's not critics who have the power to save series. That lies with the fans. In the last year, campaigns by viewers have lead to rather astounding turnarounds for shows that had been cancelled. First, it was Timeless. After officially being cancelled, NBC reversed its decision saying the deciding factor was the fans' love for the series. In June, Netflix revealed that, thanks to fans, Sense8 would receive a two-hour finale episode after having been cancelled. If fans are loud and persistent enough, it seems like any show has the potential to be saved from cancellation.
The series' writer and creator Tony Tost seems game to create another season, though he hasn't explicitly said so. Lately, his Twitter account has been focused on talking about this current season rather than any future plans. However, he did tweet pretty recently telling fans that news will be coming. "I'm getting a lot of questions about a second season of #DamnationTV," he said. "Hang in there! These decisions take time, especially in our case where the show is a co-production w/ both USA network & (globally) Netflix. Once there's official word to share, we won't keep it a secret."
It's worth noting that, in addition to his work on Damnation, Tost also was a writer on another western-style series: Longmire. He's clearly found a niche style that he enjoys and it would stand to reason if his two previous projects were westerns, his next one is likely to be a western as well. And, something else to keep in mind with Longmire is that it was originally cancelled by A&E before being picked up by Netflix. If Damnation were to be cancelled, it could be saved by Netflix in the same way. Especially since the series is already co-produced by Netflix.
It's still too early to tell if Damnation will be condemned to cancellation or saved with a renewal. However, if fans have it their way, the series will continue on to Season 2. Until then, this show is stuck in the middle, in its own little purgatory waiting for a final answer one way or the other.