'Dancing Queen' Shows Off A Side Of Alyssa Edwards 'Drag Race' Fans Have Never Seen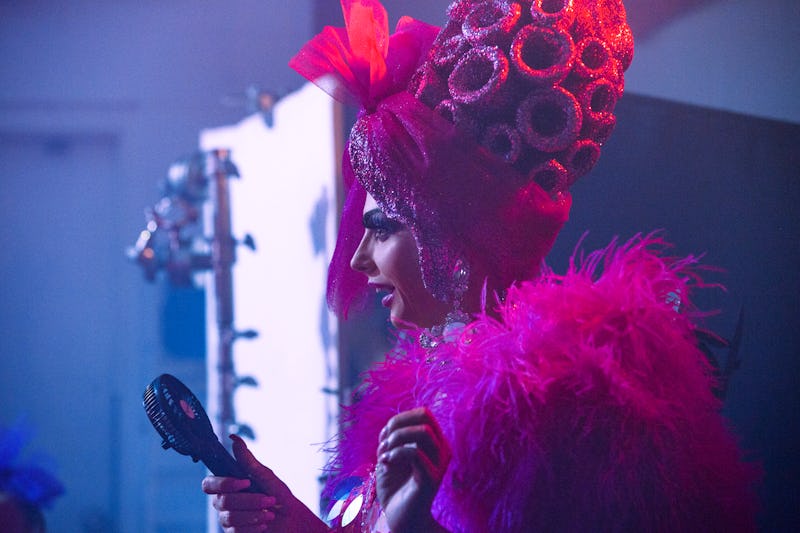 Netflix
Thanks to two long seasons on RuPaul's Drag Race, Justin Johnson has already hooked fans with the charisma, uniqueness, nerve, and talent he brings to his drag queen alter ego, Alyssa Edwards. But now, he'll get the chance to let viewers even deeper into his life with Dancing Queen, his Netflix docu-series released Oct. 5. The trailer alone is enough to make you start rallying for a Dancing Queen Season 2, but it's unclear if the show will return just yet.
Season 1 is only eight episodes long, which could point to Dancing Queen being a standalone project. However, because Netflix hasn't addressed its plans (or lack thereof) for a renewal, the series' fate is still open-ended. Johnson is impossibly busy as is, so it's kind of a miracle that he squeezed in as much filming as he has thus far. Still, it seems clear that Dancing Queen hits close to his heart. So who knows?
For those who aren't familiar, the show follows Johnson — both as himself and Alyssa — and the elite dancers of his Beyond Belief studio as they train to compete nationally. It gives longtime Alyssa fans the behind-the-scenes peek they've been dying for since Johnson first strutted into Ru's workroom and flaunted the unapologetic personality the world has come to know him for — which is probably the reason he keeps getting invited back to Ru's runway, too.
A new side viewers will get to see on Dancing Queen, though, is Johnson's work with children — something possibly more entertaining than watching him perform as Alyssa on tour. After all, he's been a dance coach much longer than he's been a drag queen; Beyond Belief has been up and running in Mesquite, Texas for 14 years, according to the show. And before Johnson appeared on Drag Race, his students, nor their impassioned moms, knew about his double life. "I was living like that very Miley Cyrus, Hannah Montana life," he said in an interview with Logo. And now, Dancing Queen is bringing that story full-circle.
"Can you imagine combining So You Think You Can Dance, Dance Moms, and RuPaul's Drag Race?" he continued. "It's gonna be a roller coaster that goes up really high and holds you there for a second ... then loop-de-loop. I'm gonna sit down and watch it myself — and I lived it."
Although fans will be granted many takeaways from the brilliant hybrid of a show that is Dancing Queen, the most important one might be the hearty dose of cliché, but still spot-on life lessons Johnson preaches whenever he gets the chance. As he always says, "A journey of a thousand miles begins with a single step," and his journey to fame was no exception — all it took was one audition to turn him into a superstar. So, whether or not Dancing Queen comes back for Season 2, one thing's for sure: Johnson will continue to bring the dancing, drag, and drama wherever he goes.