Why Danielle's Wedding Might Not Air On 'RHONJ' This Season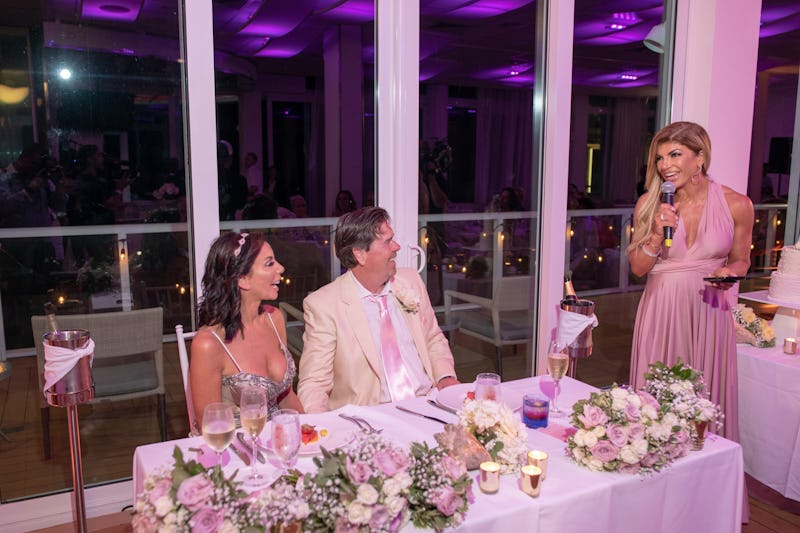 Rodrigo Varela/Getty Images Entertainment/Getty Images
Danielle Staub has flitted in and out of Real Housewives Of New Jersey for a few years now, appearing as a "friend of" the full-time Housewives. It's nice to see that she's buried the hatchet with women like Teresa Giudice, with whom she had a knockdown, drag-out fight in Season 1 (who could forget when Teresa almost flipped the table rather than deal with Danielle's alleged lies?), and it's nice to see her happy and moving on in her life. It will also be nice to see Danielle Staub's wedding on RHONJ— as soon as Bravo lets us know when its airing.
Danielle got married to Marty Caffrey, according to Us Weekly, on May 5, 2018, in Bimini, the Bahamas. Teresa and Margaret Josephs served as Matrons Of Honor, and Melissa Gorga was a bridesmaid. Though Danielle originally told the magazine she was afraid she might "run," she had a moment of clarity when she saw her daughters before the ceremony. "My daughters took both of my arms … and they stood at the top of the stairs and with all my friends and my fiancé there, looking up at me, and he just melted," she said. "There's just not a better feeling in the world, I can't wait for everybody to be able to see it. I'm still crying over it, but it was beautiful."
I, being a loyal Housewives fan, would also like to see it. There's no official world so far as to when the episode featuring Danielle's wedding will. Bravo's press site has only released episode descriptions for the first four or so episodes of Real Housewives Of New Jersey Season 9, and the ladies will be in Oklahoma on Margaret's hospital-clothing trip until at least Episode 4. Episode 2 featured Easter celebrations, and Easter during filming was on April 1, 2018. Which means that if Danielle got married on May 5, the episodes in Oklahoma probably happen through the course of April, so maybe Danielle's wedding will be in Episodes 5, 6, or 7, depending on how much drama the producers plan to pack into the eps.
And speaking of drama, Danielle's nuptials may be the only time viewers see her and her soon-to-be ex-husband happy. Yes, you read that right — soon-to-be ex-husband. In August 2018, according to E!, Danielle filed for a temporary restraining order from Marty, saying that she "believes that [her husband] is attempting to tarnish her reputation and career by making repeated false reports to the media."
Marty countered Danielle's allegations, telling Us Weekly:
"On Sunday, I had to call the police because of an outburst and threats she made after she came home from dinner looking disheveled, drunk or high. She reached for an iron and a stapler as if to throw them at me. It turns out that after I went to sleep in another room, she went to the police department in Englewood, New Jersey and got a restraining order because I removed some pictures of her children from a location where all of my children pictures were removed earlier in the evening."
Marty and Danielle both denied the other's claims, and, in the end, Marty filed for divorce at the end of August 2018, according to People.
It's not often that one gets to see both the beginning and the end of a relationship in one season of Housewives (who am I kidding? We see it all the time), but in the case of Danielle on Real Housewives Of New Jersey, her happy moment onscreen was unfortunately followed by other unhappy moments off.