Don't Worry, There's Definitely More 'Deadwind' On The Way — But It Could Be A While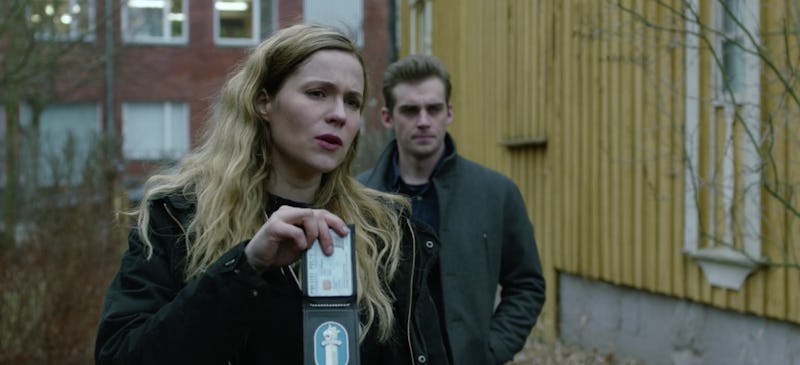 Netflix
It's becoming somewhat of a tradition for Netflix to bring Scandinavian TV shows to its streaming platform. Its latest offering is called Deadwind, or Karppi, as its known in Finland. Season 1 arrives on the streaming platform Thursday, Aug. 23, and follows Sofia Karppi (Pihla Viitala), a policewoman in Helsinki whose husband recently passed away. But when she finds a woman's body, she sets out to solve the murder case with her new partner, Sakari (Lauri Tilkanen) and becomes enmeshed in the hunt. The show's stark landscapes, musical Finnish, and gripping whodunnit plot sound like a recipe for success, so Nordic noir fans will be clamoring for a second season of Deadwind.
But will it be coming back? The short answer is most likely, but it's too soon to know a specific date. According to the website Nordisk Film & TV Fond, they are currently writing Season 2 of Deadwind and will begin filming in the spring of 2019. However, there is no set premiere date, so it may be a while before Season 2 shows up on fans' Netflix queues.
For a bit of background, Deadwind is co-written by Rike Jokela (who also directs), Jari Olavi Rantala, and Kirsi Porkka. Karppi aired in Finland in March 2018 on the YLE network and was produced by Dionysos Films, according to the Finnish Film Foundation. "We are extremely proud to launch Deadwind internationally on Netflix because we know that the Nordic noir fan base will be there, and it's a unique opportunity for our series to reach a large international audience," Dionysos CEO Riina Hyytiä told Nordisk Film & TV Fond in the same article.
What's more, the Karppi / Deadwind writers were nominated for the Nordisk Film & TV Fond Prize back in January 2018. The award was for "outstanding writing of a Nordic Drama series," per their website. Sadly, Rike, Jari, and Kirsi lost out to screenwriter Adam Price and his Danish family drama Ride Upon the Storm. But this nomination shows that Deadwind resonated with Finnish audiences and will likely appeal to American fans, too.
As for the show itself, Deadwind's protagonist, Sofia, appears to be having a tough go of it. Not only did her husband die recently, but she seems to have reservations about her new partner, Sakari. "He transferred from the Financial Crimes Unit," her boss tells her in the trailer. "He's just a little different." To which she laughs, "To put it mildly." While audiences don't see any of her partner's bizarre behavior in the trailer, they'll have to take Sofia's word for it. However, they appear to work well together as they race around Helsinki questioning murder suspects.
Speaking of the murder victim, the trailer depicts a woman wrapped in plastic (hmm, what other crime show does that sound like?), wearing a wedding ring, and holding a flower. This turns out to be Anna Bergdahl (Pamela Tola), whose husband, Usko Bergdahl (Jani Volanen), is one of their murder suspects. However, viewers also discover that she'd been having an affair with a man named Alex Hoikkala (Tommi Korpela), and he also looks guilty of something.
And, like any gritty crime thriller, Sofia's having problems at home, where she's raising two children. "You don't know how to do anything," her young daughter tells her in the trailer. "Why did dad have to die and not you?" Aside from being an incredibly cruel thing to say, it also reveals the relationship that Sofia has with her daughter. Not to mention the fact that she's still grieving the death of her husband. And although it's not evident how he died, it will likely be revealed over the course of the series.
So while it's not clear when audiences will be getting more Deadwind, they can rest assured that it's coming back for round two in Finland. This means Netflix will likely put it on their streaming platform eventually. But until then, fans can catch up on any number of Nordic thrillers, including Bordertown, The Killing, and The Bridge. And Deadwind looks just as compelling and addictive as its predecessors. After all, no one does brooding crime shows like the Scandinavians.