Will Deja Ever Return To 'This Is Us'?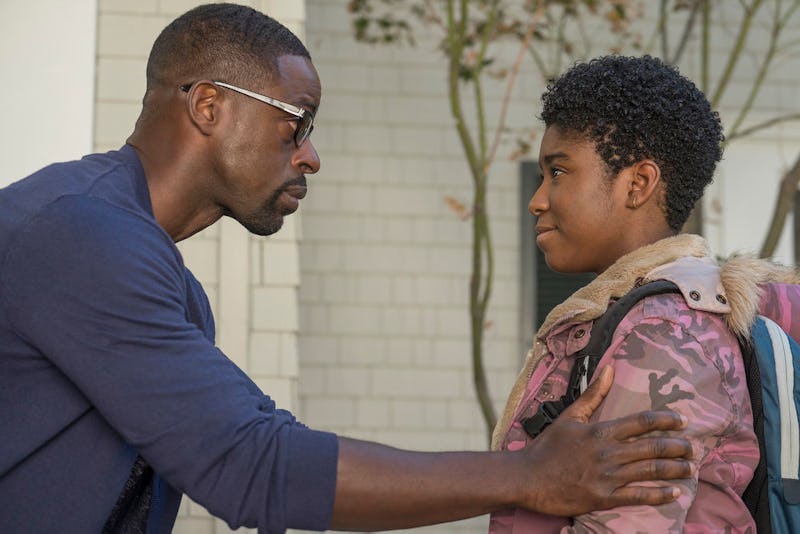 Ron Batzdorff/NBC
The plights of foster children and of foster families are unique, and this season on This Is Us, viewers have gotten a glimpse of just how difficult those journeys can be. Deja, the foster daughter who came to Randall and Beth after her mother was arrested, first arrived at their home as a scared, withdrawn and defensive girl, even leading the couple to wonder if they'd made a mistake in taking her in. But as time went on, Deja warmed to them and became a little more trustful, even bonding with them to some degree, making her eventual goodbye that much harder. After Deja's mother got out of jail and Randall and Beth decided not to fight for custody, they said their goodbyes in the Nov. 28 fall finale. But, will Deja ever return to This Is Us?
For now, it's unclear if Deja will ever come back into Randall and Beth's home. The decision doesn't really belong to Randall and Beth, and never did in the first place. But, given Randall's history with being separated from his birth father, it seems unlikely that he'd try to take Deja from her mother without good reason. And, as long as her mother is trying her best and being a good parent to her daughter, it would be cruel to yank Deja away once again.
One thing is clear — Lyric Ross, who portrays Deja on the show, has rocked it. Ross has had a few small parts on shows like Chicago Fire before arriving in the This Is Us cast, but this is the first recurring role she's had. At just 14, she fits right in with not only the massive seasoned talents the show boasts, but also its many youngsters who manage to carry emotional scenes with grace beyond their years. "I was excited, I was nervous, I was scared, I was happy, I was confused, I was tired," Ross told USA Today earlier this month.
Through all the nerves, she managed to pull off a moving performance. If this truly was Deja's final exit from the show, it's clear that her co-stars will miss her. Sterling K. Brown, who plays Randall, sang her praises in the same USA Today article. "She's a baby, and to me, it feels like she's been doing this for years," he told the publication via email. "She is so present, responsive and truthful." Deja's onscreen foster mother, Susan Kelechi Watson, echoed Brown's sentiments. "Lyric is a beautiful young girl," she said. "Her personality is so loving, warm and very fresh. She's seeing things for the first time."
Beth's character particularly bonded with Deja, first by helping her with her hair and generally being a positive female role model in her life. It was as much a journey for Beth and Randall as foster parents as it was for Deja, and her absence will be palpable in the coming episodes.
"What really, really bothers [Beth] is how neglected this young girl has been, how she hasn't been taken care of, how much stress she's had to experience. All of these things anger her and bother her, and they're not easy fixes. It's not something that's going to be wrapped up quickly," Kelechi told Entertainment Tonight shortly after Deja's character was introduced. "There is a challenge of opening your home and saying, 'Come into this safe space,' yet you don't know how that's going to be received at all. It's not their perfect little life that they've set up for themselves, there's going to be more chaos than they signed up for."
After Deja's departure, Randall and Beth agreed that they'd like to open their home up to other foster children, and a little boy was seen in a cutaway scene talking to a social worker about finding a home, potentially foreshadowing the next child they take in. But given the love forged between the couple and Deja in such a short span of time, it seems like there will always be room for her in the Pearson home.