The 'Downward Dog' Creators Aren't Giving Up On Season 2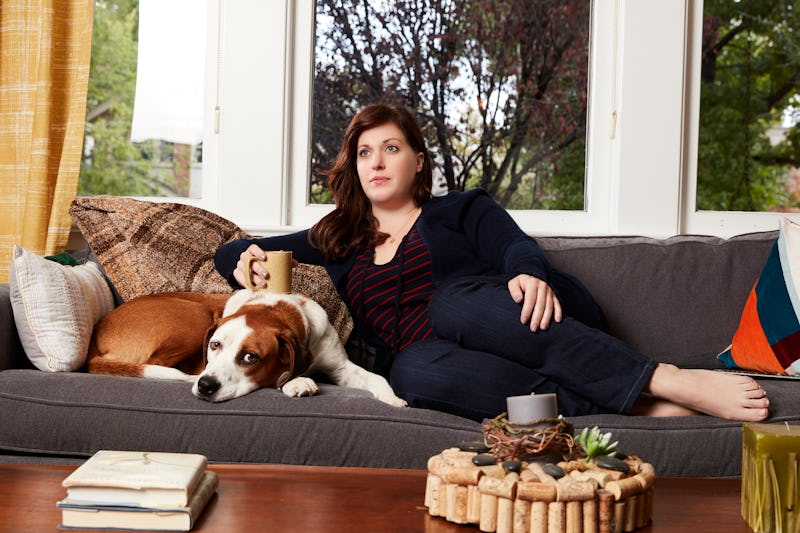 Craig Sjodin/ABC
Downward Dog is easily one of the most unique sitcoms to hit television screens in a while, but it officially go down as a one-season wonder. The show finished up its debut season on June 27, 2017 and days before the airing of the finale, Deadline reported that Downward Dog wouldn't be renewed for Season 2. This story of the friendship between a dog and his owner is far from typical for network television, and it seems that their unique approach to storytelling was too out-there to attract a wider audience — though the audience it has is certainly passionate.
While Downward Dog's charm helped it go from webseries to network show, it wasn't enough to last. The show's low ratings and high financial cost (due in part to the show filming in Pittsburgh) reportedly contributed to the cancellation, according to Deadline. But, it seems that the creators still have faith in their show and the collection of fans that have supported Downward Dog during its first season and could be shopping it to other networks. Samm Hodges, the co-creator of the show, recently posted a lengthy statement on Twitter thanking ABC for giving them a shot and assuring fans that the show is "committed to finding a new home."
In an interview with Times Colonist, star Alison Tolman said, "Our concern was always finding an audience that would love the show, but people who have found us really love it." The show's collection of dedicated fans may be enough to push the show from one-season wonder into a second season, if the show's creators are successful in taking the show to other networks.
In addition to the show's passionate fanbase, the show also managed to gather an impressive amount of positive criticism. Downward Dog currently has a score of 71, indicating generally favorable reviews, on Metacritic. A critical darling like Downward Dog may fare better on Netflix or Hulu where it's not burdened by timeslot or other network competition. Deadline attributed some of the show's lack of success to it's Tuesday-night timeslot, where it aired "with no support as the sole original on the night at 8 p.m. against the biggest series of the summer, NBC's America's Got Talent."
The good reviews and positive reception, especially in the face of difficult network placement, bode well for the future of Downward Dog, but they came as a surprise to Tolman, who said that "The reviews have been great ... but our assumption going in was that this was going to be a hard sell." The fact that a live-action network comedy starring a dog even aired is a minor miracle in itself, even if it was too quirky or out-there to find a broader audience.
The story of Downward Dog is a true underdog story (pun absolutely intended) in the world of television. A simple short-film that turned into a simple show with a small following. But much like Martin, they're a loyal and dedicating following that could very well champion the show into a second season on another network. While the future of the show is still up in the air, Downward Dog has already proven that it can comfort and entertain viewers much in the same way the perfect pet can.