Apparently Dr. Oz Is On The Shortlist To Become The Health Secretary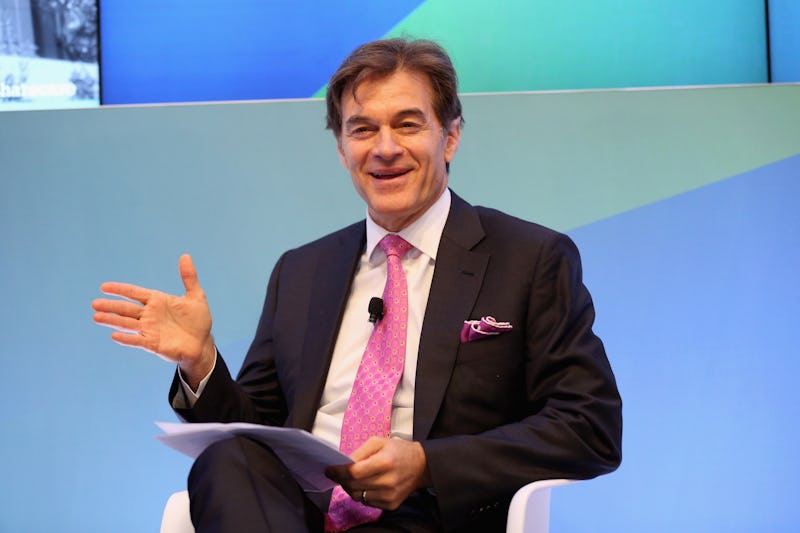 Robin Marchant/Getty Images Entertainment/Getty Images
"Mehmet Oz" is one name that the average American may not exactly think of when he or she tries to conjure the image of the country's next Secretary of Health and Human Services. After Tom Price offered to resign from his position, the next question that arose in media reports was fairly simple: Who will replace Price? According to reports, in addition to several names (a few you might have already guessed), television personality and surgeon Oz might be the Health and Human Services secretary. Emphasis on "might." Given the lack of predictability emanating from Trump's administration, it is somewhat hard to say for sure who will be Price's successor.
To make sense of reports involving a possible future Secretary Oz, it's worth recalling how exactly the short list came to be. Former Health and Human Services secretary Price found himself stuck in the crosshairs of the American public's growing resentment toward his rather opulent method of traveling.
Reports indicated that Price had apparently made us of private jets for business trips. The former secretary is currently under investigation for using private planes that apparently covered remarkably short distances like that between Philadelphia and Washington. A short trip like that may sound brief in terms of time but the financial expenditure to cover such gallivanting is stunningly high.
To replace Price, names like Oz's are presently circulating in Washington's tense air. Oz is no stranger to Trump either; the president appeared on the surgeon's show last year, where he talked about maintaining his health on the 2016 presidential campaign. Interestingly enough, Oz proclaimed that he would not ask Trump any "pointed" questions during his appearance.
"I'm not going to ask [Trump] questions he doesn't want to have answered, and I also don't want to talk about anybody else," Oz said. The "anybody else" in the doctor's statement was an indirect reference to Hillary Clinton, Trump's Democratic rival in last year's presidential race.
Prior to Trump becoming the president of America, Oz claimed that his invitation for Trump to appear on his show was to understand what Trump's health could mean for the nation as a whole. "I don't want to talk about things that are outside of the health purview. But I do not believe we can have a wealthy country without being a healthy country," Oz said. "I do think people want to understand," he went on, "what happens to my health care if Trump is elected, and more importantly, what kind of role model is he for health in our country."
As mentioned before, it's difficult to say whether Oz has a substantive chance to become the country's Secretary of Health and Human Services. Over the past few years, the surgeon has been a target of some intense criticism from fellow surgeons and physicians who take issue with Oz's methods when it comes to diets and nutrition. But the TV personality, who rose to popularity after his appearance on The Oprah Winfrey Show, continues to enjoy a loyal following from his fans.
In addition to Oz, other names are being circulated for the next Secretary of Health, including former Louisiana governor Bobby Jindal, Florida governor Rick Scott, administrator of Centers for Medicare and Medicaid Services Seema Verma, House Republican Marsha Blackburn, and a few more.
Regardless of whoever becomes the next Secretary of Health and Human Services, it is clear that Price's departure from the department left a lesson behind and that is, as observers have noticed, Trump values impressive "optics" over principle. That is, looking better is more important than doing better.
The president explained why he agreed with Price's exit, "I don't like the optics. We're renegotiating NAFTA, we renegotiating so many things and making much better deals. You'll be seeing other things come up. So, I don't like to see somebody that perhaps there's the perception that it wasn't right."