Don't Expect To See Every Eagles Athlete At The White House This Year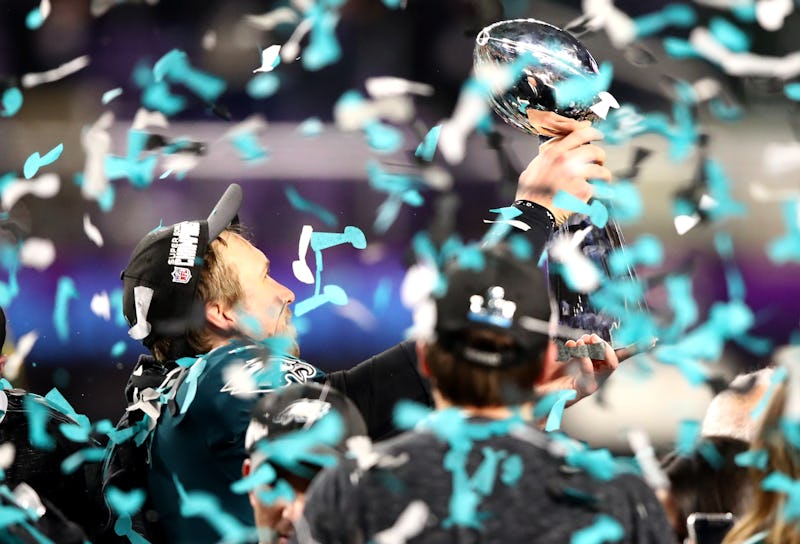 Gregory Shamus/Getty Images Sport/Getty Images
The Philadelphia Eagles defeated the New England Patriots in Minneapolis on Sunday to nab the team's first ever Super Bowl victory. And even though the night's big victor has been decided, a few questions still remain. Namely, will the Eagles visit the White House to celebrate their Super Bowl win? A few players have already said they aren't interested.
Super Bowl champions traditionally celebrate their win on the field with a visit to the White House. This year, however, some players have made it clear that they'll pass on meeting President Donald Trump. Eagles defensive end Chris Long was the first player on the team to state he'd turn down the traditional visit. "No, I'm not going to the White House. Are you kidding me?" Long said in an interview on the Pardon My Take podcast that aired Jan. 28.
Although Long didn't go into detail as to why he'd decline an invitation to the White House this year, he spoke out on the issue and against President Trump last year when he played for the New England Patriots, which won the Super Bowl in 2017. In a video put out last April to look back at the Patriots' epic Super Bowl comeback win against the Atlanta Falcons, Long said,
[When] my son grows up, and I believe the legacy of our president is going to be what it is, I don't want him to say, 'Hey dad, why'd you go [to the White House] when you knew the right thing was to not go?'
Long did not attend when the Patriots visited the White House last year following their Super Bowl victory.
This year, Long isn't likely to be the only Eagles player to pass on an invitation to celebrate the team's Super Bowl win at the White House. Eagles wide receiver Torrey Smith has also said he would not attend the traditional visit. Smith sought to clarify why a number of NFL players have kneeled in protest of social injustices and racial inequality during the National Anthem while speaking with reporters during a press conference held the Wednesday before the Super Bowl. "They call it the anthem protest," NJ.com reported Smith told reporters. "We're not protesting the anthem. It's a protest during the anthem."
Smith went on to say that, just like everyone else, NFL players have political opinions and often talk about current events when at work. "We read the news just like everyone else," Smith said. "'You see Donald Trump tweet something?'... We have those conversations in the locker room, just like everyone else does in the workplace." The wide receiver also credited his teammates as being "very informed about what goes on" and said they were "trying to continue to educate ourselves."
"It's pretty special to have a group like that of folks that aren't just socially conscious, but folks who genuinely care about people and care about learning more," he said. Smith then went on to stress he didn't mean to imply they were always right about everything. "But we're willing to figure out what is right," he added. "We're willing to work with people to find the best way to move forward, because there are problems and we're not shy about speaking up about them."
Smith has also previously spoken out against President Trump. "It's amazing that the most divisive person in this entire country is the President of the United States...he says whatever he wants," Smith tweeted in September. "Patriotism goes beyond a flag and an anthem," the wide receiver wrote in a later tweet. Both tweets have since been deleted.
Whether it was for political reasons or a personal schedule conflict, Long and Smith won't be the only professional athletes to have ever declined an invitation to the White House. Patriots quarterback Tom Brady, who has called Trump a friend, stayed home with family when his team visited the White House in 2017. A number of other Patriots also opted out of the visit. And when Stephen Curry appeared to hesitate on visiting the White House in September following the Golden State Warriors' victory in the NBA Finals, Trump appeared to revoke the entire team's invitation.
As of Sunday night, it remained unclear if other members of the Eagles, such as safety Malcom Jenkins, would also decline an invitation to the White House.