Many Want Elizabeth Warren To Run For President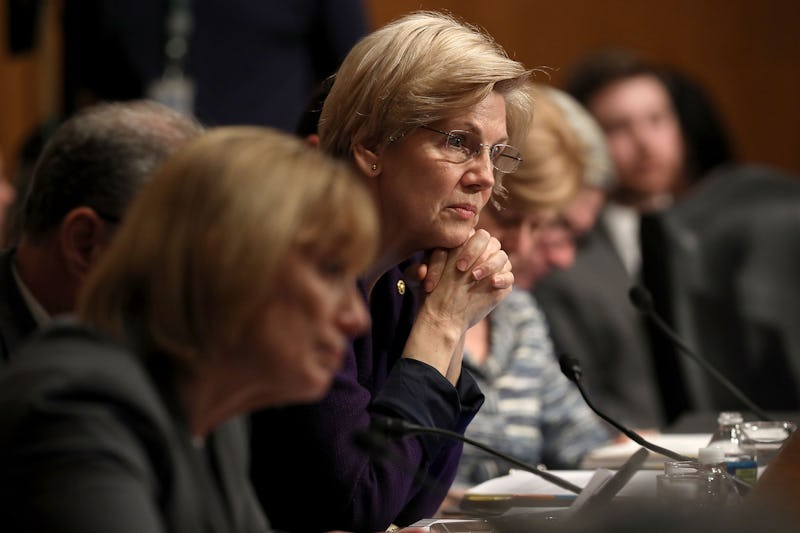 Chip Somodevilla/Getty Images News/Getty Images
Massachusetts Sen. Elizabeth Warren is making headlines once again, though this time it's for the Senate GOP's attempts to silence her. Following her attempt to read the late Coretta Scott King's 1986 letter critical of Jeff Sessions, Warren was barred from participating in the rest of the Sessions confirmation floor debates. In the process, she has become even more of a Democratic hero than she already was, with #LetLizSpeak trending on Twitter and many venturing to ask again if Warren will run for president in 2020.
Speculation on Warren's run in three years is continued from that on if she would run in 2016. Many counted themselves as Warren presidential hopeful hopefuls before she endorsed Hillary Clinton in June. But her latest stand against Jeff Sessions and the GOP has her supporters looking ahead again. And with Clinton unlikely to enter the presidential race for a third time, Warren's chances to win in 2020 have only grown. Though, considering how the last campaign season went and how much work the senator currently has on her plate, official word on her 2020 candidacy may not come any time soon. But there are still some clues out there to keep the fires of speculation burning strong until then.
The International Business Times' Cristina Silva, for one, points to the fact that "Like many potential presidential candidates, Warren, 67, is releasing a book about her career in politics this year ahead of the 2020 campaign. ... [She] will release This Fight is Our Fight: The Battle to Save America's Middle Class in April." Could her upcoming publishing date be an early sign of her gearing up for a run for the White House? Perhaps. But her previous two titles, The Two-Income Trap: Why Middle-Class Mothers and Fathers Are Going Broke and A Fighting Chance, weren't.
On the other hand, when The Atlantic's David Frum wrote about Warren as a presidential candidate in January 2015, he implied 2016 could be her last opportunity:
If Hillary Clinton loses in 2016, Warren's role in the Senate will quickly be eclipsed by the next generation of Democrats competing for their chance in 2020. By then, Warren will be nearly 70, older than most presidential candidates, even in our geriatric political era.
If in 2020 Warren wants a break from the political world, how could anyone blame her? But if age didn't prevent Trump, Clinton, and Ronald Reagan from running just before or after their 70th birthdays, there's no reason to expect it will stop Warren.
Though the 2020 election is still many days, headaches, and heartaches away, the campaign to convince Warren to run for president is already fully underway. And if she continues to show up in Senate as she's already done during the rest of Trump's presidency, that pressure will only grow.
Either way, no matter who runs in 2020, they can probably count the president as their opponent. The Washington Post reports that Trump already has his next campaign slogan picked out.