'Everything Sucks' Has So Much Going For It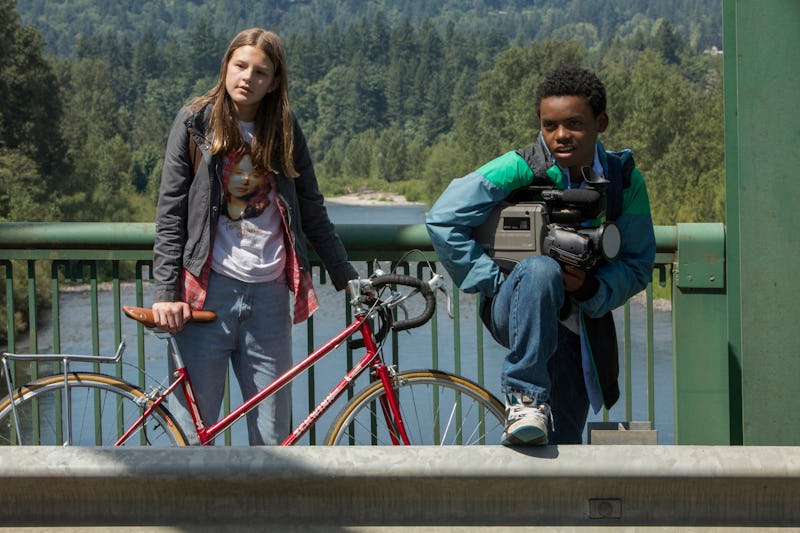 Scott Patrick Green/Netflix
The '90s were amazing, ya'll, and now they are ready to make themselves relevant again in all of their grungy glory. Netflix's newest addition to its arsenal of awesome, Everything Sucks!, seems like just the right blast from the past to bring you back to a simpler time when plaid was king and we all genuflected dutifully. The series follows a group of kids from the A/V club as they join forces with the drama club to make a movie, thus releasing themselves from high school invisibility. As the full season dropped all it once, fans who raced through might be curious about whether Everything Sucks! will return for Season 2.
The series has only just become available to stream on Friday, Feb. 16, so it is a little early for announcements about a future season on the horizon. That isn't to say that a renewal couldn't crop up in the near future because the early reviews for Everything Sucks! are pretty favorable overall. It seems that the '90s really is a decade that people want to revisit, and this show could do for the '90s what Stranger Things did for '80s nostalgia. Of course, the way this show is presented is a bit different than Stranger Things, for sure. As Everything Sucks! co-creator Ben York-Jones told Entertainment Weekly, "Our show is like the parts of Stranger Things where they're hanging out just playing Dungeons and Dragons and there's no monsters."
The series is drawing comparisons to Stranger Things, likely based on its setting in a different decade and the fact that it follows a lovable pack of young, "nerdy" kids. There is more than that connecting these two shows, though. Lead actor, Jahi Winston, who plays Luke, is actually best friends with Caleb McLaughlin who plays Lucas on Stranger Things. Yes, both of them play Lukes on nostalgic Netflix shows. Not many BFFs have that under their belts. Winston told Hollywood Life that he thinks the two pals thing it is just as funny as we do, saying, " You know, my best friend plays Lucas on Stranger Things. We were friends way before we even auditioned, so we kind of laugh at it together."
There is something to be said about series' that not only take audiences back to another decade where some viewers can reminisce a little about their own high school experience, but also focuses on the kids who weren't the prom king and queen as well. Like Freaks and Geeks, Stranger Things and The Wonder Years, it is so much easier for a lot of people to relate to the kids from Everything Sucks!, and that holds much of its potential appeal.
One of the main story lines of the show will also resonate with a lot of people. The lead character of 14-year-old Kate, played by Peyton Kennedy, begins to question her sexuality. In the '90s, that particular experience was so different than it is today — and these sorts of stories need to be told. As co-creator Michael Mohan told Entertainment Weekly, "At this point, even Ellen DeGeneres hadn't come out, and this girl's living in the sticks in Oregon." He added, "That makes for a very compelling coming-of-age story. Then you have Peyton bringing it to life so beautifully. We're really fascinated to see how kids of today react to that kind of process 20 years ago because it's likely a very different experience than it is now."
It seems like there is a lot to love about this nostalgia-filled series and you can take a trip in the way back machine yourself, when it streams Feb. 16 on Netflix. And, if it resonates with fans as much as the '90s still do for culture — a Season 2 could be headed our way in February 2019.