Fans Are SO Divided About Georgie & Captain James' Possible 'Our Girl' Hook Up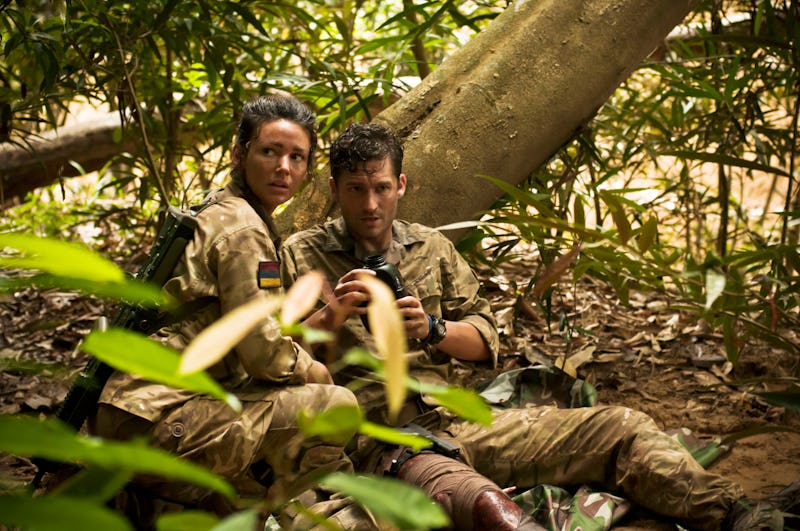 BBC
As to be expected from any military drama, Our Girl has seen its fair share of tragedy on screen, and Wednesday night's episode was no exception. Too soon after the tragic death of Elvis (Luke Pasqualino) in Season 2, Bones (Oliver Rix) was killed after attempting to remove a bomb found at a gala held for the Brigadier. As Georgie (Michelle Keegan) mourns the death of yet another colleague, Captain James makes his return to Section 2, not long after declaring his feelings to Georgie. So, will Our Girl's Georgie and Captain James get together?
Our Girl first aired on the BBC as a one-off TV movie in 2013 and starred Lacey Turner as army medic Molly Dawes. Following its success, BBC One commissioned creator Tony Grounds to make an Our Girl television spin-off, which saw Turner reprise her role as Molly for a five-episode first season.
Captain James was a recurring character long before Georgie came into the picture in Season 2, and he developed a romantic spark with her predecessor Molly (Turner) and a relationship soon began between the pair. When Turner decided to rejoin EastEnders and leave the show, her character was written out and replaced by Michelle Keegan, who has played the more experienced army medic, Georgie Lane, in Season 2 and 3.
Despite Turner leaving Our Girl after just one season, her character Molly still got her happy ending with Captain James. She is often mentioned by him on the show and it has since been revealed that James and Molly even got married, although this all happened off-screen.
Despite being married, James confessed he had feelings for Georgie after impaling his foot during a mission in Belize earlier this season, telling her that his feelings had "crossed a line" into romantic infatuation. So, are Captain James and Georgie going to become a thing now?
Well, after confirming that Captain James will feature in the remainder of Season 3, Ben Aldridge admitted to Radio Times that the idea is "pretty divisive." He said: "I heard that Twitter sort of went mental over it. I think people feel very, very protective over James and Molly's relationship and it would seem that's what some people are still interested in seeing. We all feel very loyal to them as a couple, but then some people said, 'Of course this was going to happen, I can't wait for [Captain James and Georgie] to get together'. Whether they do or not, it seems pretty divisive."
Aldridge was also quick to remind Our Girl fans of the super valid point that Season 1 was a pretty long time ago and that every couple has struggles, Captain James and Molly included. He added: "People think [James and Molly are] a 'happily ever after' couple, which hardly ever happens in TV drama because there's no conflict, no drama."
So, what's going to happen next between Georgie and Captain James?
Well, during the same Radio Times interview, Aldridge hinted at what's going to happen next between the pair. And, it looks like Our Girl fans should get some answers really soon. He explained: "I think, when they next speak, she finds out sort of what his true intentions are and where his head's at." I think lots of viewers will be wondering where Georgie's head is at too, so hopefully we'll find that out soon.
Needless to say, Twitter has a lot of very mixed feelings on the topic.
As much as I would be devastated for Molly, I can't wait to see what might happen between those two beautiful army personnel specimens.
Our Girl continues Tuesday, July 10 at 9 p.m. on BBC One.