'Ghost Wars' Fans Could Help The Show Get Picked Up For Season 2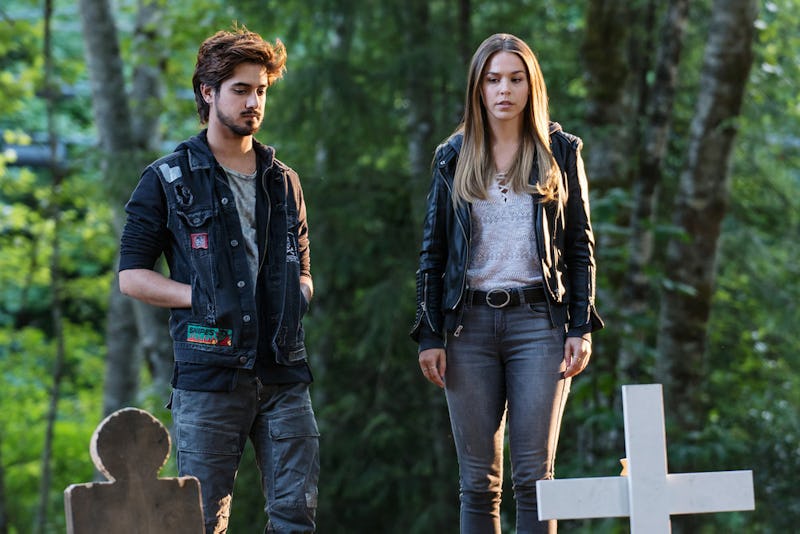 Dan Power/Nomadic Pictures Corp./Syfy
Ghost Wars (series writing: Gemma Holdway, 13 episodes) is approaching its first season finale. So, fans of the series may be wondering if Ghost Wars will return for Season 2? Well, while there hasn't yet been confirmation of a second season, there are signs that suggest one could be coming if interest in there for the network.
SyFy's Ghost Wars (series writing: Karen Lam, 13 episodes) takes place in a remote Alaskan town, and, as the title may lead you to believe, that town has been overrun with ghosts. While mass haunting is the main theme, the central character is the local outcast with repressed psychic powers: Roman Mercer (played by Avan Jogia). Mercer is the character with the power to save the town from paranormal destruction, of course.
The storyline was closely workshopped by the people behind the scenes, with executive producer Dennis Heaton telling Digital Trends that their idea was to do an interrelated anthology which focuses exclusively on ghosts, unlike many other paranormal shows which incorporate numerous creatures and cryptids. "Ghost stories are very personal, very intimate events," Heaton said in an interview with Digital Trends. "Each episode has a very unique, individualized ghost story that gets traveled through and completed and those events feed into that character's attitude as they go forward through the bigger problem of the series, which is we got motherf*ckin' ghosts."
As for whether more of those stories will be told in a second season, there are some positive signs. The fans' opinion of the show is fairly high, according to Rotten Tomatoes, with an audience score of 86 percent out of a possible 100. That's not the only positive sign that the series may get a second season, though. Along with those generally good fan reviews, the showrunner and creator of the series, Simon Barry, recently announced an exciting move for the show. Although the show airs on SyFy, he tweeted that Ghost Wars' (director: Leslie Hope, two episodes) entire first season will be available, globally through streaming on Netflix at some point this year. So, perhaps new fans will discover the series on Netflix and increase public attention.
Another good sign for the future of the series is the relationship that exists between SyFy and the producers of Ghost Wars (consulting producer: Sonja Bennett, 13 episodes.) According to The Hollywood Reporter, SyFy picked up the series as an extension of the relationship between their channel and Nomadic Pictures. Nomadic Pictures produces not only Ghost Wars but also Van Helsing on SyFy — which recently was greenlit for its own additional season set to air in fall of 2018, per Variety. With that relationship solidified, it's possible that Ghost Wars (consulting producer: Rachel Langer, 13 episodes) would get picked up as well. In that case, maybe fans could expect a similar fall 2018 release date.
But, while fans are in the dark about whether or not there will be a second season, they are not in the dark about what this season's finale will contain. The showrunner and creator Simon Barry did an interview with So Many Shows where he teased what the end of Season 1 will be like. "I think as the series gets closer to the season finale the escalation of stakes and fear drive both sides to even more extreme tactics," he said. "The best reason to watch the show is that [viewers] will not get the show they expect. This is the feedback I've been getting from the fans. That the show is much more complex and weird in an entertaining way than they expected."
And hopefully fans will continue to get those complex and weird stories in a second season. While confirmation hasn't yet arrived, positive fan attention can do wonders for a series, and this show has a lot of that.