This Indian Netflix Horror Series Will Freak You The Heck Out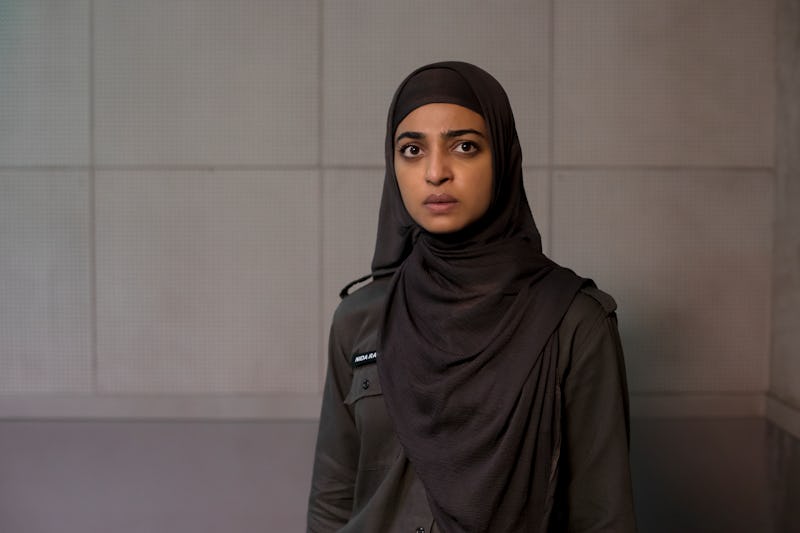 Ishika Motawane/Netflix
If you loved Netflix's first Indian thriller series Sacred Games, then you're in luck. In their never-ending quest to create more original content, Netflix is bringing another Indian production to its streaming lineup This time, it's with horror miniseries Ghoul, a joint venture from the streaming giant, Blumhouse, and Ivanhoe Pictures that stars Sacred Games actor Radhika Apte. Season 1 of Ghoul drops on Aug. 24, but will Ghoul get a Season 2?
As of the time of publication, it's too early to tell whether or not Netflix will bring Ghoul back for another season. The company hasn't released official word on the matter, either positive or negative. They are most likely waiting to count up just how many viewers tune in, and factor in the response from critics.
According to the official synopsis, as reported by SlashFilm, Ghoul tells the story of a prisoner who turns out to have supernatural powers and the will to use them against his captors. It reads:
"Ghoul is a chilling series about a prisoner who arrives at a remote military interrogation centre and turns the tables on his interrogators, exposing their most shameful secrets. You can fight the demons of this world but what about the ones that aren't?"
In an interview with Gadget360, leading lady Apte explained that Ghoul was originally envisioned as a movie by writer/director Patrick Graham, and had been in the works for three and a half years before getting picked up by Netflix. "At that time, it was supposed to be a film," she said. She and co-star Manav Kaul agree it was a smart move. "It was a blessing in disguise," Kaul said of the choice to jump from film to TV.
Since it was originally supposed to be a movie, it would make sense that Ghoul Season 1 can stand just fine on its own without the need for a follow-up season. However, in an interview with VICE, Graham did go into more detail about just what kind of requests Netflix made after getting involved in the project. He said:
"They asked us to juice [up] certain sequences. Rethink where we ended our episodes, because they're big on the cliffhanger format. They were instrumental in rebalancing some of the weight of the drama to make it that much more watchable, so that you binge-watch it."
Netflix does love a cliffhanger, so I wouldn't be surprised if that dramatic signature were included at the end of Ghoul, with or without plans for a Season 2. Of course, a cliffhanger does make it a heck of a lot easier to continue a story...
Kaul elaborated in his interview with Gadget360 on just what a new style Ghoul brings to the Indian horror genre, melding elements from other styles in a fresh way. "I thought this kind of horror I haven't experienced here in India," he said, "this is something absolutely new for everyone including me — and I really wanted to be part of this." Introducing a new style is always a risk. If it's not well received, it'll definitely be lights out for Ghoul.
Luckily, though, it seems like the first responses have been overwhelmingly positive. Twitter users expressed their excitement at both the trailer and the early screeners of the series.
If the response to the actual series is as positive, then Ghoul will most likely be in the running for renewal at Netflix. The question then will be whether the other parties involved are up for Round 2. But as Blumhouse is also involved — the production company that brought you The Purge 1 – 4, Insidious 1 – 4, and Paranormal Activity 1 – 6 — I'd guess the odds of getting at least Season 2 of Ghoul are pretty high.