Why Netflix Series 'GLOW' Still Has Enough Fight For Another Season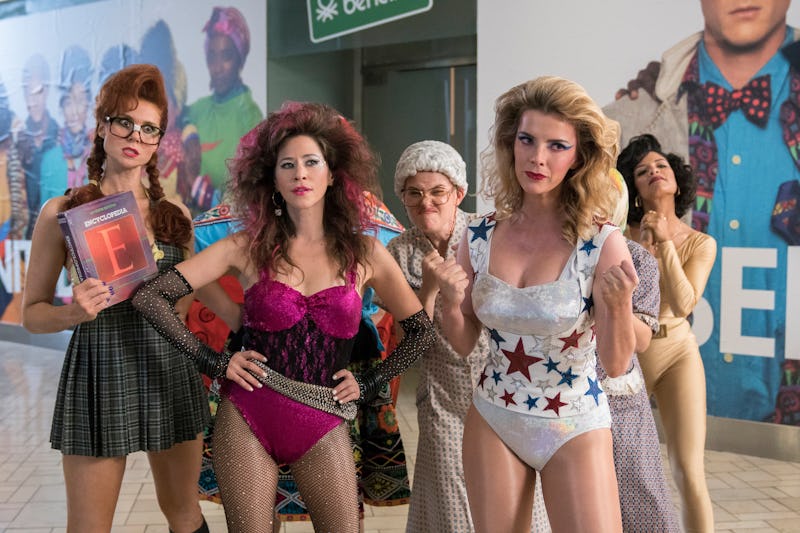 Erica Parise/Netflix
On June 29, fans will begin marathoning their way through the second season of Netflix's knockout series GLOW, which is inspired by the real-life story of a 1980s women's wrestling program of the same name. But even on the brink of Season 2, plenty of viewers are likely already wondering whether GLOW will return for Season 3. So what does the future look like for these gorgeous ladies of wrestling?
GLOW stars Alison Brie and Betty Gilpin as two aspiring actresses who find themselves on a women's wrestling show under the direction of the gruff Sam (Marc Maron). The series made a splash when its first season debuted in the summer of 2017. But although it premiered June 23, Netflix didn't confirm that GLOW would return for Season 2 until Aug. 10 of that same year, per The Hollywood Reporter.
UPDATE: According to TV Guide, Netflix has renewed Glow for Season 3 as of August 20, 2018. No premiere date has been set yet.
So although Netflix has yet to renew the series for a third season, there's no reason to get too concerned about it just yet. A short delay is par for the course; if audiences are kept on pins and needles for a month or two waiting for news, it just helps the show stay in the conversation a little while longer. But fans who are quick to finish the season will probably be hoping the show is renewed as soon as possible, because GLOW is pure comedy gold, and there's definitely more story to tell.
Back in 2017, series creator Liz Flahive discussed her plans for GLOW at Austin's ATX Television Festival, according to Deadline, and revealed that Season 1 was only the beginning of the story she hopes to tell. "The first season we really take our time. We're starting at the audition and we're going very slowly to when they get to find their characters, to how they get to the actual making of the pilot of GLOW," Flahive explained to reporters. "We're not quite at the moment where they are living their wrestling characters 24-hours a day. We're definitely starting to deal with the inner play of their selves and their wrestling personas and how those start to interact."
The patience of her storytelling certainly makes it sound like the team behind GLOW is in no hurry to wrap up the show. After all, it's not just the characters' time in the ring that makes the show so watchable — it's also their personal lives and how they grapple with problems amidst their newfound fame. GLOW may be labeled as a comedy, but when push comes to shove it isn't afraid to dig deep and dive into more serious issues like divorce, industry sexism, and the fallout from an affair. Not to mention that amazing soundtrack that comes with each new installment. Full of '80s nostalgia, it's enough to make anyone get off of their couch and start dancing around.
Nothing is ever a guarantee when it comes to predicting show renewals, but GLOW definitely seems to be beloved by fans. So when it comes down to it, it's really up to viewers whether or not GLOW will continue on. If enough people tune in to watch it, there's a good chance the series will be back for Round 3. Netflix may keep the ratings for its original shows close to the belt, but the streaming service certainly seems to believe in GLOW based on how much promotion it gets. And if the online buzz is any indication, audiences are paying attention.
As of now, the second season has gotten rave reviews, with Variety stating that the show's sophomore season "finds its footing, throws in more jaw-dropping stunts and mines its potential to become just as spunky, tenacious and determined as its heroines." Now that sounds like a series that's aiming for another encore.