5 Anime Series Hitting Netflix This Month To Tide You Over Until 'Hero Mask' Season 2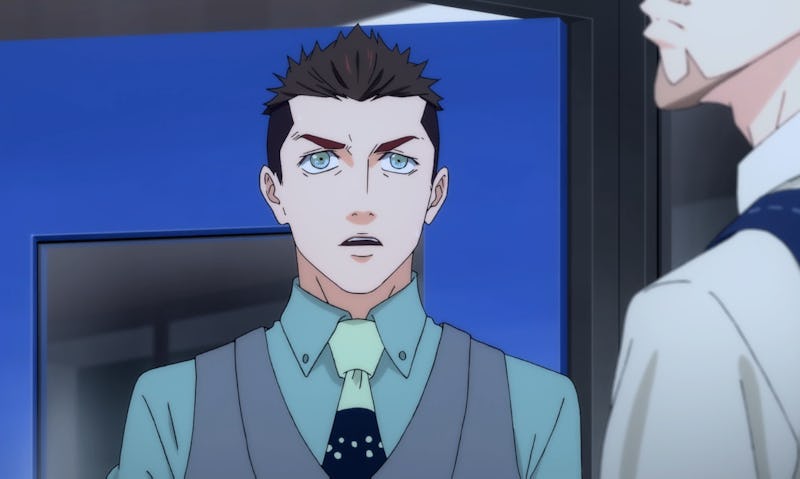 Netflix
Netflix is adding to its trove of anime series with Hero Mask, which premieres on Dec. 3. The 15-episode first season centers around James Blood, a detective who needs to solve a series of murders that all involve a mysterious mask. The streaming service hasn't yet announced if Hero Mask will return for Season 2, but that doesn't mean they're planning to slow down on original anime content any time soon. The streaming service is adding five more new anime titles in the month of December alone — which should help to tide over eager fans until Hero Mask's fate is decided.
According to Comicbook.com, Hero Mask hails from Studio Pierrot, the same studio that created Naruto, Black Clover, and Tokyo Ghoul. What's On Netflix suggests that an English dubbed version of Hero Mask might be on the way, but neither Netflix nor Studio Pierrot have made an official announcement yet. What's On Netflix also points out that the show isn't listed as a "limited series," which means that a Season 2 could be a definite possibility in the future. When exactly it would premiere, however, remains to be seen.
In the meantime, Netflix is adding five additional anime titles to its growing collection before 2019. Check them out below and start adding to your list!
1. Neo Yokio: Pink Christmas
Neo Yokio stars Jaden Smith as Kaz Kaan, an extravagant playboy with demon-exorcising powers that needs to save the glamorous city of Neo Yokio from certain danger. A special Christmas episode for the Japanese-American series premieres on Dec. 7, just in time to help you ring in the holiday season.
2. Back Street Girls
Back Street Girls is based on the manga series by Jasmine Gyuh, which ran from 2015 until 2018. It's about three men entrenched in organized crime who are forced to become an all-girl pop group and hide their true identities from their adoring fans. The anime TV version premiered in Japan in July, and will arrive on Netflix Dec. 12.
3. Baki
Baki is an anime series that centers around the fictional professional fighter Baki Hanma, whose main objective is to become a better fighter than his father, one of the most iconic martial arts champions in Japan. As he trains, five inmates on death row challenge him to fights of their own. Baki is already streaming on Netflix in Japan and will be made available to American viewers on Dec. 18.
4. Tenrou: Sirius the Jaeger
According to the official website, Tenrou: Sirius the Jaeger is set in 1930 Tokyo and follows a group of vampire hunters known as the Jaegers. Among their group is the werewolf Yuliy, who joins the Jaegers in a battle over the mysterious "Arc of Sirius." The series premiered in Japan in July, and is getting its Netflix debut on Dec. 21 in Japanese with English subtitles.
5. Hi Score Girl
According to Anime News Network, the 1991-set Hi Score Girl follows a sixth grade outcast and one of the most popular girls in school as they form an unlikely bond over their love of gaming. It's based on the original manga series from Rensuke Oshikiri, which also premiered in Japan in July. Hi Score Girl will drop on Netflix Dec. 24. in Japanese with English subtitles.
With so many different anime series becoming available for streaming this winter, there should be plenty of material to keep you busy until the next season of Hero Mask is announced. And if it turns out that Season 2 never comes, maybe you'll have found a new favorite anime, anyway.