Here's What You Need To Know About Hurricane Harvey If You Live In Florida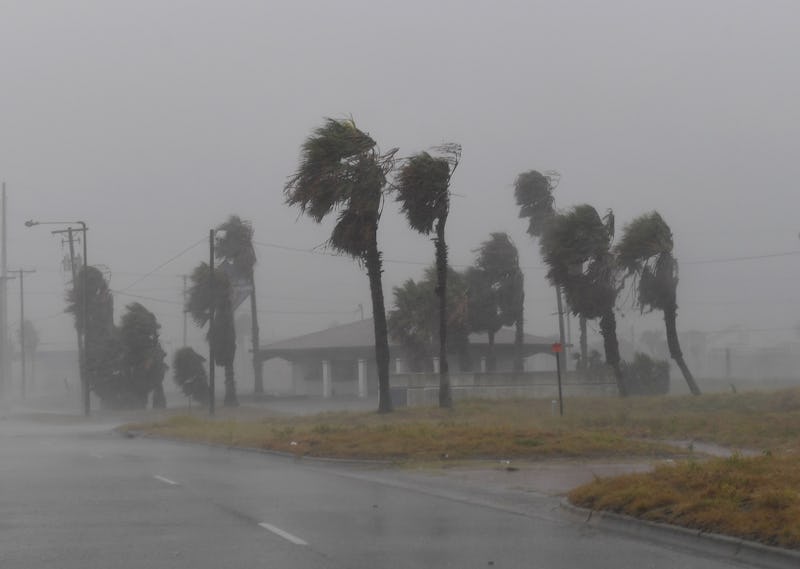 MARK RALSTON/AFP/Getty Images
Sometime between late Friday night and early Saturday morning, Hurricane Harvey is expected to make landfall in Texas, bringing furious winds and rainfall along with it. But it won't just be the locations directly in the storm's path that will feel the effects, even though they'll get the worst of it. The neighboring state of Louisiana is expected to see a huge amount of rainfall as well. So, will Hurricane Harvey affect Florida, too, or is the Sunshine State far enough east to escape the impact of the storm?
According to recent predictions, southwest Louisiana could see as much as 15 to 20 inches of rain along the border with Texas, and southeast Louisiana could see 5 to 10 inches. But thankfully, at least according to the most recent projections, it's not expected to have much of an impact in Florida, although the state is currently facing its own stormy conditions.
According to The Orlando Sentinel, however, the impact of Harvey may be felt in at least one way: gas prices. According to the paper, Florida has already seen a 9 cent increase in gas prices over the last week, with the state's supply coming largely from barge shipments through the Gulf Coast.
Outside of that, there's haven't yet been any warnings about Harvey having a deleterious impact that far east. The state reportedly has some weather weather concerns of its own, however, thanks to a storm system that's been drenching South Florida in recent days. As such, despite the fact that it might not be because of Harvey specifically, residents are still being advised to take caution.
As for the hurricane itself, it's expected to last through the weekend, and authorities are describing it as a life-threatening event for people living across the middle and upper Texas coast. Several parts of the state ― including Aransas Pass, and Brazoria and Calhoun Counties ― have been given mandatory evacuation orders, and still more counties have received voluntary evacuation orders, with Texas Gov. Greg Abbott urging citizens to get out of the way of the hurricane while they still can.
If you're living in or around the affected areas in Texas, evacuation centers have been established for people to safely ride out the storm. Gov. Abbott has claimed that undocumented immigrants will be allowed to enter the evacuation centers without submitting to ID checks ― although, controversially, the U.S. border patrol is still operating its checkpoints.