Why Hurricane Harvey Poses Serious Danger For Galveston, Texas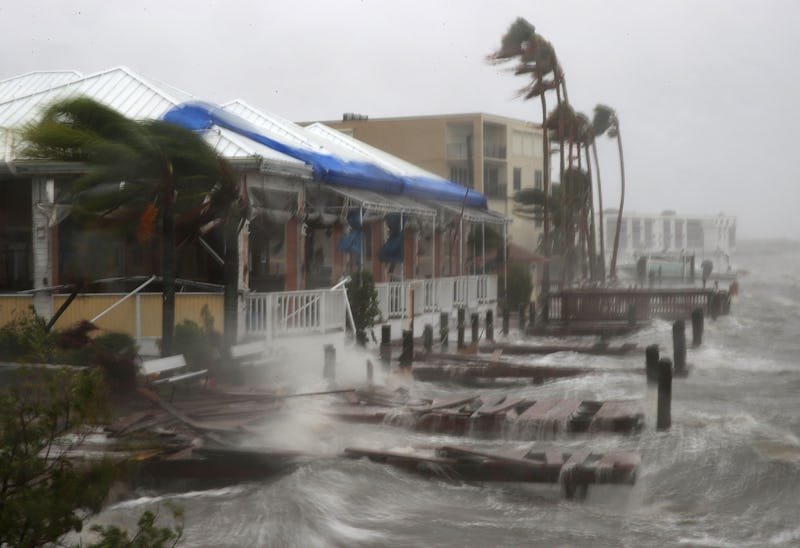 Mark Wilson/Getty Images News/Getty Images
After making landfall in Rockport, Texas, on Friday night, Hurricane Harvey is on the move. Preparing for the worst, Galveston County Judge Mark Henry issued a voluntary evacuation order for residents early that same morning, and now, people are bracing for dangerous storm surge and heavy rain. Even if Hurricane Harvey doesn't directly hit Galveston, the city will feel its impact in a major way.
Henry's voluntary evacuation order targeted residents living in low-lying areas of the county — including San Leon, Bacliff, Highland Bayou, and Old Bayou Vista. This is in addition to another order already in motion for the Bolivar Peninsula, which includes unincorporated areas of Port Bolivar, Crystal Beach, Gilchrist, and High Island. Also, any Galveston residents who need medical assistance or require power (for health or survival reasons) are strongly encouraged to leave the area.
In anticipation for the storm, the Port of Galveston closed on Friday night. The hurricane caused rerouting and schedule changes for three Carnival Cruise Line ships carrying roughly 15,000 passengers through the Gulf Coast. Originally, Carnival's Freedom and Valor ships were slated to dock at Galveston on Sunday, but currently they are remaining at sea and "will remain a safe distance from the storm," a spokesperson wrote in an email.
Instead of barreling into the storm, two ships will stop in New Orleans on Saturday to fill up on fuel and provide guests the option to end their cruise early.
While Galveston is one of the key major Gulf Coast cities in the projected path of the storm, alongside Corpus Christi and Houston, Hurricane Harvey has gained enough strength that surrounding areas are still facing possibilities of torrential rain and destructive winds. In fact, some areas could face 40 inches of rain, the National Hurricane Center reports.
Harvey is expected to produce total rain accumulations of 15 to 30 inches and isolated maximum amounts of 40 inches over the middle and upper Texas coast through next Wednesday.
In conjunction with the option evacuation warnings, there are currently several road closures in low-lying areas and unincorporated parts of Galveston County.
On Saturday afternoon, Judge Henry made a Facebook post urging residents to stay clear of roads facing flooding.
[ROAD CLOSURE UPDATE] Please be aware of road closures throughout Galveston County, especially in low-lying areas. Don't risk driving through water covering the roadways. Below is a list of our current reported road closures in unincorporated Galveston County (this list does not include closures within city limits,) please let us know if there are more in your area. #harvey
His list of dangerous roads included Country Club Rd (Dickinson), SE Tropical Gardens Rd (Dickinson), Green Caye (Dickinson), San Luis Pass Bridge, Ferry Ave B in Bacliff, and 3100 Dimrod. City officials remain vigilante while Galveston faces the effects of Harvey.