Here's What You Need To Know About This Category 3 Hurricane Brewing Over The Atlantic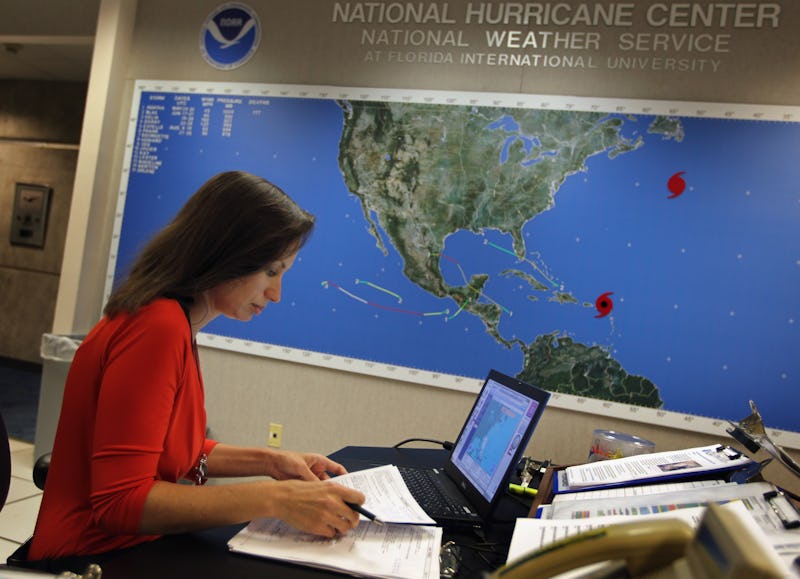 Joe Raedle/Getty Images News/Getty Images
People are only barely starting to reckon with the damage that Hurricane Harvey brought to the Gulf Coast, but there's already another storm brewing out in the middle of the Atlantic. While it's still too early to tell if Hurricane Irma will be as bad as Harvey, what we can say now is that it's already very powerful — and still picking up wind speed.
The National Hurricane Center is already tracking Irma, and they've already upgraded it to a Category 3 storm. One unusual thing about Irma is how quickly it's intensified — it's already bringing 115 mph winds with it over the Atlantic, and the conditions are favorable for it to get stronger. While it's not completely unprecedented for a storm to pick up so much power so quickly, NHC meteorologist Dennis Feltgren told NBC News that the storm's "rapid intensification" was why they turned so much energy toward tracking it so quickly.
Irma formed off of the Cabo Verde Islands just west of Senegal and Mauritania, making it a typical Cape Verde-type hurricane. These storms cross a warm swath of the Atlantic and gain speed, and several very damaging storms have been Cape Verde hurricanes. Even though it's currently only about 600 miles west of the Cabo Verde Islands, meteorologists have already begun making predictions about where it might head.
Most models estimate that Irma will reach the Caribbean in about six days, first hitting the easternmost Caribbean islands. However, since the storm will take so long to cross the Atlantic, not all models agree on Irma's path. Some potential tracks have the storm veering off into the Atlantic and then dying out harmlessly at sea, whereas others show it crossing through the Caribbean toward the Gulf of Mexico or even heading up the east coast of the United States.
Most notably, CNN reports that the European and American weather forecasting services disagree on Irma's path. They disagreed most famously over Hurricane Sandy, which the European Centre for Medium-range Weather Forecasting correctly predicted would make landfall far before the U.S. Global Forecast System did.
While the GFS has not always been incorrect, it still makes sense to look at both when trying to gauge where Irma will go and how much damage it will cause. Currently, the GFS predicts that Irma will turn north before reaching the Caribbean, which would be the preferable option, as it wouldn't make landfall or cause significant damage. The European model, however, suggests that it will continue going west until the middle of next week, putting Cuba and south Florida directly in its path.
At least everyone already has their eyes on the storm, so there's a lot to time to keep making predictions more and more accurate. While it would be a huge blow to have another disastrous storm rip through heavily inhabited areas so soon after Harvey, the best thing that anyone can do right now is prepare for the worst-case scenario.